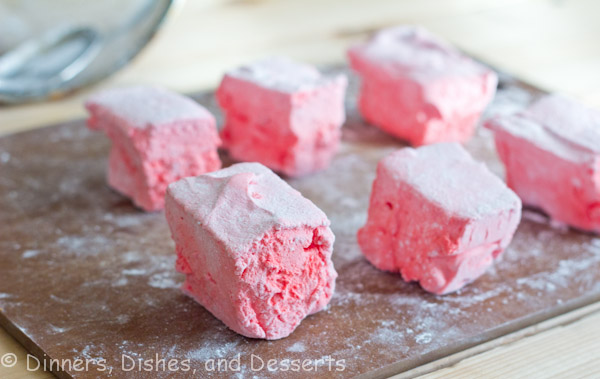 A few weeks ago I was asked if I wanted to review a copy of the book Marshmallow Madness: Dozens of Puffalicious Recipes. The book is written by Shauna Sever who also writes over at the blog Piece of Cake. Her blog is gorgeous, so I was excited to see what the cookbook would be like. First off, the cover is puffy!! Perfect for a book dedicated to marshmallows! The pictures are fun and beautiful. There are so many amazing different recipes in this book. They range from the classic Vanilla to Key Lime Pie, Maple-Bacon, Mango-Chili Lime and more!
The book does an excellent job of walking you through the step by step process of making marshmallows. I was nervous because of the elevation I live at. But Shauna walks you through calibrating your thermometer to make sure it works no matter where you live. They were so much easier to make than I ever thought they would be. I finally decided to make the Kool-Aid Marshmallows from the Kids in a Candy Store section of the book. Hers were so pretty in star shapes with Pop Rocks on the edges. Mine did not turn out quite as pretty 🙁 Part of the problem was I could not find Pop Rocks!! I tried everywhere, even the Dollar Store, but I could not find them. I know they still make them, but they just weren't sold at the stores I went to. So I improvised and used Nerds, but they didn't stick nearly as well as I would have hoped. They were good on their own though. My 6 year old told me I make the BEST Strawberry Marshmallows EVER!
Yield: 24
Kool-Aid Marshmallows
Make your own flavored marshmallows at home using Kool-Aid mix
Total Time
6 hours
20 minutes
Ingredients
1 packet Kool-Aid Drink mix, (I used fruit punch)
1/2 cup cold water
5 tsp unflavored gelatin powder
3/4 cup sugar
1/2 cup light corn syrup
1/4 cup water
1/8 tsp salt
1/2 cup Powdered Sugar
1/3 cup cornstarch
Pop Rocks, , optional
Instructions
Lightly coat 8x8 pan with cooking spray (I would use a half sheet pan instead, mine were really thick)
Whisk together Kool-Aid packet, cold water and the gelatin in a small bowl. Set aside for 5 minutes. I will soften and form into a thick mixture, don't worry!
In a saucepan mix together sugar, 1/4 cup corn syrup, 1/4 cup water and salt. Bring to a boil, stirring occasionally until it reaches 240 degrees (or 222 degrees using my thermometer at my elevation). Pour the remaining 1/4 cup corn syrup into the bowl for an electric mixer, fitted with a wire whisk. Microwave the gelatin for about 30 seconds, until completely melted. Pour into the bowl with the corn syrup. Turn mixer on low and keep it running.
Slowly pour in the syrup (once it reaches 240 degrees). Turn the speed up to medium, and beat for 5 minutes. Increase speed to medium-high and beat for 5 more minutes. Finally, increase the speed to the highest setting and beat for an additional 1-2 minutes. The marshmallow should be three times the volume you started with. Pour into prepared pan, and use a spatula to smooth. Sift together powdered sugar and cornstarch. Sift sugar mixture over the top of the marshmallows. Let stand for 6 hours to set.
Use a knife to loosen the edges. Turn onto a surface dusted with more of the sugar mixture. Dust more sugar mixture over the top. Cut into desired shapes. Dip the sticky edges into Pop Rocks, if desired.
Nutrition Information
Yield
24
Serving Size
24 Servings
Amount Per Serving
Calories

71
Total Fat

0g
Saturated Fat

0g
Trans Fat

0g
Unsaturated Fat

0g
Cholesterol

0mg
Sodium

18mg
Carbohydrates

18g
Fiber

0g
Sugar

16g
Protein

0g
I was given this book by Quirk Books Publishing. I was not compensated in any other way for this post. The opinions are completely my own.