Nutella Skillet Cookie – a nutella based chocolate chip cookie baked into a cast iron skillet, with a layer of nutella in the middle!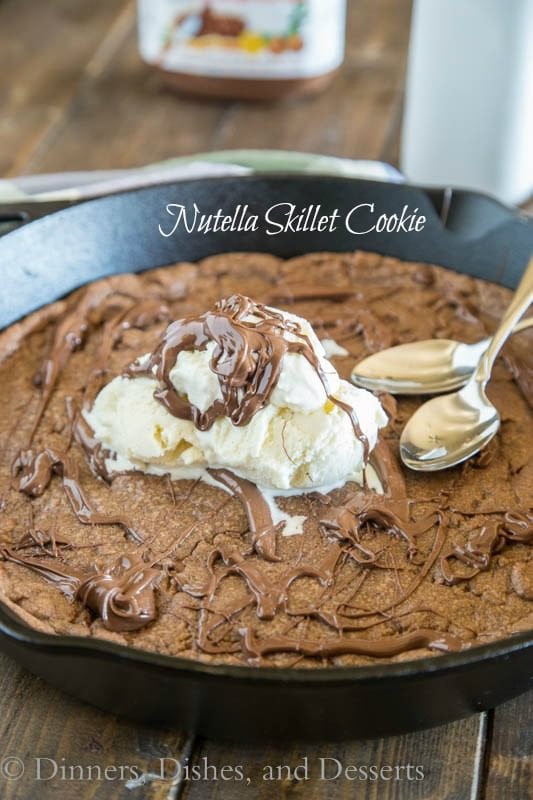 Welcome to the day 4 of Cookie Week, hosted by Kim of Cravings of a Lunatic and Susan of The Girl In the Little Red Kitchen! We've teamed together with 10 other talented bloggers to bring you 5 fantastic days of cookie recipes to get you in to the holiday spirits. If you are feeling a mid-week slump, then there is no better way to beat it than a big dose of cookie love! Please make sure to check out and enter our fantastic giveaway and check out our #CookieWeek Pinterest board full of all the cookie recipes you'll see here this week!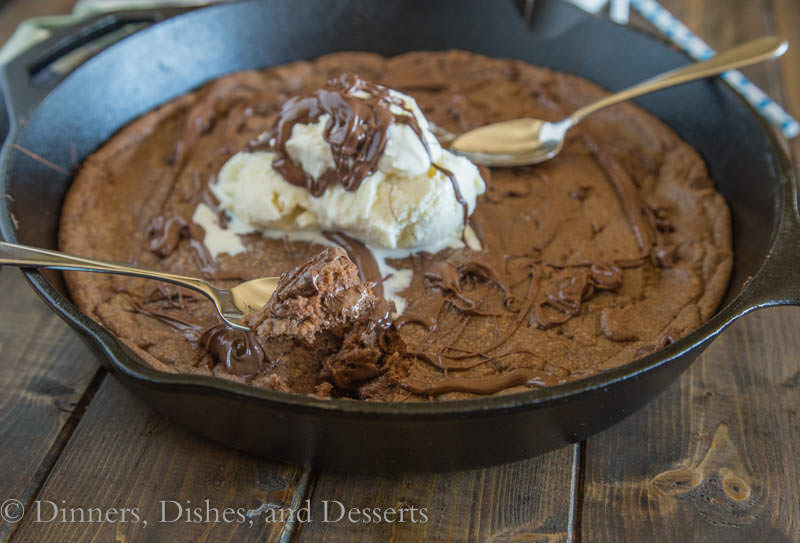 Another day, another cookie.  I hope you loved the two that I have shared so far; Homemade Peanut Butter Cookie Dough Oreos and Peanut Butter Chocolate Chip Cookies.  Yes, I realize I have a problem with peanut butter and chocolate.  No, I do not see it ending anytime soon.  I hope this does not end our relationship.  Today I am getting away from that classic combination and throwing some Nutella at you instead.  Nutella is probably one of my all time favorite things.  I have been trying to eat better recently, so I have not had it around much.  I broke into my stash to make this Nutella skillet cookie, and let's just say it was not pretty.  No one should deprive them self of Nutella for that long.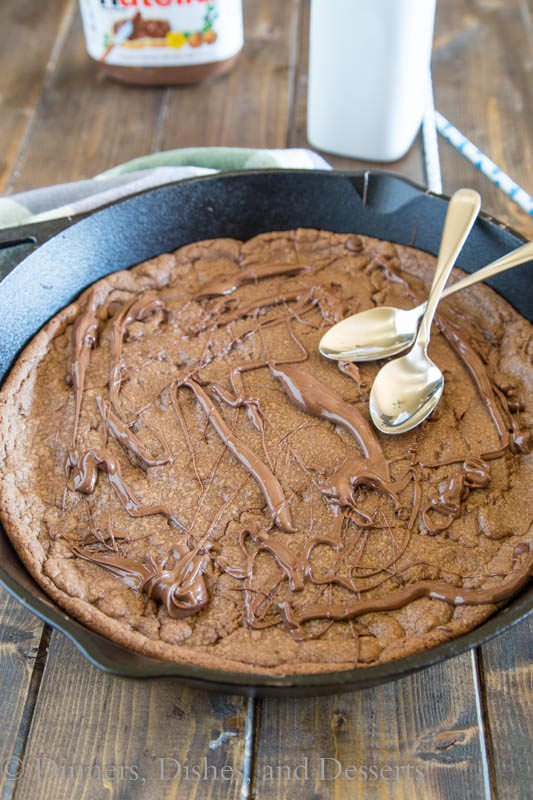 Earlier this year I shared a Triple Chocolate Skillet Brownie with you.  I thought it was time to break out the cast iron again for this cookie.  There is a restaurant here that has a Nutella skillet cookie on their menu.  I have never actually ordered it, but every time we go I tell myself I am going to order something small, so I can have that for dessert.  Needless to say, that hasn't happened yet.  But now, I am not so sure I want it to.  This skillet cookie was so over the top gooey, and delicious, I am not sure they can beat it.  Not only is Nutella mixed in with the cookie dough, I spread Nutella in the center of the cookie as well.  See…..  You can see gooey Nutella peaking out when you break into the cookie!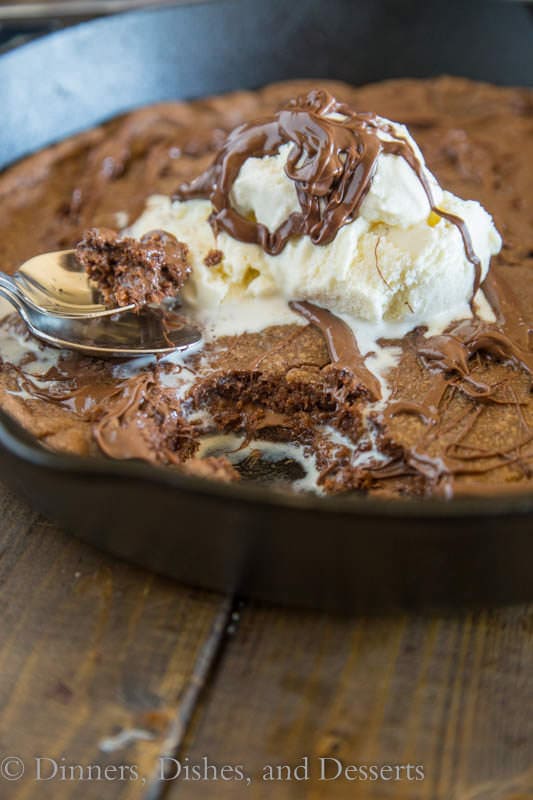 Nutella skillet cookie is best served warm.  Just bring the whole skillet to the table, put a few scoops of ice cream in the center, and let your guests dive in.  If you want to be more dignified, you can let it cool and then slice.  But let me just tell you.  There is something about warm gooey Nutella that you are willing to throw dignified clear out the window!

Nutella Skillet Cookie
Nutella Skillet Cookie - a nutella based chocolate chip cookie baked into a cast iron skillet, with a layer of nutella in the middle!
Ingredients
1/2

cup

butter

, melted

1

cup

Nutella

, divided

1

cup

brown sugar

1

egg + 1 yolk

1

tsp

vanilla

3/4

tsp

baking soda

1/2

tsp

salt

2

cups

flour

1

cup

chocolate chips
Instructions
Preheat oven to 350 degrees. Prepare a 9 or 10 inch cast iron skillet. Spray lightly with non-stick spray. If you do not have a skillet, a 9 inch baking dish will work.

In a large bowl mix together butter, 1/2 cup Nutella, and brown sugar. Add egg, yolk, and vanilla. Beat until well blended. Stir in flour, baking soda, and salt.

Fold in chocolate chips.

Divide the dough in half. Spread one half of the dough into the base of the skillet. Leave a 1/2 inch boarder around the edge. It will spread when baking.

Spread 1/2 cup of Nutella over the base of the dough. Top with remaining dough.

Bake for 15-18 minutes. (15 minutes was perfect for my 10 inch skillet)

Drizzle with more Nutella and top with ice cream if desired
Take a look at what's coming out the bloggers ovens today!
Need more desserts in a skillet?