Did you guys check out the #chocolateparty 1st birthday last month? I hope you entered to win some of the amazing prizes. Or at the very least checked out all of the chocolate recipes from the whole month! Now that #chocolateparty is headed into year 2, I finally decided to make some brownies. They are my all time favorite dessert, but for some reason this is the first time I am making them incorporating the challenge ingredient. Which for October happened to be………Candy!!!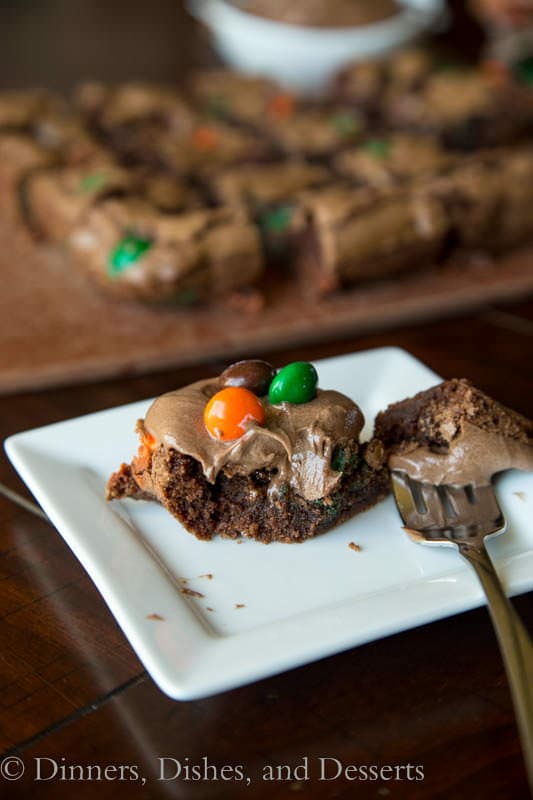 Have you seen the new Pumpkin Spiced M&M's at Target? As soon as I saw them, I had to pick up a bag to see what they were like. I love pumpkin and chocolate together, so I figured they had to be good. They are solid chocolate all the way through, with pumpkin spices mixed in. They are like fall in a bite of candy. For the brownies they were perfect. It gave the hint of pumpkin without being full on pumpkin. Which, to be honest I am not ready for yet. We are into October, you would think I would be on board, but I am still stuck on apples. Give me another week, I will get there. In January you will probably have to yell at me to stop!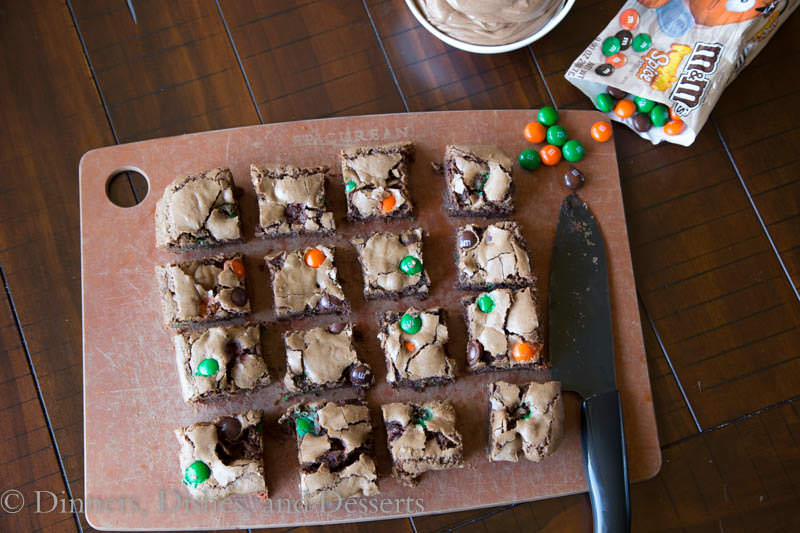 If you are a regular around here, you know that I land firmly in the fudgy brownie camp. So these brownies are super fudgy. Frosting is not necessary, but because I tend to go overboard, I sampled them with some frosting. Just doing my job, so I can give you the best advice as to how to eat them. Right? The verdict. If you love frosting, go for it. They really are sweet and fudgy enough without it, but I also believe that you can never go wrong when frosting is involved. So either way, get your hands on a bag of the M&M's so you can try it!
Yield: 16
Pumpkin Spiced M&M Brownies
Rich Fudgy brownies with a hint of pumpkin from Pumpkin Spice M&M's
Ingredients
3/4 cup butter, , melted
3/4 cup cocoa powder
11/2 cup sugar
3 eggs
1 tsp vanilla extract
1 tsp cinnamon
3/4 cup flour
1/2 tsp salt
1 cup Pumpkin Spiced M&M's
Instructions
Preheat oven to 375 degrees. Line an 8 inch baking pan with foil, and spray with non-stick spray.
In a large bowl combine melted butter, and cocoa powder. Mix until well combined. Add eggs, sugar, and vanilla mix well. Stir in the flour, cinnamon and salt until well combined. Fold in M&M's. Pour into prepared pan. Bake for 25 minutes, or until a tester comes out clean.
Remove from oven, and cool completely.
Store in an air tight container.
Nutrition Information
Yield
16
Serving Size
1
Amount Per Serving
Calories

411
Total Fat

11g
Saturated Fat

6g
Trans Fat

0g
Unsaturated Fat

3g
Cholesterol

58mg
Sodium

157mg
Carbohydrates

79g
Fiber

1g
Sugar

71g
Protein

3g
How to participate (the rules)
1.) Blog about your chocolate treat. Your recipe must include the two ingredients we choose. It can be a simple no bake treat or a sophisticated layer cake, the complexity level of the recipe is totally up to you.
2.) Include a link back to the Chocolate party page. Optionally, add the Chocolate Party logo in your blog post or on your sidebar.
3.) Your recipe must be published during the current month. Please do not link old recipes, they will be deleted.
');