Last Friday I told you it was my 11th wedding anniversary, and I got to spend the day with my husband. Well this is what we did!
After we dropped our son off at school we headed to Denver for a Foodie Day. It is kind of a tradition that my husband gets me truffles for our anniversary. There was an amazing little place in Iowa that he used to get them from. Unfortunately, Fort Collins doesn't have any local places, so he decided we go try a few and see what was good.
We started at Enstrom's Chocolates. They are known for their toffee. It is a Colorado based company that started in Grand Junction. They now have a few different locations around Colorado. In Grand Junction you can actually see them make the chocolates. Incidentally we are going there in October, very excited! I got a few different truffles, and a piece of toffee. The truffles were good, but the toffee was excellent. I know what I will be getting in October!
Next we hit up Roberta's Chocolates. This place is pretty fun. They have chocolate covered bacon, chocolate that looks like deviled eggs, and light bulbs. They have fresh fudge in lots of fun flavors; cookie jar, toffee, and Broncos flavored. The truffles I picked were awesome. I loved the Butterscotch Caramel, and the Rootbeer ones the most.

We didn't stick with only chocolate for the day. We also went to a couple cheese shops. On the way to the first cheese shop we stumbled across this little bread place. The Denver Bread Company. Inside smelled amazing, and the lady at the counter was very helpful. Just check out all that bread! They had a special for the day of Jalapeno Corn Bread. The cornmeal was so finely ground that it was the texture of regular bread. It was amazing. I made some into french toast for my husband, and he loved it! They also known for their Boule, which is gigantic! We cut it into 4ths to freeze sections of it.
After our detour we found St. Kilan's Cheese Shop. I am not a cheese fan, but my husband loved trying a couple and picking his favorite. He came away with Valedon, a blue cheese from Spain that is wrapped in grape leaves, and some Parmigiano-Reggiano. They also had a great selection of Italian meats.
I forgot to take pictures of lunch, but it was incredible. We ate at Osteria Marco, an Italian restaurant in downtown Denver. They are known for their pizzas, so that is what we had. I had a Carbonara pizza, and my husband had a Spicy Italian Sausage pizza. The Carbonara came with a fried egg on top, so when he sliced the pizza, it oozed all over. The sausage pizza had caramelized onions and Fresno chili peppers. Both of us said it was the best pizza we have had in years.
After lunch we headed to another cheese shop. We stopped at The Truffle Cheese Shop. What a cute little shop. They had supplies if you wanted to make your own, and they had the biggest pieces of Parmesan I have ever seen. My husband tried a couple and ended up with Comte. It is an Alpine cow's milk cheese from Eastern France.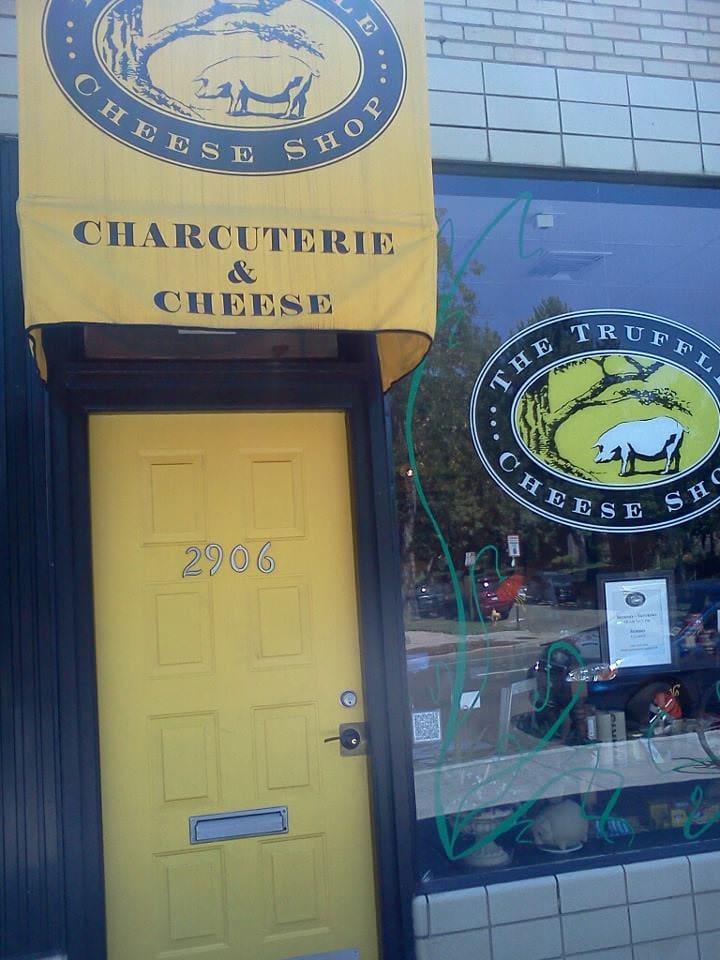 Next door to the cheese shop was a cute little bakery, Molly & Maggie's. We couldn't help but go in. They had a great selection of cupcakes, cookies, bars, and even a few gluten free items. I, of course, picked the chocolate cupcake with Nutella buttercream. My husband picked the vanilla bean cupcake with vanilla buttercream, and a raspberry crumb bar. The cupcakes were moist, and very flavorful. I didn't try the crumb bar, but my husband loved it!
To branch out a little, we also stopped at a meat market. Of course, I forgot to take pictures. They had so many different cuts of meat. We have been wanting to try making prime cut steaks at home, so we splurged and picked up 2 NY strips. They also had lots of seafood. The mussels had just been flown in that day, and my husband couldn't resist. The steaks were incredible. They just melted in your mouth. Yes, prime cut meat is pricey, but I would say it could rival an expensive steak house.
To end the day we stopped at Dietrich's Chocolates. They are a small little shop close to Denver University. We were in a hurry at this point, because we still had to get back to pick up our son from school. They did have my favorite flavored truffle of all time though – Armaretto, so I was super excited! My husband picked a pecan caramel turtle that was huge.
We made it home just in time to pick up our son. Then I had to learn how to make mussels, so he could have them for dinner! Who knew they were so easy. He absolutely loved them. I know that we will be having these again in our house soon.
Hope you enjoyed our day, I know I sure did! If you ever in the Denver area, I really do suggest you stop and check out these places. Every one of them was a hit.
Steamed Mussels are actually way easier than I thought they would be. Cooked in a garlic, butter, and white wine broth. Perfect for dipping crusty bread
Ingredients
2 pounds fresh mussels, , cleaned and debearded
2 Tbls Butter
1/4 cup onion, , chopped
4 cloves garlic, , chopped
1/2 tsp crushed red pepper
1 1/2 cups dry white wine
Parsley to garnish
Crusty bread for dipping
Instructions
In a large pot melt the butter. Saute and onions and garlic until soft and fragrant, 3-5 minutes.
Add the crushed red pepper, stirring to combined.
Stir in the white wine, and bring to a boil.
Add the mussels, and cover the pan. Stir every few minutes. The mussels will be opened and fully cooked after about 10 minutes.
Dump everything into a bowl, and sprinkle with parsley to serve.
Nutrition Information
Yield
4
Serving Size
1
Amount Per Serving
Calories

544
Total Fat

16g
Saturated Fat

6g
Trans Fat

0g
Unsaturated Fat

7g
Cholesterol

142mg
Sodium

924mg
Carbohydrates

25g
Fiber

1g
Sugar

2g
Protein

55g