Last week I shared with you the week we spent in Manuel Antonio Costa Rica.  That part of the trip was the more relaxing, civilized portion of the trip.  After we left Manuel Antonio we spent some time in the jungle, really experiencing what Costa Rica was like.
We took a van from Manuel Antonio down to Sierpe where we had to catch a boat to Drake Bay.  Drake Bay has one road that goes into it, but depending on the season, the road can be washed out.  So the best way to get there is to take a small boat.  The boat ride starts by going up the river to where it meets the ocean.  Then you drive along the coast for a little while until you get to Drake Bay.  There are not any docks, so the boat turns around and uses the waves to push it into shore.  There are lots of helpers on the beach that "try" to hold the boat still enough for you to get out.  Then they hand you your luggage, and you carry it up to the dry part of the beach.  Quite the experience.
Drake Bay has only 550 people and 1 gravel road that runs through town.  It is about 89 degrees with 98% humidity, 24 hours a day.  We stayed at a place called Finca Maresia.  The owner's name is Juan, and he is from Spain.  The hotel is run like a European bed and breakfast.  Juan cooks dinner for everyone (there are only 9 cabins) each night.  The food was amazing, and it was great to sit around and talk to the other guests each night.  We got to hear about different tours people did and what people liked and didn't.  When we first got there, we were the only people from America.  We were a little nervous what dinner would be like that first night, but we met this great couple from Switzerland that we got along with really well.  All of the cabins are down a trail from the main building leading into the jungle.  The cabins are open to the jungle, so when the sun comes up at 5:00 am every morning, you are up!  I was very nervous about bugs and spiders, but we didn't not find ANY in our room.  I was shocked!!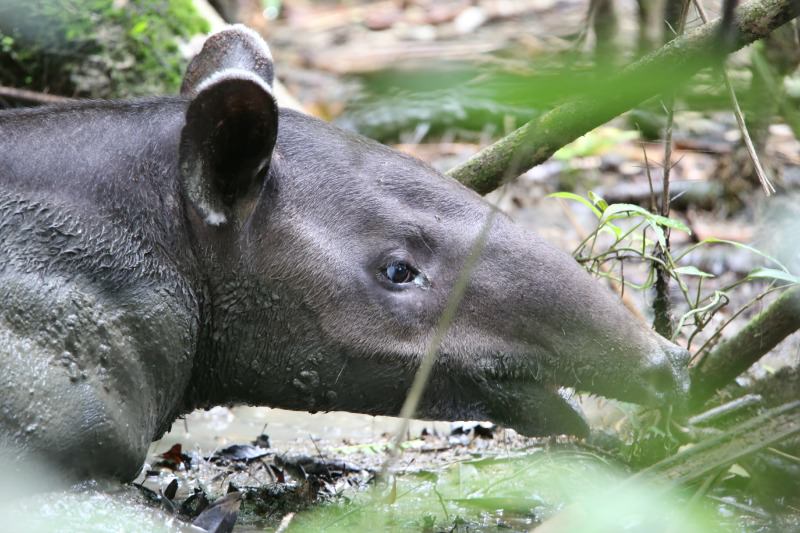 The whole reason we went to Drake Bay was because we wanted to visit Corcovado National Park.  It is one of the most undeveloped parks in the world.  There are no roads that lead to the park.  The only way you can get there is by hiking in, or taking a boat.  We went on a tour (booked for us by Juan) to Corcovado.  The tour consisted of our family of 3 and the couple from Switzerland.  We were able to see so much wild life, it was unbelieveable.  Costa Rica has 4 species of monkeys that live there.  We saw all 4 species of monkeys, lizards, caymans, crocodiles, coati (Costa Rican raccoons), tapirs, snakes, wild turkeys, a deer, and countless birds (Toucans, Scarlet Macaws and many more).  I am sure there was more that I am just not remember now.  Every time we turned around our guide was showing us a new animal.  Corcovado National Park was definitely a highlight of our entire trip.
The next day in Drake Bay we decided to take an ATV tour to a beach, and then there was a trail you could walk along to get back to town.  First of all, the ATV was exactly what you think an ATV to be like.  Only there was a driver, and then he put the 3 of us across the back.  So there were 4 of us on this ATV, and we were going up and down these big hills, across streams, on a gravel road, all for about 25 minutes.  After he dropped us off at the beach we found the trail and started walking.  The trail is really only about 5 feet in from the beach.  I think I heard someone say there are 23 beaches between where we started and where we ended.  And the amazing thing was, there was no one around.  These were stunningly gorgeous beaches, and no one was on them.  The hike took us close to 6 hours, so we were starving when we got back to town.  We had read about Gringo Curt's online ahead of time, and knew we wanted to eat there.  Seriously, if you are ever in Drake Bay, eat at Gringo Curt's.  My husband and son ordered the catch of the day, and it was literally at least a 2 pound filet of fish.  I ordered the pasta, and it was so good and could have fed at least 2 people.  Plus the smoothie was amazing!
Lots of places in Costa Rica offer night tours.  They take you on a walk through the jungle at dusk or right after dark, to see what wild life is out there.  I was not interested in this at all!  I do not like bugs, spiders, rodents…anything.  I just don't need to know what is out there.  Somehow I let my husband and son talk me into going on one of these tours.  We waited until our last night in the jungle, so I wouldn't have to lose sleep the whole trip.  Let's just say that was a wise decision.  Most of it was just fine, because it is the wild life, in their habitat, doing what they do.  That I don't mind, I just don't want them in my living space!!  I only had one freak out, and that was when we saw a spider the size of my hand, walking on the water, only 2 feet from me.  The Brazilian Wandering Spider is one of the deadliest spiders in the world, is huge, walks on water, and is right next to me!!!  Then it disappeared!  The guide told me not to worry, it was active because this was the time it went out hunting.  Needless to say, that did not sit well with me until we were well past that area.  I did not need that giant spider crawling up my leg!
We had other plans to go snorkeling in an place called Cano Island, right near Drake Bay.  But once we got there we saw how rough the water was, and didn't feel comfortable doing this with our 9 year old, who had never been snorkeling before.  All the snorkeling is in open water, which may have been just a little too much for him.  They are known for amazing diving though, and everyone we talked to loved the diving tours they went on.  In the end we decided to change up our trip and go to an area up in the mountains, that was a cloud forest.  We found a hotel in an area called San Gerardo de Dota, which is also known for spotting the Quetzal.  Quetzals are a very rare bird.  They are rather large, this brilliant blue/aqua color with a bright red breast, and the males have super long tale feathers (like 12 inches long).  We went on a bird tour there, where we were able to spot 4 of these birds.  They are pretty amazing to see in real life.
Our final stop on the trip was back to San Jose for our flight out.  We spent a couple night in San Jose, and did a trip to see some other things in that area.  Unfortunately the Poas volcano was covered in clouds and raining when we were there, so we weren't able to go up and see the crater.  We did get to see a few amazing waterfalls, go on a river boat ride to spot more wild life (monkeys, frogs, caymans, and lots of birds), and see more of the Caribbean side of the country.  We stopped at a few fruit stands and were even able to buy fresh strawberries.  It was a definite change from the other parts of the country we had visited.  Our guide was a little on the crazy side, but in the end I think we all had a good day.
We absolutely loved our whole trip to Costa Rica.  It has been on our list of places to travel to for the last 8 years, I am so glad that we were finally able to go.  Our son was at a perfect age as well.  He was able to do everything we wanted to, and didn't get bored with anything.  He says he might want to move there some day.