Chicken Vindaloo – A spicy Indian curry you can make at home. Lots of spices come together for a super flavorful dinner. Serve over rice or with naan bread.
I first had Indian food about 12 years ago and immediately fell in love. I have been experimenting with it more and more like this Easy Coconut Chicken Curry.
I grew up in a pretty conservative food household. Cashew Chicken was considered adventurous for Chinese food. Indian, Thai, Japanese – unheard of. So as an adult I love getting to branch out and experiment with so many different foods.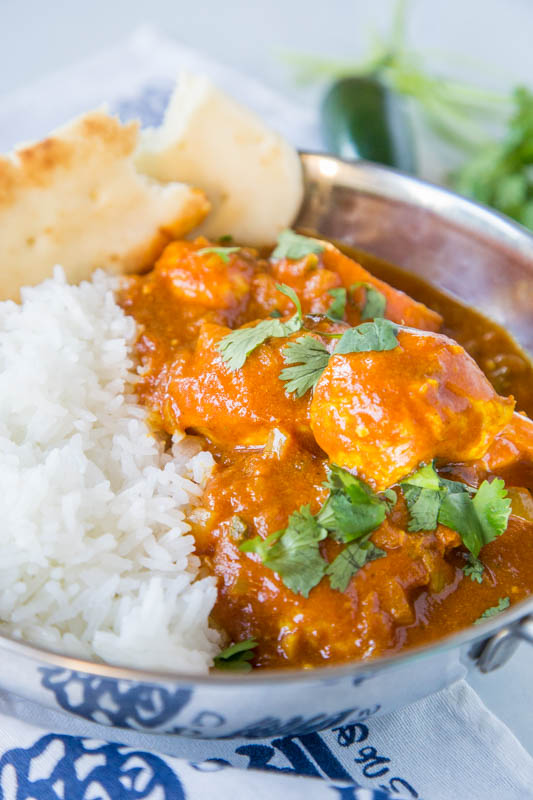 When we first starting making Indian food at home we use packet mixes to try different dishes. We found some brands (Kitchens of India) we loved and others not so much. But Chicken Vindaloo was one that we really enjoyed, so I knew I had to figure out how to make it from scratch.
And this chicken vindaloo recipe is easy with pretty common ingredients. I can find everything at my local grocery store, so you don't have to find a specialty market for this one.
What Is Chicken Vindaloo
It is an Indian curry dish that is actually based on a dish from Portugal. It is known for being a very spicy dish that is usually made with pork. You can also find it made with beef, chicken, and tofu.
You can find it on a lot of Indian menus and it is a rich, spicy, garlicky sauce that goes with it. It is delicious served over rice and with Naan Bread.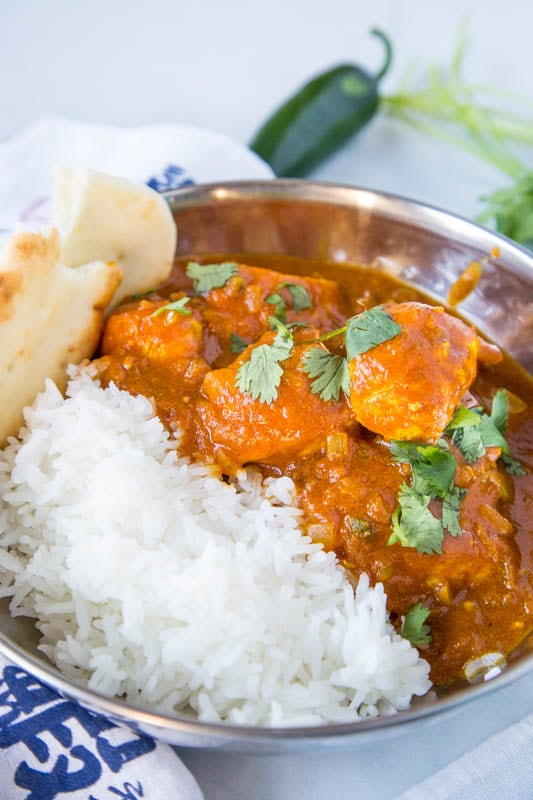 How To Make Chicken Vindaloo
The first thing is to get the chicken marinating. It sits in a blend of lime juice, garlic and spices for about an hour before you start to cook.
Once the chicken is ready saute the onions in a large pot until they are nice and soft.
Then you mix in the garlic, ginger, hot pepper and the rest of the spices. The hot pan and oil slightly toasts the spices and brings out even more flavor from them.
Add in the tomatoes, chicken broth and the chicken to the pan. The mixture comes to a boil and then you simmer for about 20 minutes for the chicken to get tender and fully cooked.
Serve the vindaloo over white rice and topped with fresh cilantro to garnish.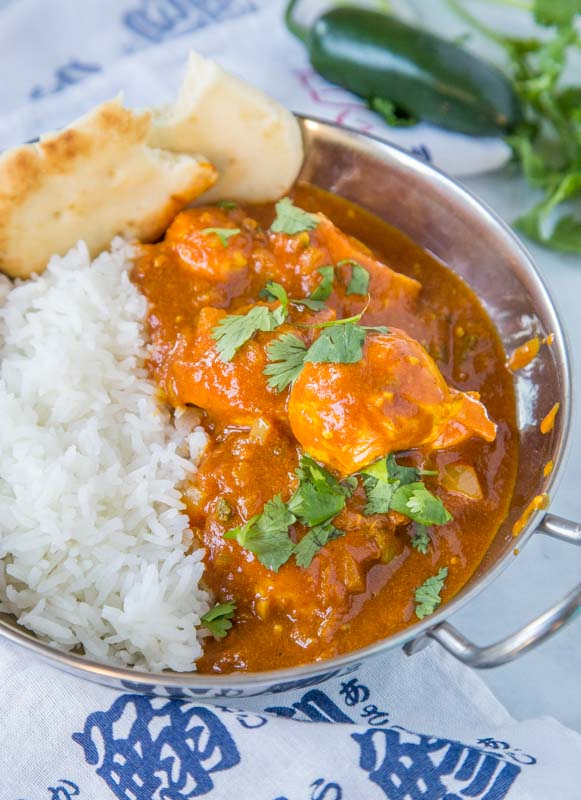 Vindaloo is often a very spicy dish, but when you are making it at home you can control that. I find that one pepper gives it heat, but not over the top. You could skip the pepper entirely and add a little cayenne to taste if you like things mild. If if you like things hot, go crazy and add 2, or use a hotter pepper!
We like our chicken vindaloo to taste like a blend of spicy, tangy-ness from the lime juice, and with a nice balance of all the spices. It is nothing like Tikka Masala that most people know and love. That is more of a rich and creamy sauce. They are both delicious in very different ways.
More Curry Dishes To Try
Save
Save