Quick Chicken Curry Recipe – an easy Indian chicken curry you can make in minutes, even on your busiest night! 
Indian food is pretty much my comfort food lately. There is just something about all the warm spices that gets me every time! Thankfully my family agrees.  This Easy Coconut Chicken Curry is pretty much a staple in our house.
Pretty much any Asian food is on repeat at my house. Garlic Beef Noodle Bowls have to be one of our favorites. They are ready so fast, so even when you are crazy busy, you can have a homemade dinner on the table.  Which is exactly what this chicken curry recipe is.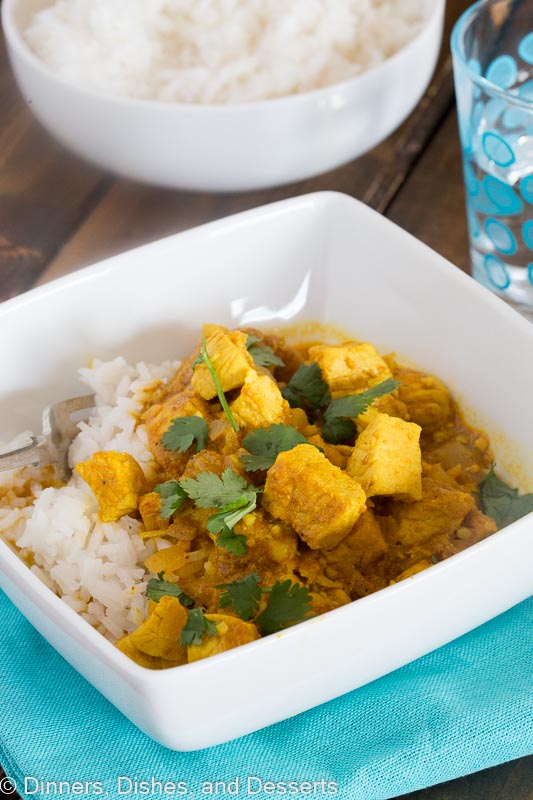 Often times when you see a curry chicken it is made with coconut milk. I love the hint of coconut the milk gives to a curry, but it is not always my husbands favorite.  He is more of a Butter Chicken kind of guy, where no coconut milk is involved.
So I decided to mix things up for him and use Greek yogurt instead.  The yogurt helps to thicken the sauce and make the chicken curry extra creamy. I always serve ours over rice and sometimes even a little naan bread on the side!  You can even buy naan bread in the regular grocery store these days, so it is super easy.  I just toast it and brush with a tiny bit of garlic butter to make it extra tasty.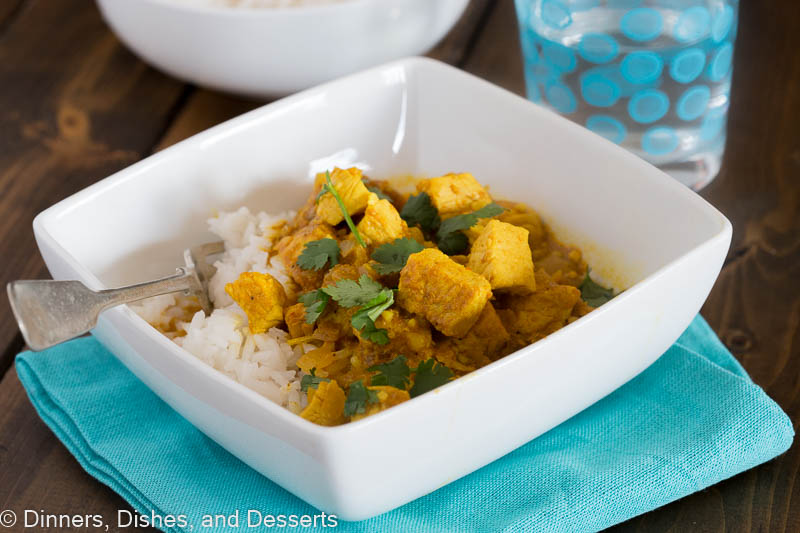 A lot of people see Asian or Indian food and get a little bit scared. But it is easy, trust me!!  So….
How to make Chicken Curry
It is all about the spices.  You can find almost everything in your local grocery store these days.  This uses curry powder and garam masala. If you can not find garam masala, you can always make your own.
Make sure your ingredients are fresh. Spices lose their potency after awhile, so make sure they are fresh. They say you should replace all of your spices within 6-12 months of buying them.
Have everything ready. As a rule, Asian food tends to cook quickly. So you want to make sure to have everything in place.  Indian chicken curry will simmer to have the spices come together, but up until that point it moves quickly.
Tip – when using yogurt, let the yogurt come to room temperature while you are cooking. It can separate easily when you add it to the heat, so letting it come to room temperature, and tempering it with some of the hot cooking liquid will help this from not happening.
This chicken curry is super fast to come together. You don't have to let it simmer for very long to have the spices blend and create great flavor. So dinner can be on the table in about 20 minutes!  Can't beat that!
So get out of that dinner rut, and try this chicken curry recipe.  It is not spicy, so you don't need to worry about that. Just soothing, comforting spices that will warm you up on a cold night!