Are you ready for the weekend? This has been a busy week, and I am ready for a break! The weather looks nice for the next few days, so we might even get outside. The mountains still have plenty of snow, so it is nice to head up there on warmer days and go snowshoeing. You get to play in the snow for a little bit, and then come back down to weather in the 60's. I don't mind the snow as along as it isn't in my yard. If I can look at it for awhile, then leave it, I am a happy girl.
I like to have chocolate and mint all year round. It isn't seasonal in my brain. But the rest of the world tends to think that chocolate and mint should be relegated to December and then again for St. Patrick's Day. I will take any excuse to use the flavor combination though, so here it is! Oreo truffles have been around forever, so I updated it with the mint cream Oreo's. Same method, same 3 ingredients, same quick and easy dessert. I seriously had these ready to eat in less than 60 minutes, and that included 30 minutes of them in the freezer!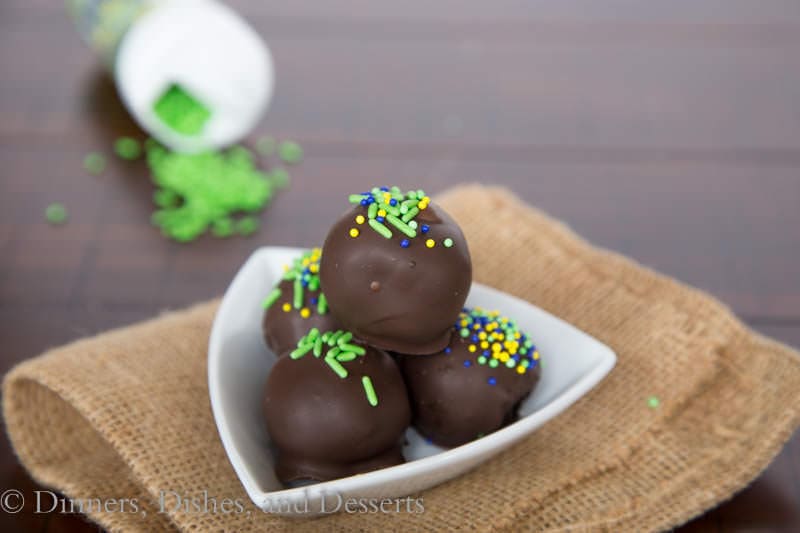 To make Oreo truffles all you have to do is use your food processor to grind up a package of Oreo cookies. Then you just mix in the cream cheese, and roll into balls. You can dip them in chocolate or white chocolate. Or even the Wilton colored disks would be great to make them festive for any occasion. I used some fun sprinkles to decorate them for the season. Oreo truffles would be fun to try with the new Marshmallow Crispy Oreo's and then dip them in white chocolate. Someone try that, and let me know how they are!
Yield: 30
Mint Oreo Truffles
Quick and easy truffles made with Cool Mint Oreos. So creamy and perfect for a quick dessert.
Ingredients
1 package Cool Mint Oreos
1 (8oz package) light cream cheese
1 pound chocolate, , melted
Sprinkles
Instructions
In a food processor plus Oreo's until they are fine crumbs.
Cut cream cheese into 1 inch pieces. Add to food processor, and process until well combined and no streaks.
Roll into about 1 inch balls (I got 30 out of mine).
Freeze for 30 minutes.
Dip balls into melted chocolate. Place on a lined baking sheet to harden. If using sprinkles, place on when the chocolate is still wet.
Store in the fridge.
Nutrition Information
Yield
30
Serving Size
1
Amount Per Serving
Calories

91
Total Fat

5g
Saturated Fat

3g
Trans Fat

0g
Unsaturated Fat

1g
Cholesterol

4mg
Sodium

20mg
Carbohydrates

10g
Fiber

1g
Sugar

8g
Protein

1g