Saucy Pork Stir-Fry – Quick and easy pork stir-fry. Add your favorite veggies and have the dinner on the table in minutes!
Making Asian Recipes at home can be so simple, and such a great quick and easy dinner. Everything comes together in no time, and the flavors are always so big and bold, it is anything but bland. And the best part is you can add whatever veggies and protein your family likes, so everyone is happy.
Plus you control the ingredients, so the sodium, fat, and quality are all up to you!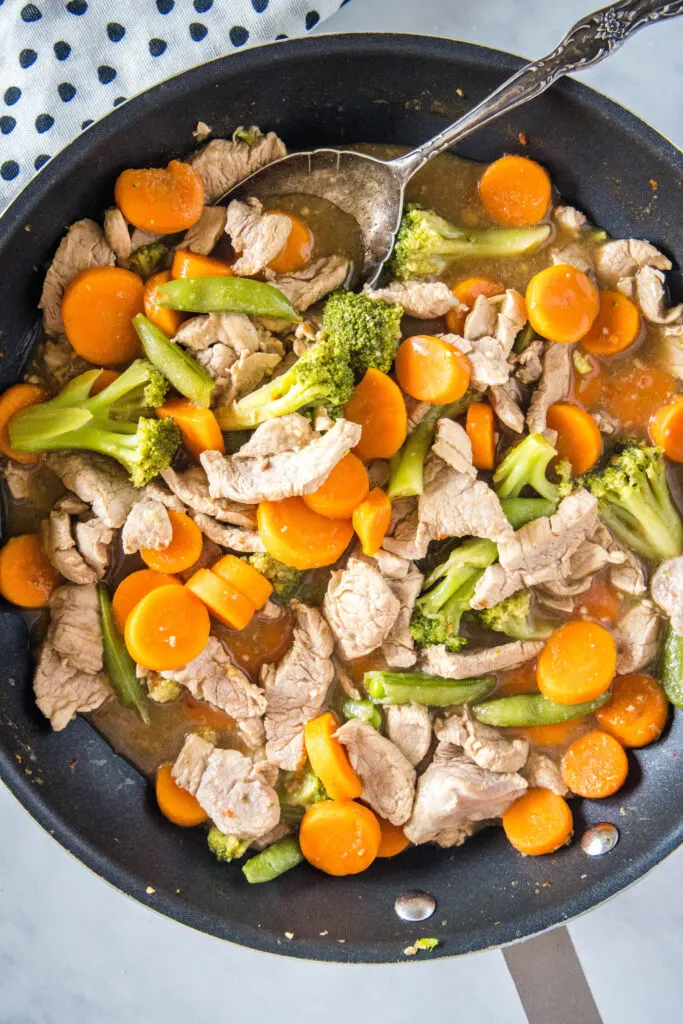 Easy Pork Stir-Fry
This pork stir-fry has been a household favorite for years so I am looking forward to sharing it with you. Since stir- frys are quick cooking, you'll want to use a meat that can also be cooked fast. Pork doesn't always fall into this category. But if you slice a pork tenderloin nice and thin it will cook in just minutes and be super tender and juicy!
Pork tenderloin is the perfect choice. It is lean and doesn't require long marinating or dry brines to tenderize.
Ingredients
Pork tenderloin– also feel free to use boneless pork chops or other proteins, as suggested above. Whatever you use, aim for cutting them in uniform sizes so they cook at a similar rate.
Italian dressing- Wait, what!? Yep, my secret ingredient for a flavor stir-fry! Combine this quick seasoned vinegar and oil marinade with other Asian inspired flavors and you've got an awesome short cut for a flavorful sauce.
Vegetables– You really can use whatever your favorite vegetables are here. Bell peppers, broccoli, carrots, water chestnuts, cauliflower, snap peas…you name it! If you have it, use it. And if it is frozen that isn't a problem at all.
Yellow onion– Or white onion.
Fresh garlic cloves– Fresh always give the most true garlic flavors. Notice we grated these with a micrograter. This is a trick to get maximum garlic flavor, but also have it virtually dissolve into the sauce instead of having large bits. Since the sauce cooks quickly, it otherwise wouldn't have time to merry.
Fresh ginger- This too is grated to prevent large bits and help to merry with other flavors fast.
Crushed red pepper– We like a little heat, but if spicy isn't on your palette, omit this or sprinkle a little on individual dishes before serving.
Soy sauce– Light soy sauce is best for less salty flavors.
Cornstarch– Used to thicken, it creates a velvety texture. Arrowroot is also widely used in Asian cuisine and can be swapped at a 1:1 ratio.
Water- to balance the flavors and increase volume.
White rice– Cooked rice is a must! Swap out for rice cauliflower or brown rice. Since this is an east weeknight dish, try the 90 second bags of rice or boil-in-a-bag.
How to Make Pork Stir Fry
This recipe does require a quick marinade, but it is already made for you in the shape of Italian dressing. Small cuts of pork have a lot of surface space, so it will quickly pull flavors that will enhance the overall taste of the dish. Twenty minutes is all it needs, but feel free to marinate for longer, even overnight.
When you are ready to prepare dinner, whisk together the water, ginger, crushed red pepper flakes, soy sauce and cornstarch. Set aside.
Remove the pork from the marinade and discard. In a large skillet over medium-high heat, sauté the pork for 2 minutes, then add the onions and garlic, cooking for 3 minutes more. Finally, add the rest of the vegetables, stirring frequently.
Pour the sauce over the stir fry and heat for a few more minutes, This activates the cornstarch for the sauce to thicken.
Serve over your rice of choice.
Variations
One of the beauties of this dish is that you can't really hurt it. Use up odds and ends and throw in items you might not usually find in Asian cuisine. We'd love to hear how you customized for your family in the comments.
Bell Peppers- The original recipe called for red bell peppers, but since I'm not a huge fan, I omit them. They would add great color and flavor, so feel free to add green, red, yellow or orange.
Brown Rice- If you prefer to make this a taf healthier, opt for brown rice. I just can't get my family on board with the brown rice. My picky son will pick around the veggies and eat the meat out of this. Someday I will get him to just eat it all…someday...
Frozen Veggies – if you pick up a bag of frozen stir fry veggies at the store, that works perfectly here. Just take it out to start thawing while you cook everything else. Add it when you add the onions, so they have a little more time to cook.
Mix up the proteins- No one ever said that stir-fries can't use a medley of proteins, so add a blend of your favorites.
Make it vegetarian- Swap out the meat for tofu. Tofu is a glorious ingredient that acts like a little sponge, soaking up the flavors around it. This dish has a robust sauce that will be the perfect accompaniment.
Go riceless! Want to lower your starch intake? Just omit the rice and either eat the protein packed meat mixture or serve it over cauliflower rice.
Storage & Freezing
This quick dinner recipe is also great for making ahead or meal prep. Store in airtight containers in the refrigerator for up to 5 days and reheat in the microwave. The pork and rice can be stored separately or together for quick grab-and-go meals.
it also freezes beautifully either together or combined. Store in airtight containers or plastic bags for up to 6 months.
Yield: 4
Saucy Stir-Fry Pork
Stir-Fry Pork - A quick and easy pork stir fry for the whole family. Pork Tenderloin and snow peas in a soy sauce based stir fry.
Ingredients
1 pound pork tenderloin, cut into thin strips
1/2 cup Italian dressing
2 cups vegetables (snap peas, carrots, broccoli etc)
1/2 cup yellow onion, diced
2 cloves garlic, grated
1 tablespoon fresh ginger, grated
1/2 teaspoon crushed red pepper
3 tablespoons soy sauce
2 teaspoons cornstarch
3/4 cup water
2 cups cooked White rice
Instructions
Place pork tenderloin and Italian dressing in a zip lock bag. Let sit for 20 minutes.
In a liquid measuring cup mix together water, ginger, crushed red pepper, soy sauce and cornstarch. Whisk until smooth; set aside.
In a large skillet over medium-high heat, saute the meat for 2 minutes. Add the onions and garlic. Cook for 3 minutes.
Add your favorite vegetables and continue to cook for a few more minutes, stirring frequently.
Pour the water – soy sauce mixture over the pork. Cook for a few minutes until thickened and the meat is cooked through.
Serve over rice.
Nutrition Information
Yield
4
Serving Size
4 Servings
Amount Per Serving
Calories

392
Total Fat

11g
Saturated Fat

3g
Trans Fat

0g
Unsaturated Fat

7g
Cholesterol

83mg
Sodium

1020mg
Carbohydrates

35g
Fiber

3g
Sugar

7g
Protein

35g
Nutrition Disclaimer: All information presented on this site is intended for informational purposes only. I am not a certified nutritionist and any nutritional information shared on dinnersdishesanddesserts.com should only be used as a general guideline.
I created a fun group on Facebook, and I would love for you to join us! It's a place where you can share YOUR favorite recipes, ask questions, and see what's new at Dinners, Dishes and Desserts (so that you never miss a new recipe)!
Be sure to follow me on Instagram and tag #dinnersdishes so I can see all the wonderful DINNERS, DISHES, AND DESSERTS recipes YOU make!
Be sure to follow me on my social media, so you never miss a post!
Facebook | Twitter | Pinterest | Instagram
Did you know there is a Dinners, Dishes, and Desserts SHOP? Lots of different E-Books for sale. Or you can buy me a coffee to say thanks!