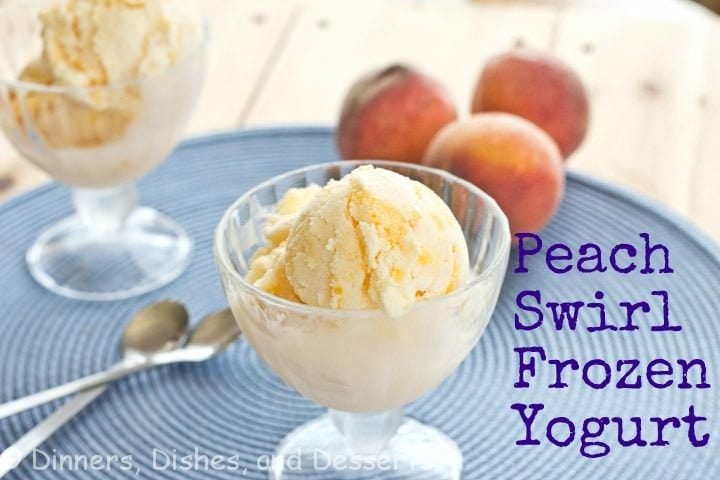 We are back with another addition of #SundaySupper.  This week we were challenged with "beat the heat".  Make something that didn't require the oven.  The last couple #SundaySupper's I have gone the savory route, so I thought it was about time I made dessert.
I had some Greek yogurt that needed to get used.  I have been wanting to try frozen yogurt with Greek yogurt.  And I had just gone to the farmers market and had more peaches than I knew what to do with.  Seemed like the perfect time to put it all together and see what happened.  Years ago my husband got me an ice cream maker for my birthday.  The first year we used it a lot, trying all kinds of different recipes.  But frozen yogurt never worked out.  I was hoping these years of experience in the kitchen since, would mean I would finally be successful. Well, not sure what the reason, but it was a success.
This is not as creamy as the custards and ice creams I have made in the past, but it is still delicious.  I also think if you used the full fat variety your results would be much creamier.  I just had non-fat on hand, so that is what I used.  I did have a hard time getting a pretty swirl, but who really cares when it tastes good, right?
Vanilla Greek Frozen Yogurt with a swirl of fresh peach sauce going throughout.
Ingredients
2

cups

Vanilla Greek yogurt

1/2

cup

sugar

1/2

cup

heavy whipping cream

1

tsp

vanilla

2

tsp

vodka

(optional, helps prevent crystalization)

3

peaches

, peeled and diced

1/4

cup

sugar

1/2

tsp

vanilla
Instructions
In a large bowl mix together the yogurt, sugar, cream, and 1 tsp vanilla, and vodka if using. Pour into ice cream maker, and churn according to the direction.

Meanwhile, puree the peaches until smooth. Mix in the sugar and vanilla. Set aside.

Once the yogurt has churned, pour into a container with a tight fitting lid. Gently fold in the peach sauce, leaving a swirl. Store in the freezer.
Don't miss what else the #SundaySupper team has put together
#BeatTheHeat Appetizers:
#BeatTheHeat Salads, Soups, & Sides:
#BeatTheHeat Main Dishes:
#BeatTheHeat Desserts:
#BeatTheHeat Drinks & Cocktails:
Wine Pairings Provided By: ENOFYLZ
Make sure you join us on Twitter throughout the day on Sunday, and at 3:00 p.m. EST for our weekly #SundaySupper Twitter chat!  All you have to do is follow the #SundaySupper hashtag, or you can follow us through TweetChat!  We'll be sharing great recipes and tips all afternoon, and we'll be talking all things #BeatTheHeat during our chat!