Black Cherry Sorbet – a slightly sweet, tangy and refreshing cherry sorbet. Served with prosecco or sweet sparkling wine for a fun grown up treat.
Chocolate is pretty much my favorite thing ever. Any one of these 20 decadent chocolate dessert recipes is usually my first choice when it comes to dessert. But sometimes you just need to mix it up. And sometimes you want something lighter and more refreshing.
And if I am mixing it up, and getting away from chocolate a light and refreshing sorbet is the way to go. Sorbets are made with just fruit and a little bit of sugar. So they aren't nearly as high in calories and fat as many other dessert recipes. And I am all for any way I can get dessert in my day.
Click HERE to get the full recipe for this black cherry sorbet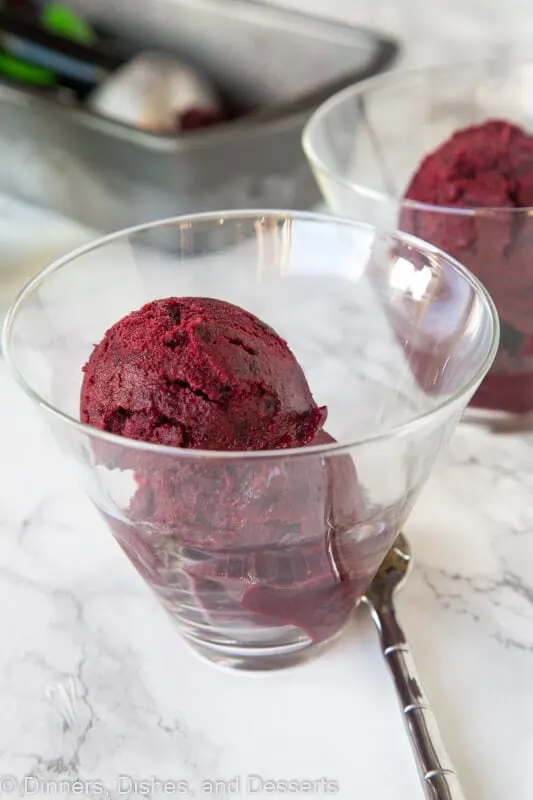 Frozen treats aren't just for summer. This black cherry sorbet is great all year round! Sorbet is so easy to make, you can mix up the fruit and make it any day of the week! Like this strawberry sorbet recipe. I used frozen cherries in this version, but if you can find fresh cherries they will work just as well!
To make this black cherry sorbet even more fun, it is served in a martini glass with prosecco or sweet sparkling wine. As the sorbet starts to melt it flavors the sparkling wine, and you end up with a delicious treat! You could even let the sorbet melt completely and make a wine slushie!
Their is no alcohol in the sorbet itself, so you can leave out the processo and have this be a treat for the whole family. Or use Sprite and you have a different version for the kids and grown ups. Sorbet is refreshing and a great way to end any meal.
Kids shouldn't have all the fun when it comes to frozen treats, so make this black cherry sorbet for the grown ups and enjoy!
I am sharing this recipe over at Imperial Sugar today. Click on Black Cherry Sorbet to get the FULL recipe.
**I was compensated for my time to create this recipe. All thoughts and opinions are 100% my own.