Chocolate Cream Cake – Moist chocolate cake topped with a light and fluffy almond flavored whipped cream "frosting".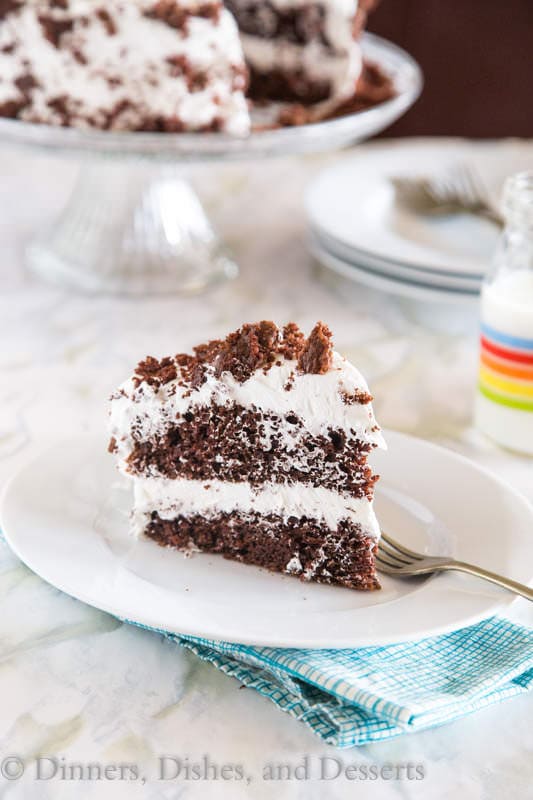 Today my son starts STEM camp.  He went last year and loved it, so is going again this year.  It is a day camp that focuses on science, technology, engineering and math.  It is perfect for him, and he gets a lot out of it.  I just wish they offered it for more than one week at this age.  STEM is a national wide thing, so look for it in your area if that sounds like your child. Unfortunately, this year they had to change the school it is held at because of construction.  Last year it was so convenient, less than a mile from our house (and at the middle school he will be attending).  This year it is across town, so a little more of a hastle.  But he has a couple friends who are going as well, so I am sure it will be worth it!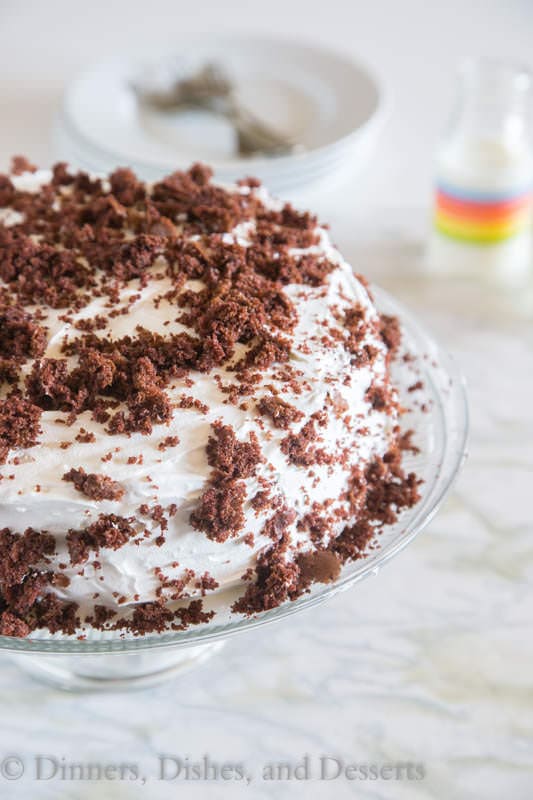 When I was growing up this chocolate cream cake was my favorite.  I requested every single birthday, much to my dad's disappointment.  If you have ever read this blog before, you know I am 100% into chocolate desserts.  If there is anyone worse that me, it is my dad.  So if he is going to have chocolate cake, it needs to have chocolate frosting.  Normally, I would agree with him, but this cream cake is the exception.  It is so light, and I just can't help but love it.  I have no idea where the recipe came from, it was just something that my mom made.  She may have gotten the idea from her mom, but I really don't know.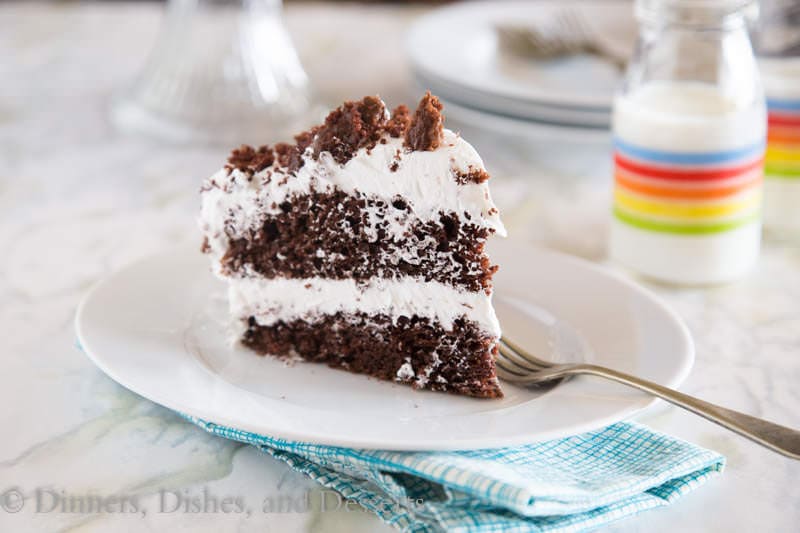 The "frosting" for this cream cake is made with cool whip.  Don't hate me.  You can make your own fresh whipped cream if you want, but trust me the cool whip works here.  You add a little powdered sugar for structure, and add almond extract for flavor.  Perfection!  I used a box cake mix for this, but if you have a favorite chocolate cake recipe, by all means use it. I finally introduced this cake to my son on his birthday.  He loved it!  I am hoping I have now started a tradition of him asking for it on his birthday.

Chocolate Cream Cake
Chocolate Cream Cake - Moist chocolate cake topped with a light and fluffy almond flavored whipped cream "frosting".
Ingredients
1

box chocolate cake mix

, plus ingredients on the box

1

(16 oz) container Cool Whip, thawed

3/4

cup

powdered sugar

2

tsp

almond extract
Instructions
Bake cake according to the box instructions, baking into 2 layers. Cool completely.

Using a serrated knife, cut the top of the cake so it is flat and level. Save the extra cake, crumbling into a bowl.

In a large bowl mix together thawed cool whip, powdered sugar, and almond extract.

Set one layer of the cake on a large plate or serving platter. Spread with layer of cream. Top with the remaining layer of cake. Use the rest of the cream to "frost" the cake.

Sprinkle the extra cake crumbs over the cream.

Store in the fridge
Looking for other cake recipes?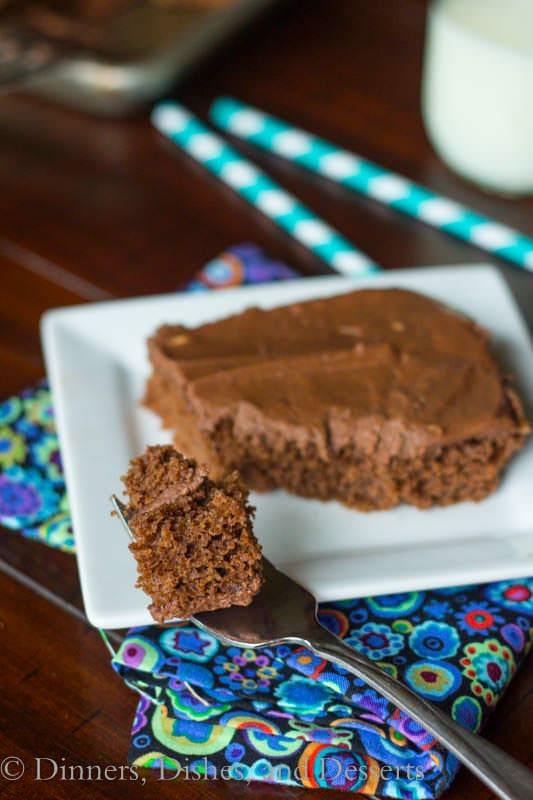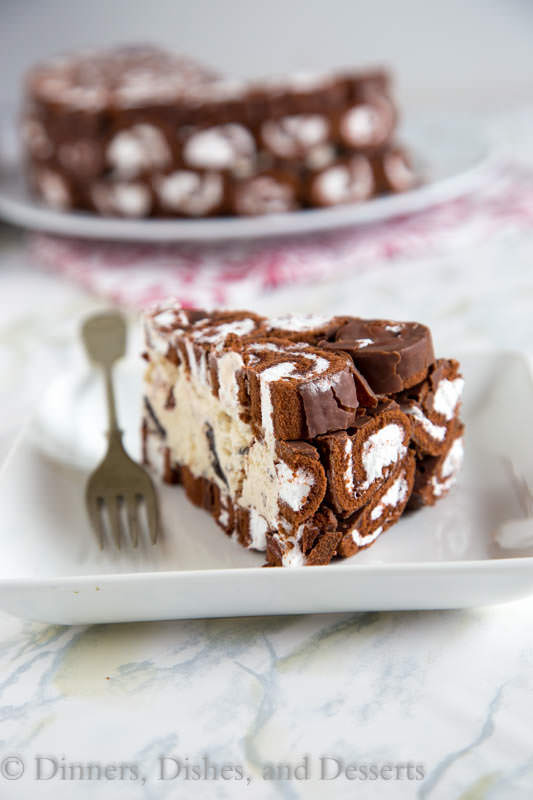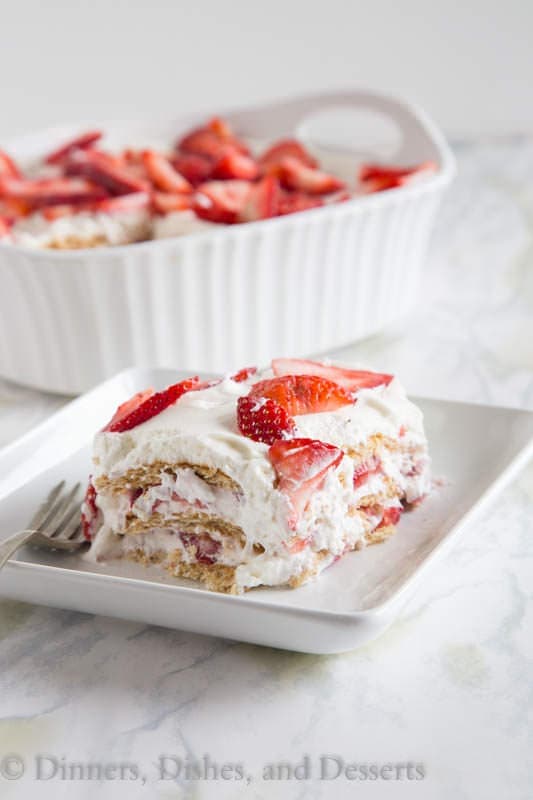 Be sure to follow on Pinterest where I am always finding great new recipes!