Daily Harvest Review & Meal Hacks – Have you ever thought of trying Daily Harvest? Wondering what it is? Is it worth it? How good is the food? I am here to share all of this and more in my full review. Plus a few "hacks" to get even more out of your meals and a discount code!
This post is sponsored by Daily Harvest. All thoughts and opinions are 100% my own.
Let's face it, life is just busy. It doesn't really matter in what stage of life you are in, schedules are just hectic. So getting a balanced meal, and all the fruits and vegetables that are recommended in your diet, can be hard!
I am excited to have found Daily Harvest. It makes life a little healthier and a whole lot easier. Not only does it show up right at your door, they have 90+ chef-crafted Smoothies, Harvest Bowls, Soups and more. So there is something for everyone.
If you have ever considered Daily Harvest or it is new to you and you want to know what it is all about, keep reading my full Daily Harvest Review where I give you all the ins and outs, how it works, and I even have a discount code for you.
Use my code DINNERSDISHES to get up to $40 off your first box!
How Does Daily Harvest Work
A lot of people know of Daily Harvest for their Smoothies. They are super convenient and loaded with real fruits and vegetables. All you have to do is remove the lid, fill with the liquid of your choice and blend until it is smooth. A filling and healthy breakfast or snack has never been so easy!
But they have more than just smoothies now! They have come out with Soups, Flatbreads, Harvest Bowls, Oat Bowls, Bites, Lattes, and even Scoops (aka dairy free, plant-based ice cream). It is so nice to have a freezer stocked with healthy meals that anyone can just grab and have ready in minutes.
All you have to do is go over to the Daily Harvest site, and you can sign up for the size box that works for you and your family. They are super flexible, you can sign up for weekly or monthly (and you can skip a delivery any time you need to) deliveries. You can also change your box size and the items in your box at any time.
All of the ingredients they use are gluten-free, dairy-free and plant-based (and 95% organic!). And the ingredients are listed in bold on the outside of every package, so at a glance you know exactly what you are eating. You can always see all of the whole, real ingredients inside the cup or bowl.
You can use my code DINNERSDISHES to get up to $40 off your first box!
Daily Routine
Daily Harvest makes it really easy to fit fruit and vegetables into every part of your day. From breakfast, lunch, dinner, and even snacks, they now make it all! With over 90 options, they have you covered pretty much any time of the day for any craving.
Starting the day off with a Smoothie or an Oat Bowl is a great and filling option. I am partial to the Apple + Cinnamon Oat Bowl. It is ready in just minutes, and all you have to do is add a liquid of your choice, and then microwave or heat on the stovetop. I like to add just a little bit of peanut butter to mine for more protein. You can also make the Oat Bowl cold as overnight oats.
My son is a huge fan of the Strawberry + Peach Smoothie. He has a friend who brings one to school every day, so he was super excited when I started ordering them as well. I am partial to the Mint + Cacao one, with a little protein powder thrown in. You can also make their Smoothies with their plant-based Mylk. Mylk is their plant-based milk made from just almonds, sea salt and sometimes vanilla bean. Just add their Mylk wedges + water so you never have to worry about having milk on hand.
The Flatbreads make for a great lunch. I work from home, and stopping what I am doing to actually sit down for lunch is hard. I never want to take the time to actually make something, so I am always scrounging and not making the best choices. With Daily Harvest I can just take one out of the oven and put it in my toaster oven (or regular oven) and my lunch is ready for me. I love to add leftover chicken and some cheese to the Tomato + Basil Flatbread for a quick and easy lunch.
The little Bites are my favorite snack to just grab when I am craving something sweet, but want to make a good choice for me. They are so easy to just grab one out of the freezer and eat while I am working or even when I am on my way out the door and just need a little something. The Hazelnut + Chocolate one tastes like you are eating a chocolate hazelnut spread, so it is basically like dessert for a snack, but good for you! They just launched even more options as well in their Bites collection including new fruit-forward options!
And there are lots of ways to fit Daily Harvest into your dinner routine, and make meal planning so easy for the week. The Harvest Bowls are great to take out and just heat the contents in a skillet. The Sweet Potato + Wild Rice Hash with a fried egg on top is pretty much like a breakfast burrito bowl and who doesn't love that?! All you have to do is heat the Harvest Bowl up in the microwave or on the stovetop and it's ready in minutes. Even better, the bowl is 100% microwavable and compostable so no added dishes!
Daily Harvest Meal Hacks
One of the things I like best about Daily Harvest, is you can really make their dishes into a meal the whole family will love. Their food is a great base to start with that will fit with any dietary restrictions or taste preferences. This Spicy Butternut Squash Ramen starts with their Butternut Squash + Rosemary Soup that you add just a couple of ingredients to, and it turns into a bowl of ramen that anyone will love!
How To Make Butternut Squash Ramen
Remove the Butternut Squash + Rosemary Soup from the freezer and peel off the lid. Add 1 cup of chicken broth and pour everything into the blender.
Puree the soup until it is smooth and creamy.
Pour into a small saucepan and bring to a simmer. Stir in 1 Tablespoon of Red Thai Curry Paste and heat until it is warmed through.
To serve, top with cooked ramen noodles and garnish with chopped peanuts, lime wedges, and a little bit of fresh cilantro.
A super easy "hack" that will get dinner on the table in no time. You could even mix in store bought rotisserie chicken if you wanted to add even more protein.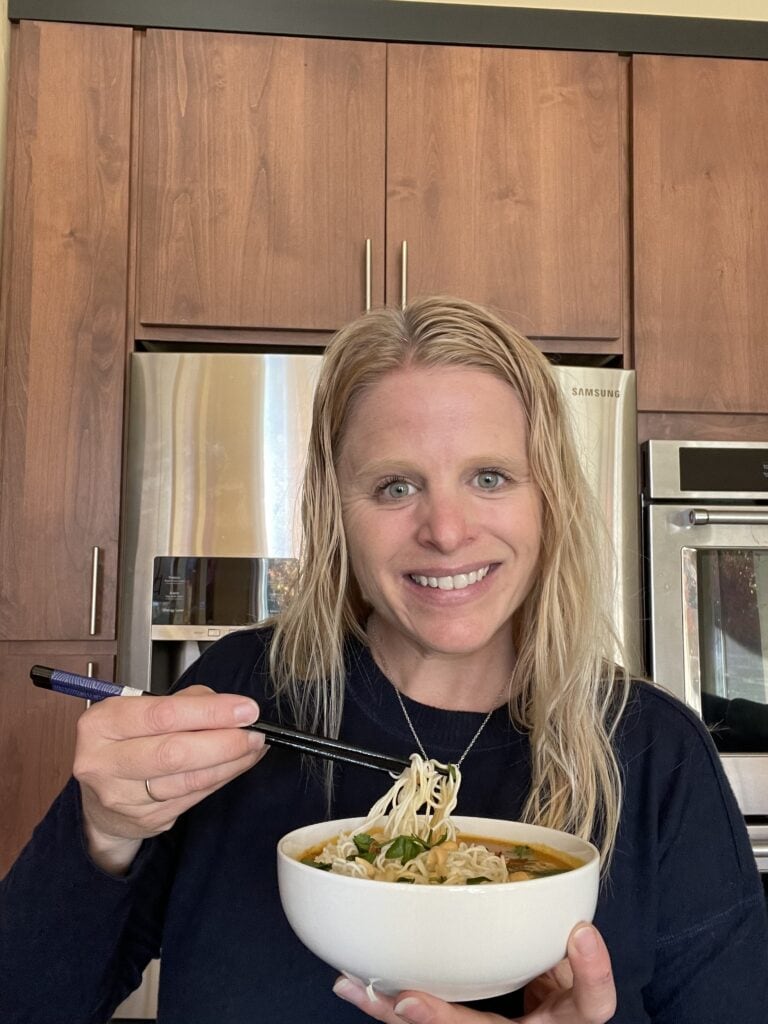 Get Started With Daily Harvest
If you want to get started with Daily Harvest, as a new customer you can choose a flexible plan that can come weekly or monthly. And the really nice thing is you can cancel, pause or update your plan at any time. You can switch up your picks before the delivery day or skip a week if you need to.
It could not be easier to stock your freezer with good for you food, that you can just grab and have ready in minutes.
Is it worth it? Like any food delivery company, part of what you are paying for is the convenience. Everything just shows up to your door, you don't have to go grocery shopping, measure out any ingredients, prep anything etc. With Daily Harvest you know exactly what you are getting (no gums, preservatives, or artificial anything, gluten-free, dairy-free, and plant-based) and the convenience of having a fully stocked freezer to eat anytime I want. And since their food arrives frozen, it also reduced food waste and worrying about produce going bad before you can eat it.
They have such a wide variety of items, you can really have something for the whole family at your finger tips at all times. So yes, I do think it is worth it if eating healthy, and knowing the ingredients in your food is a priority for you.
Right now you can fill your box with any items of your choice! Use my code DINNERSDISHES to save up to $40 off your first box.
I created a fun group on Facebook, and I would love for you to join us! It's a place where you can share YOUR favorite recipes, ask questions, and see what's new at Dinners, Dishes and Desserts (so that you never miss a new recipe)! If you'd like to check it out, you can request to join HERE.
Be sure to follow me on Instagram and tag #dinnersdishes so I can see all the wonderful DINNERS, DISHES, AND DESSERTS recipes YOU make!
Be sure to follow me on my social media, so you never miss a post!
Facebook | Twitter | Pinterest | Instagram 
Did you know there is a Dinners, Dishes, and Desserts SHOP? Check out all of my E-books as well as branded merchandise HERE!