Instant Pot Pork Tacos – these pulled pork tacos are super tender and so delicious. Topped with a creamy Mexican slaw and avocado sauce!
Do you have an Instant Pot? I got one about a year ago and love it for for cooking pulled pork and ribs and some soups. I don't use it for a lot of things, Instant Pot Tortilla Soup is amazing in it, but the few things I do use it for are incredible!
I have been making these pork tacos for a couple years, and am finally getting around to sharing the recipe. It is usually just a last minute dinner when pork shoulder is on sale, so I have never taken pictures of it. Finally my husband said I need put this on the blog, because people would love a good pork tacos recipe. So here you go!
We eat a LOT of pork around here, you know this if you have been around long. Smothered Pork Chops are on repeat all winter long. We even purchased our own pig last year, so we have a freezer full of so much pork! But that is ok, because Lemon Garlic Pork Chops are kind of my go to.
Last month I had the opportunity to travel to Michigan to visit a couple pig farms and learn all about pig farming with the National Pork Board. You may remember my Crispy Pork Cutlet recipe last year, that this is not my first time visiting a farm and learning all the ins and outs of pig farming.
This time I learned so much about cooking pork, the diet of the pig and how that affects the food we are eating, and the regulations that go into taking care of a pig. First of all, these pigs are so well taken care of. The farm we visited had the same hepa filters used in hospitals, that filtered the air for the pigs. Their health is the absolute number 1 concern. Everything that comes in contact with the pigs and even the air they breath is cleaned and disinfected. And did you know it is ILLEGAL to use any hormones in pigs? So if you see that on packaging at the store, they are just using it to try to get you to pay more money! Crazy!
So cooking pork. So many of us know that the temperature to cook pork to was lowered to 145 a few years ago. But do you know why? Because the way pigs are raised has changed! The reason it was cooked to a higher temperature before was because of trichinosis. Trichinella is a parasite that pigs could get, and it could be passed onto humans if it wasn't killed in the cooking process. Well, with the change in biosecurity, the way pigs are raised, and the food they eat, this is NOT a risk anymore. Trichinella is usually found in the dirt, worms etc. So when pigs were raised outside, they would dig in the dirt and pick up this parasite. Commercial pig farms are all in doors now. This not only makes it so they are not exposed to Trichinella, but it also means that the pigs are so much more comfortable. So use a meat thermometer and stop cooking your pork chops to death. There is no reason too!!
Perfectly cooked pork is juicy, tender, and delicious. Pork chops get a bad reputation because of being over cooked for so many years. So now we have to change that mentality and cook pork chops to 145 degrees and see just how tasty they can be!
These pork tacos are make from a pork shoulder, so that gets cooked to a higher temperature just so it isn't tough. Cooking it in the Instant Pot or the Crockpot gives you the most tender pulled pork tacos for a delicious and easy dinner! This Pork Loin in the Instant Pot looks so tender as well!
You can use your Crock pot or the Instant pot to make this pork tacos recipe. I give cooking times for both below. They are topped with a creamy Mexican coleslaw and an avocado cream sauce that brings it all together.
So if you are looking for a fun way to mix up tacos, or a new way to make pulled pork – this is it! My family loves these, and we have been making them for years. Trust me, the super tender pork is going to win everyone over.
I created a fun group on Facebook, and I would love for you to join us! It's a place where you can share YOUR favorite recipes, ask questions, and see what's new at Dinners, and Desserts (so that you never miss a new recipe)! If you'd like to check it out, you can request to join HERE.
Be sure to follow me on Instagram and tag #dinnersdishes so I can see all the wonderful DINNERS, DISHES, AND DESSERTS recipes YOU make!
Connect with Dinners, Dishes, and Desserts!
Be sure to follow me on my social media, so you never miss a post!
Facebook | Twitter | Pinterest | Instagram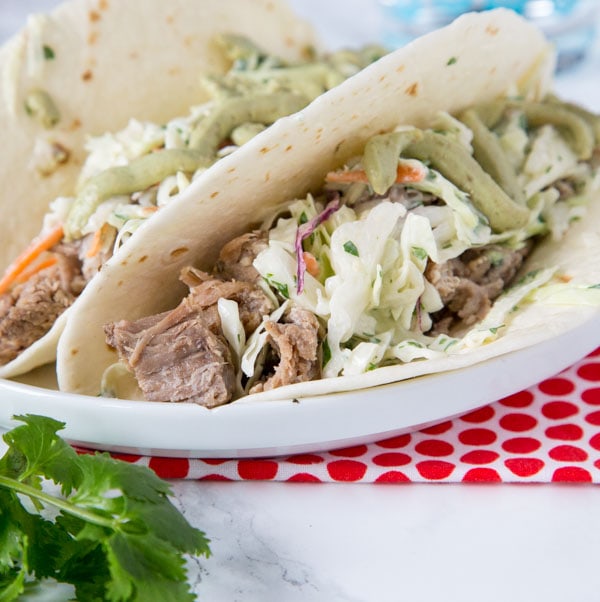 Instant Pot Pork Tacos - these pulled pork tacos are super tender and so delicious. Topped with a creamy Mexican slaw and avocado sauce!
Additional Time
25 minutes
Total Time
1 hour
20 minutes
Ingredients
Pork
4-5 pound pork shoulder
6 cloves garlic, minced
2 limes
1 lemon
1 cup chicken broth
1 teaspoon ground cumin
1 teaspoon oregano
1 teaspoon salt
1/2 tsp black pepper
Mexican Coleslaw
2 cups coleslaw mix
2 Tablespoons mayo
1 lime, juiced
2 teaspoon chopped cilantro
1/2 teaspoon salt
Avocado Cream
1 avocado
1/3 cup sour cream
1/2 lime, juiced
1/4 teaspoon salt
Instructions
To make the pork in the Instant Pot, cut pork into big chunks, about 3 inch cubes. Add to the instant pot with the remaining ingredients. Close the valve and manually set the time for 45 minutes. Once the time is up, let it naturally release for 10 minutes before opening the valve. Shred the meat.
To make pork in the Crockpot. Add all of the ingredients to the slow cooker and cook on low for 8-10 hours. Once tender, shred the meat.
To make the Mexican coleslaw
In a bowl mix together mayo, lime juice, salt, and cilantro until well blended. Add coleslaw mix and toss until well coated. Set in fridge until ready to use.
To make the Avocado Cream
In a small food processor blend together all of the ingredients until smooth. Cover well and place in fridge for up to 1 hour before serving.
To Assemble Tacos
Fill corn or flour tortillas with shredded pork, top with coleslaw, and drizzle avocado cream.
Nutrition Information
Yield
8
Serving Size
1
Amount Per Serving
Calories

274
Saturated Fat

5g
Cholesterol

99mg
Sodium

757mg
Carbohydrates

6g
Fiber

1g
Sugar

1g
Protein

28g
** This post is sponsored by the National Pork Board. I was compensated for creating this recipe. All thoughts and opinions are 100% my own.