Reese's Fudge
Reese's Fudge – a layer of creamy peanut butter fudge topped with melted chocolate and peanut butter.  And easy no bake recipe that is down right addicting!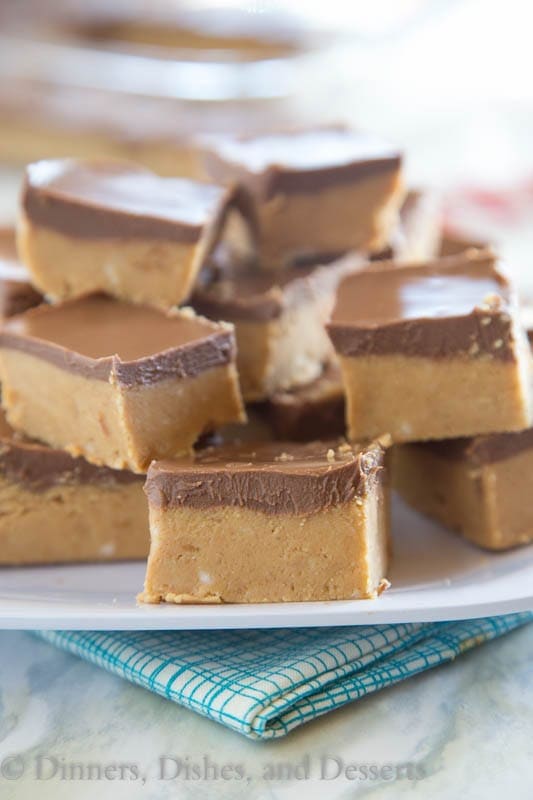 One of my dear friends has a cookie exchange every year.  She has a house full of people that all bring 3 dozen cookies, packaged in groups of 6, and place them around her large dining room table.  We visit, sip champagne and snack on delicious appetizers.  Then to end the night we all get in a long line and take turns walking around the table.
Each time around the table, you get to take 1 package of cookies, until there are none left.  So you go home with 6 packages of cookies that you picked out, all baked by different people.  It is a super fun night, and I always come away with yummy treats.  At this cookie exchange my friend always serves her Reese's fudge, which is one of my favorite things ever.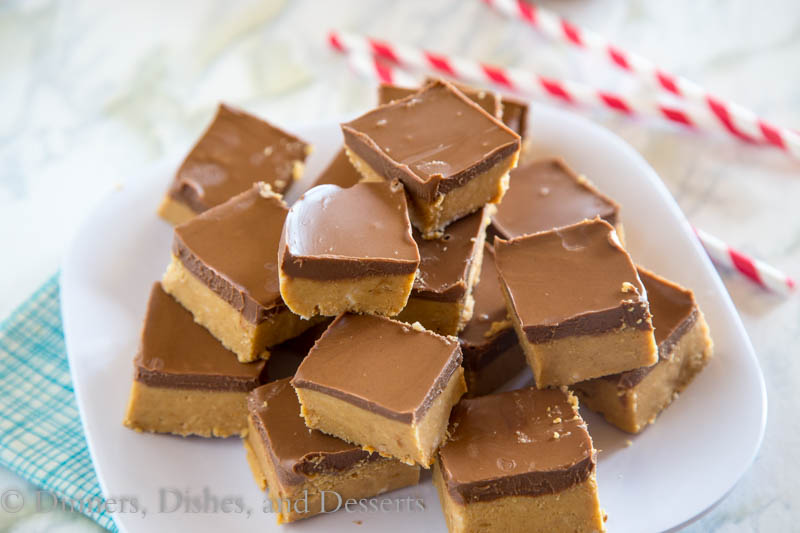 This year at the cookie exchange my friend actually had her Reese's fudge as her "cookie" to exchange.  It was the one I picked first!  I came home and my 10 year dove right in.  It was the first thing gone, and as soon as it was, he said "I guess I know what you and I are doing together tomorrow." Peanut Butter Chocolate Balls have always been our favorite, but this fudge has taken over!
Despite the fact that we have No Bake Avalanche Cookies sitting on the counter right now. And a ton more in the pantry and freezer!
He declared it a must for our Christmas cookies this year. My only problem with it, is I want to eat it all and have no self control!  It is like a giant Reese's peanut butter cup only better! And if you couldn't tell based on these peanut butter stuffed brownies, we have a thing for peanut butter around here.
I have actually made something similar before..these Peanut Butter Bars.  But this Reese's fudge is much softer and more like fudge than a bar.  It all comes together in 1 bowl, no mixer required.  No baking required either.
You do need to melt some chocolate and butter, but aside from that no other heating is involved.  It is super easy, maybe you can even let the kids make it for you!  If you are a fan of Reese's peanut butter cups, trust me, you will LOVE this peanut butter fudge!
Check out the video below to see how quickly it all comes together!
Some of my favorite kitchen items used to make this recipe
Pyrex Pan – A good 13×9 inch pan is essential when making dinners and desserts. This one holds up to the high temperature of the oven, and works great for no bake desserts that go in and out of the fridge often!
Rubber Spatula – Nothing like being able to scrape any type of bowl clean without scratching it up. Don't forget one of these babies to get every last bit out of your bowl.
Mixing Bowls: I love having a variety of sizes of mixing bowls. From small to large, I find that having at least 3 bowls of different sizes has been an essential in my kitchen. I prefer Pyrex because of the durability.
Reese's Fudge
Reese's Fudge - a layer of creamy peanut butter fudge topped with melted chocolate and peanut butter. And easy no bake recipe that is down right addicting!
Ingredients
Peanut Butter Layer
1

cup

butter

, melted

1

pound

powdered sugar

1 1/2

cup

creamy peanut butter

1 1/2

cup

graham cracker crumbs

(about 1 sleeve)
Topping
1

(12 oz) package milk chocolate chips

1 1/2

cup

creamy peanut butter
Instructions
In a large bowl mix together all of the ingredients for the peanut butter layer. Use a large fork to blend well. Press into 13x9 inch baking pan. Chill for 1 hour.

Place chocolate chips and peanut butter into a bowl. Microwave for 1 minute. Stir until melted and smooth. Pour over peanut butter layer. Chill for 2 hours, until firm.

Store in fridge.
Recipe Video
Nutrition Facts
Reese's Fudge
Amount Per Serving
Calories 235
Calories from Fat 144
% Daily Value*
Total Fat 16g 25%
Cholesterol 13mg 4%
Sodium 167mg 7%
Potassium 147mg 4%
Total Carbohydrates 19g 6%
Protein 5g 10%
* Percent Daily Values are based on a 2000 calorie diet.