Whole Wheat Chocolate Chip Zucchini Bread – tender and moist zucchini bread made with whole wheat flour and lots of chocolate chips!
The other night we woke up to see the Perseids meteor shower.  It was my first ever meteor shower.  I have to say it was pretty darn cool.  I think looking at the stars is cool, but I am not huge into space.  So my husband and son almost didn't even bring me along.  It was also my 10 year olds first meteor shower, and he thought it was one of the coolest things ever. We woke up at 1:15, and had to drive about 40 minutes until we would find somewhere far enough in the middle of no where that it was completely dark.  And even then, it is amazing how much light a city casts off.  We saw probably 50-100 meteors go across the sky in the 75 minutes we watched.  We made it home by 4:00 (after we were stuck in construction for 15 minutes) and went back to bed for a few hours.  My 10 year old was able to take a nap the next day, and I survived on caffeine.  But it was totally worth it!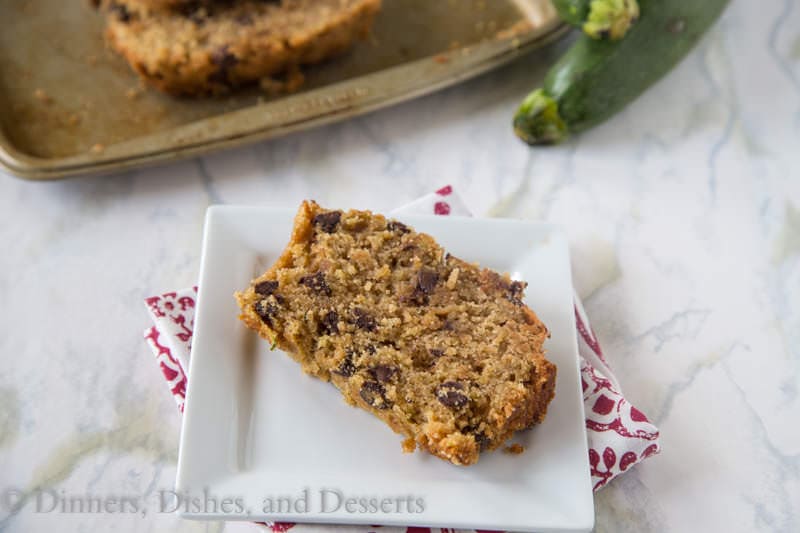 It is about that time of year.  The time when everyone has zucchini in abundance.  We all plant it, more than one plant, forgetting how many the plant last year produced.  Or we have friends that are giving it away.  And if you and your friends all have black thumbs, then you see it in the grocery store for dirt cheap.  This time of year I always make a bunch of our favorite Zucchini Muffins to have stocked on the freezer.  But I also like to mix it up sometimes.  Zucchini Brownies were a huge hit last year, that I think need to be repeated this weekend.  But this whole wheat chocolate chip zucchini bread might be a new staple.  Zucchini bread is always good, but add chocolate chips and it is even better!
I have made zucchini bread in the past, but this year I figured I would try to the whole wheat flour route.  I can 100% guarantee you will never notice a difference.  I did not drain or squeeze any of the water out of my zucchini, so there is plenty of moisture in this zucchini bread.  Trust me when I say this whole wheat chocolate chip zucchini bread will become a new favorite in your house.  The recipe makes 2 loaves, so you can freeze one for later.  Or if you are really generous you could give one to a friend.  But I think you will probably want to hold onto it 🙂

Whole Wheat Chocolate Chip Zucchini Bread
Whole Wheat Chocolate Chip Zucchini Bread - tender and moist zucchini bread made with whole wheat flour and lots of chocolate chips!
Ingredients
3

cups

white whole wheat flour

(or whole wheat pastry flour)

1

tsp

salt

1

tsp

baking powder

2

tsp

cinnamon

3

eggs

1

cup

vegetable oil

1 1/2

cup

sugar

1/2

cup

brown sugar

1

Tbls

vanilla extract

2

cups

shredded zucchini

(do not drain)

1

cup

semi-sweet chocolate chips
Instructions
Preheat oven to 350 degrees. Spray two 9x5 inch loaf pans with non-stick spray. Set aside

In a large bowl sift together flour, salt, baking powder, and cinnamon.

In a separate bowl mix together eggs, oil, sugar, brown sugar and vanilla until well combined. Add to the flour mixture, and stir until just combined.

Stir in zucchini until well blended.

Fold in chocolate chips

Divide equally into the 2 loaf pans. Bake for 45-65 minutes, until a tester comes out clean.

Allow to cool for 10 minutes on a wire rack, before removing from the pan to cool completely.
 Want to do even more with zucchini?