Mixed Berry Smoothie – A quick, healthy, and easy on-the-go breakfast idea!
If you've ever struggled with getting a picky eater to get their recommended amount of fruits and veggies in a day, this Mixed Berry Smoothie recipe is the perfect solution.
It's also a time saver for the mornings you're running late and need something a little more nutritious than a muffin or a tall mug of coffee (no judgement, I enjoy both of those things!)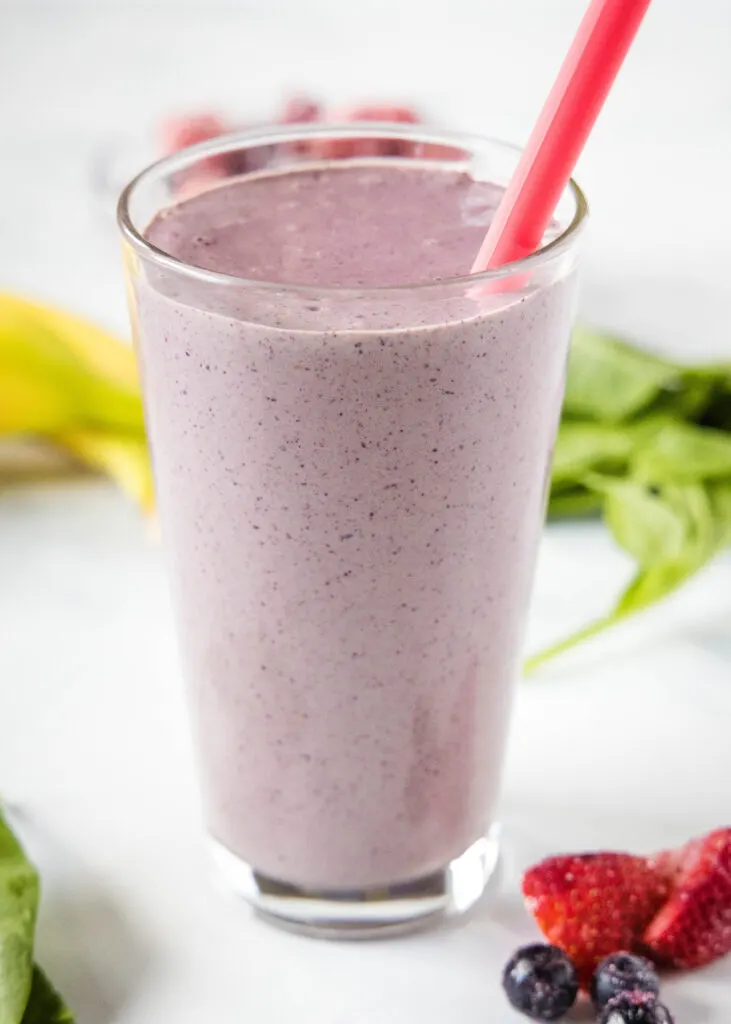 ARE MIXED BERRY SMOOTHIES GOOD FOR YOU?
This berry smoothie recipe is absolutely packed with fruits and vegetables, making it a delicious, healthy option that conveniently hides the good-for-you ingredients from kids (and sometimes husbands).
This Kiwi & Spinach Smoothie is a full on green smoothie that is one of my all time favorites. But my son is more of a mixed berry smoothie fan. We have been making this for years, and when we first started I didn't tell him what was in it. I just let him finish it, asked him what he thought, then I broke the news that spinach was involved. He was shocked, to say the least! To be honest, I was a little relieved he didn't totally revolt and never want a smoothie again, but I had won him over.
INGREDIENTS YOU'LL NEED
The beauty of a recipe like this is that the amounts are more of a suggestion than a requirement. If you happen to have a little more or a little less of something, it won't hurt the finished product.
Frozen mixed berries – Often these come in frozen bags at the store and offer a variety of berries. It is super convenient to not have to put together your own blend. Also feel free to use fresh berries or even a mix. The benefit to using a frozen blend is that this also serves as the ice without watering down the mix. If you do opt for fresh, you might need to throw in a few ice cubes to make it into a "true smoothie" and not just a juice.
Frozen Peeled Banana – The more ripe, the sweeter your smoothie will be. Word to wise (because I did this one without thinking)- peel your bananas before your freeze them. It is nearly impossible to peel a frozen banana. I also like cut them into 2-3 inch pieces so they blend better. Another great use for those overripe bananas if you don't feel like whipping up some banana bread.
Ground Flaxseed – I like to keep this in my pantry for an easy way to add a little more fiber to our diet and the ground version blends in seamlessly. Many recipes call for the whole seeds (similar in size and shape to a raspberry seed) and these can be used too, just cut the volume in half.
Greek Vanilla Yogurt – This is generally higher in protein and lower in sugar than some of the traditional, sweetened yogurts. It is also thicker, giving you the creamiest of smoothies. While I like the balance of vanilla, other flavors can also be used, as can regular yogurts.
Baby Spinach – Don't worry, you won't even be able to taste it. Kale can also be used.
Skim Milk – The volume of milk will largely depend on personal preference of texture and also the other ingredients you added. Start with a small amount and add more if you want it thinner. Higher fat contents can also be used, as can dairy alternatives like oat milk, almond milk or even coconut milk, which will give a tropical berry smoothie!
Strawberries, raspberries, blueberries and gooseberries are my favorites for a smoothie, but you can also add some variation and make it tropical with kiwi, mango and pineapple.
HOW TO MAKE A MIXED BERRY SMOOTHIE
One of my favorite things about this berry smoothie recipe (other than how healthy it is) is how simple it is to make.
There are literally only two steps to making it:
Put everything together in the blender. This is one of those occasions where I would highly suggest a high powered blender with a good blade. It is thick and you want to prevent burning out the motor. Having a dull blade can lead to the frozen berries not fully smoothing out. We've all been there chewing on ice pieces instead of sipping through a straw!
Blend until smooth- but don't even blend. After all, this is ice, so it can melt and before more of a juice than a smoothie. Find the sweet spot because slushie and juice.
Sit back and enjoy!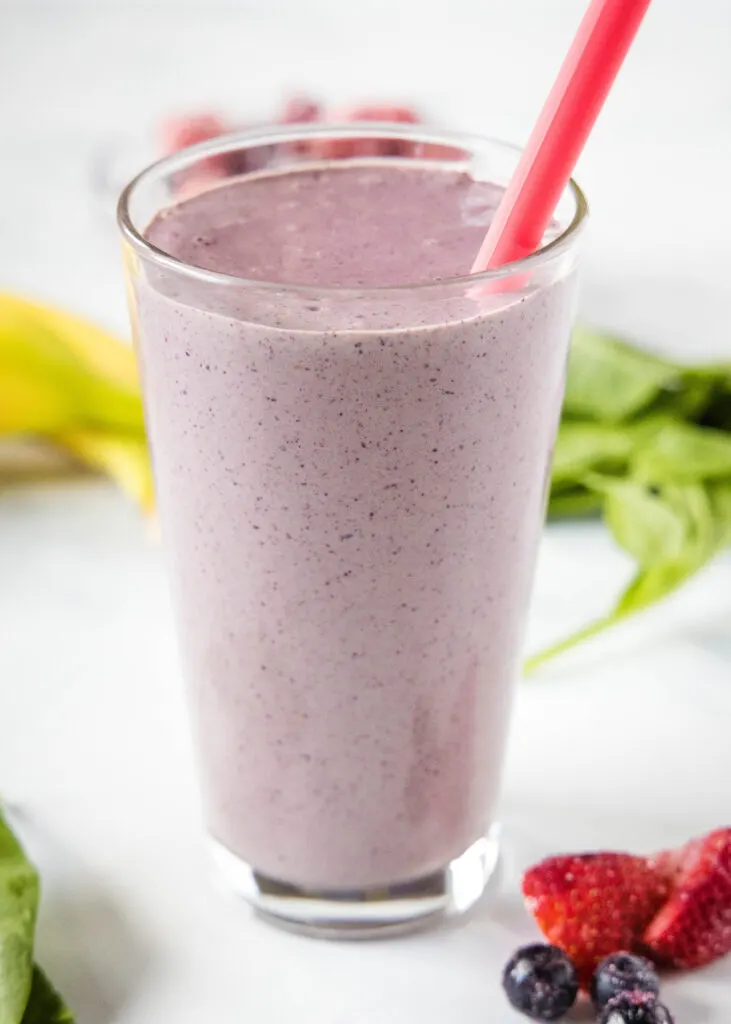 HOW DO YOU MAKE A BERRY SMOOTHIE TASTE BETTER?
The trick to an amazing tasting smoothie is finding the perfect balance of your favorite berries.
I buy a bag of frozen mixed berries for this. But if you like strawberries, and that is what you have on hand – go for it! If you use all strawberries it will be a much lighter color. The blueberries and raspberries give this a pretty dark color. In general, ripe fruit of any kind will be higher in naturally occurring fructose and provide the best flavors.
MEAL PREP
This takes 5 minutes to blend in the morning. You can pour it into a travel cup, and drink it on your way out the door if you are short on time. Definitely a good way to start your day.
But you can make it even easier! All of these ingredients, with the exception of milk, can be frozen together in airtight containers. Simply measure out all of the ingredients and freeze until you are ready to use. Dump it all in the blender, add your milk, and hit the button.
MORE RECIPES USING BERRIES
AND MORE DELICIOUS SMOOTHIE RECIPES
So, if you love this Mixed Berry Smoothie recipe as much as we do, make sure you share it with your friends so they can try it too!
Yield: 2
mixed-berry-smoothie/
Mixed berries with spinach make a delicious smoothie, you won't even know it is good for you!
Ingredients
3/4 cup frozen mixed berries
1/2 frozen peeled banana
1/2 cup Greek vanilla yogurt
2 Tablespoons ground flax seed
1 cup baby spinach
1/2-3/4 cup skim milk
Instructions
Put everything together in the blender.
Blend until smooth
Nutrition Information
Yield
2
Serving Size
1
Amount Per Serving
Calories

154
Total Fat

3g
Saturated Fat

0g
Trans Fat

0g
Unsaturated Fat

3g
Cholesterol

3mg
Sodium

60mg
Carbohydrates

24g
Fiber

5g
Sugar

16g
Protein

9g
Nutrition Disclaimer: All information presented on this site is intended for informational purposes only. I am not a certified nutritionist and any nutritional information shared on dinnersdishesanddesserts.com should only be used as a general guideline.
I created a fun group on Facebook, and I would love for you to join us! It's a place where you can share YOUR favorite recipes, ask questions, and see what's new at Dinners, Dishes and Desserts (so that you never miss a new recipe)!
Be sure to follow me on Instagram and tag #dinnersdishes so I can see all the wonderful DINNERS, DISHES, AND DESSERTS recipes YOU make!
Be sure to follow me on my social media, so you never miss a post!
Facebook | Twitter | Pinterest | Instagram
Did you know there is a Dinners, Dishes, and Desserts SHOP? Lots of different E-Books for sale. Or you can buy me a coffee to say thanks!