Cranberry punch is a super easy and delicious drink to have around for the holidays. There's even a non-alcoholic version for the kids!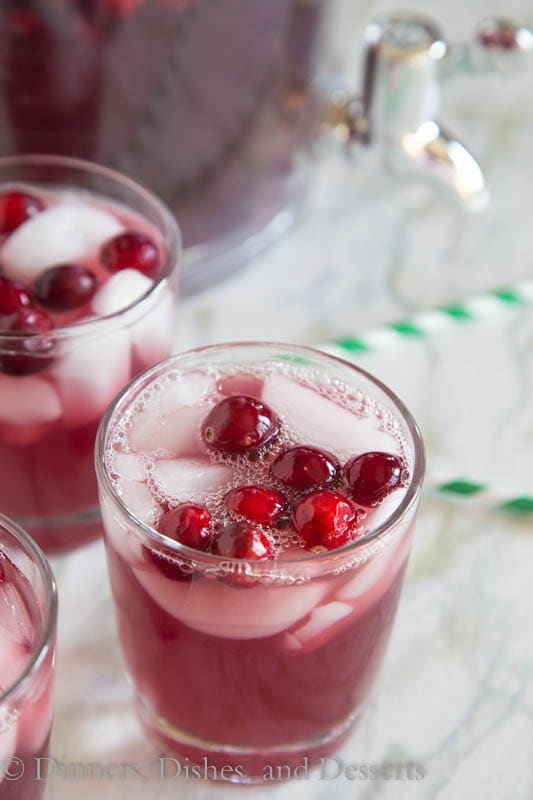 The holidays are here, and that means time for entertaining. Entertaining means having fun cocktails around. Well, at least I think it should mean that. I have been to plenty of get-togethers where the cooler full of beer is in one corner, and there is a random bottle of wine or two that someone else brought as a hostess gift. You know what I am talking about, right? Or is that just something that happens in the Mid-West? Time to put an end to that, and up your game with cranberry punch!
If that is your party, or your friend's, for that matter, I am here to help. This cranberry punch could not be any easier to make. Just three ingredients, plus I added some cranberries for garnish, but they aren't required. You can do most of the work, if you call opening a can and dumping work, the day before.
Then when it is time to serve, you just add the prosecco or sweet champagne. Plus, it makes a lot! So there are less other drinks you need to buy. Throwing a party can be super simple if you focus on one fun cocktail, and then just have beer or wine (spiced mulled wine would be awesome) available as well. No need to have a fully stocked bar or trying to cater to everyone's favorites.

You can even make this cranberry punch non-alcoholic by using ginger ale or a sparkling cider for the prosecco. You just want to add something sweet and fizzy. Because a punch is not a punch if it isn't sweet and fizzy.
Cranberries are always a hit around the holidays, so this cranberry punch recipe is perfect. I have also made a cranberry vodka Cocktail if you have extra cranberry juice to use. Cranberry orange sangria sounds fun too!
Please head over to Food Fanatic where I am sharing this recipe, and check out all the Easy Dinner Recipes I have over there as well.!