Spiced Mulled Wine – a winter favorite!  Warm spices with a hint of orange make for a great holiday drink.
The weekend is here!  Do you have any parties to go to?  Early Christmas's to celebrate?  Thankfully we actually don't have much going on this weekend.  Life has been so crazy lately, I am hoping that we can finally get some stuff done around the house.  Like maybe laundry.  For some reason it just keeps piling up!  Maybe I will actually try to tackle some of my Christmas shopping as well.  I can't believe we are less than 3 weeks away!
The holidays are in full swing!  I have two cookie exchanges this week, so there is lots of baking going on around here!  I am going to need some kind of detox before this holiday season is over.  Darn no will power!  So at all these holiday get togethers, having a few festive snacks and drinks around are a must.  I love red wine, so come December it is no surprise that mulled wine makes an appearance.  Years ago, my friend Beth introduced me to mulled wine at a New Year's party.  I had never heard of it before, but was definitely intrigued.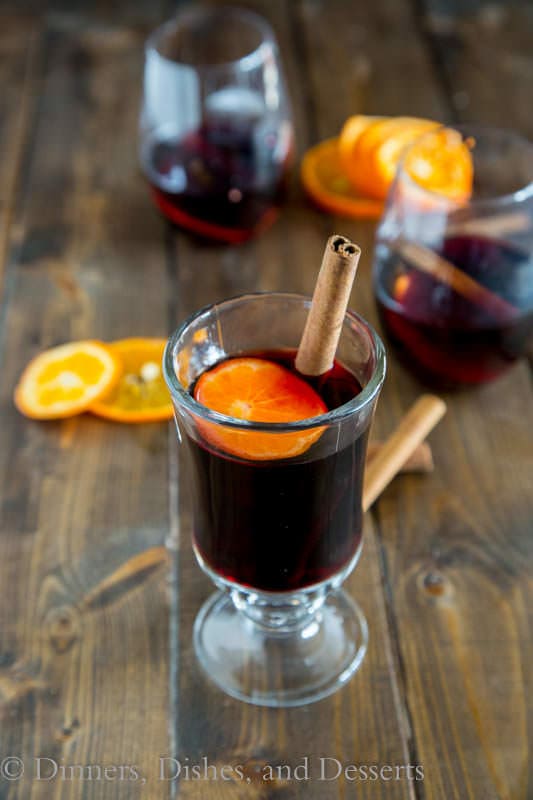 Years later, and it is still perfect for the holiday season.  Starting with a slightly fruity, dry red wine add in cinnamon, cloves, and allspice for lots of warm spice.  This version is a little sweeter with orange juice as well as dried oranges.  Perfect to have in the crock pot or slow cooker for people to help themselves during a party.  Stays warm and perfect for the whole get together.

Spiced Mulled Wine
Spiced Mulled Wine - a winter favorite! Warm spices with a hint of orange make for a great holiday drink.
Ingredients
1

large orange

, cut into thin slices

10

black peppercorns

5

whole cloves

3

cardamom pods

, lightly crushed

3

whole allspice

2

cinnamon sticks

(3 inches long)

1/2

vanilla bean

, split lengthwise

1/3

cup

sugar

2

bottles

(750 ml) zinfandel or other dry red wine
Instructions
Preheat oven to 200 degrees.

Arrange orange slices on a wire rack. Place on a baking sheet and bake for 3 hours, or until dried.

On a double layer of cheesecloth combine peppercorns, cloves, cardamom pods, allspice, cinnamon sticks, and vanilla bean. Gather up the ends of the cheesecloth, and tie shut.

In a large pan combine orange slices, the spice packet, sugar, orange juice and win. Heat over medium heat to a simmer. Reduce heat to low and cook for 30 minutes.

Remove the spice packet to serve.
Recipe Notes
Recipe from Cooking Light
If serving out of slow cooker; after you remove the spice packet pour into a slow cooker and heat on low.
Check out these other Holiday Drink Recipes