Lemon Garlic Shrimp – Super quick and easy dinner of shrimp sauteed in butter and garlic and then finished with lemon juice.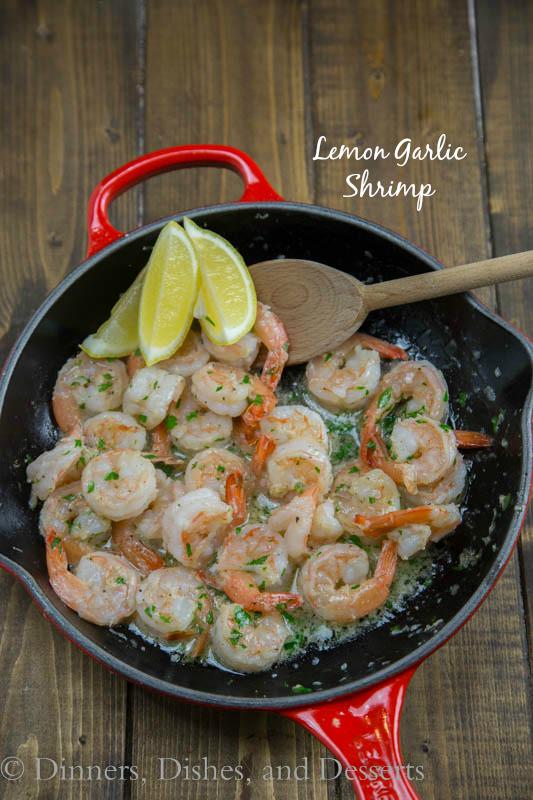 I can not believe it is almost April.  This year is just flying by!  My son turns 10 next month, and I am just not sure I am ready for that.  Double digits is such a big deal.  Thankfully he still likes hanging out with us.  Don't get me wrong, I can't give him a hug in public or hold his hand.  But, he is happy to go out to lunch with me, or have me play basketball with him in the driveway.  I am sure that soon enough, both of those things will be frowned upon as well. But for now, I guess I will be happy with what I can get.
Now that spring is actually in the near future, we can start talking about some more spring like food.  Like this lemon garlic shrimp.  Lemon in anything just brightens it up, and makes it spring like in my mind.  I love having shrimp for weeknight meals.  It cooks in just a few minutes, and goes with pretty much anything.  As my husband says, shrimp is kind of like chicken in the seafood world.  You can dress it up with any flavors you want, and it just works.
Shrimp in garlic butter is pretty much as classic as you can get.  But adding lemon just gives it that little twist to make it something new.  You can serve this over pasta, or with a salad or other vegetables.  My family would eat shrimp pretty much every night, if I let them.  So this was definitely a hit at our house.  Personally, I loved that it was ready in 10 minutes, so I didn't have to spend all night in the kitchen.  And it is made in one pan, so the dishes were not a problem either.  Lemon garlic shrimp will definitely be on regular rotation at our house, how about yours?

Lemon Garlic Shrimp
---
Yields 4
Lemon Garlic Shrimp - Super quick and easy dinner of shrimp sauteed in butter and garlic and then finished with lemon juice.
10 minCook Time
10 minTotal Time
Ingredients
1 pound shrimp, peeled and deveined
2 Tbls butter
3 cloves garlic, minced
1 lemon
salt and pepper
Parsley (optional)
Instructions
In a large skillet heat butter over medium high heat.
Add shrimp and garlic to the butter. Saute for 3-4 minutes per side, until cooked through.
Season with salt and pepper. Squeeze the juice of 1 lemon over the shrimp. Stir to combine. Garish with fresh parsley if desired.
Serve immediately
6.8
http://dinnersdishesanddesserts.com/lemon-garlic-shrimp/
 Looking for even more shrimp recipes?
If you need even more Dinner inspiration browse through my Recipe Index.  There you can find even more Shrimp recipes.  Also follow along on Pinterest for even more great ideas.