Make Ahead Chocolate French Toast Bake – a make ahead french toast made with chocolate milk! Because everyday should start with chocolate.
They did it. My son had his Lego Robotics regional qualifier this weekend, and they did amazing! They did better than we have ever seen them do during their interviews. They were professional, good sports, and amazing kids all day long. Then, they won 1st in the robot games, and 1st in robot design and will be moving onto State in January. I am seriously so proud of how they pulled it together and way exceeded all of our expectations during the day. We even other parents/coaches come up to tell us how good our kids were, and how gracious and good sports they were. So yeah, they do listen to us, and have learned from all our meetings!
Click HERE to get the full recipe for this French Toast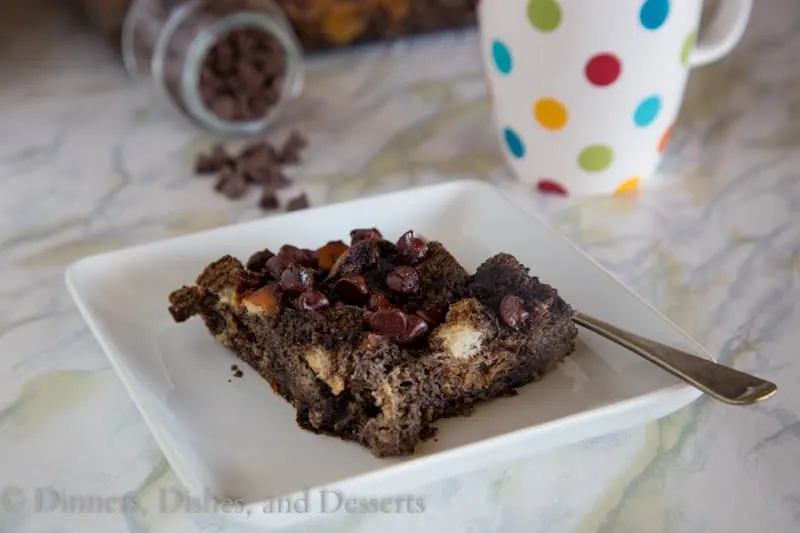 I have a slight obsession with chocolate. And by slight, I mean I need to have it everyday. And by everyday, I mean multiple times a day. So maybe it is more that a slight obsession. But that is all in the details, and we don't need to worry about that, do we? To help with my obsession, I came up with this Chocolate French Toast Bake. So maybe it doesn't help, but again….details! Basically this is your normal French toast bake, but it uses chocolate milk. Genius, right?!
This French toast bake is perfect when you have guests or want a lazy weekend. All the work is done the night before. Then when you wake up, you just put it in the oven. All the work the night before is pretty easy too. Just a little cutting of the bread and mixing of the eggs and milk is all it takes. The bread sits in the chocolate milk mixture over night and soaks up all the flavor. You can then top it with maple syrup or berries and whipped cream, or you could top with more chocolate. That is up to you! All I know, is I am pretty sure your Thanksgiving morning would be complete with this Chocolate French Toast Bake.
I am sharing this recipe over at Imperial Sugar today. Please click on Chocolate French Toast Bake to go get the recipe. Trust me, you want this one!
**I have an ongoing relationship with Imperial Sugar for recipe development. I was compensated for my time to create this recipe. All thoughts and opinions are 100% my own.