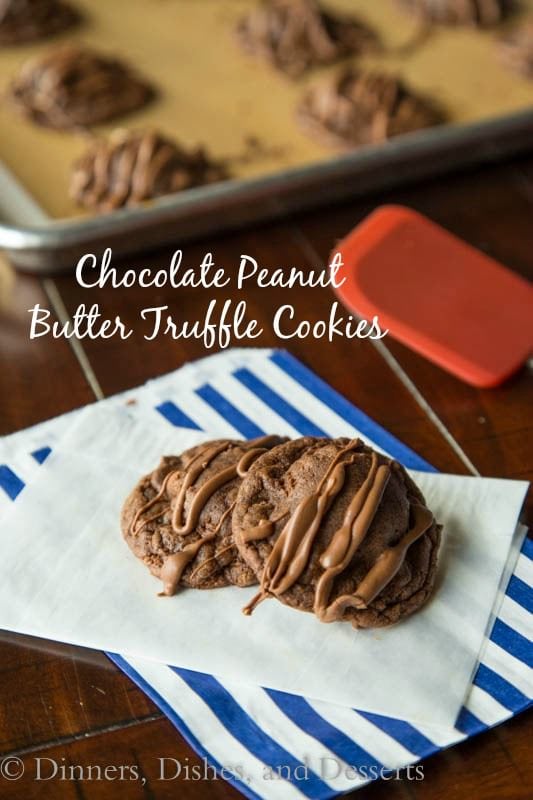 Holiday baking is in full swing.  Everything from cookies to candies are getting worked on in my house.  That also means it is time to start thinking about what to give teachers, friends, and neighbors for gifts.  I love giving something homemade.  To me, it says so much more than a gift card to a coffee place.  It shows you really care, and took the time out of your day to create something for them.  Plus giving something with chocolate and peanut butter, is a sure way to make someones day!
Click HERE to get the full recipe for these cookies.
This year I took one of my favorite flavor combinations (chocolate and peanut butter), and put it in a cookie.  I have done plenty of chocolate and peanut butter cookies in the past, but this one is different.  It starts out with a rich, fudgy chocolate cookie.  Then it is stuffed with a peanut butter truffle.  So you bit into the cookie and get an explosion of peanut buttery goodness with your chocolate cookie.  These chocolate cookies are down right addictive on their own, but add the peanut butter, and I could not stay away.
I made the peanut butter truffles and then froze them until I was ready to use them.  That way they wouldn't melt at all, and would hold their shape while baking.  The chocolate cookie has both melted chocolate and cocoa powder, so they really can't get any better.  Then, just to take it over the top (when chocolate is involved I never seem to be able to stop), I drizzled more melted chocolate over the cookies.  Put some of these cookies in a cute holiday bag or box, and you have the perfect gift to give your neighbors or teachers.  That is, if you have any left 🙂
Head on over to Imperial Sugar to get the recipe for Chocolate Peanut Butter Truffle Cookies.  Check out lots of other great recipes while you are there too. 
Disclosure:  This recipe was developed for Imperial Sugar.  I was compensated for my time.