Texas Sheet Cake Cookies – turn classic Texas sheet cake into thick and fudgy cookies complete with a smooth and tangy chocolate icing. Super easy to make and the perfect chocolate, decadent treat!
This post is sponsored by Imperial Sugar. All thoughts and opinions are 100% my own.
When I was growing up we can Sheet Cake a few times a year, and it was always a big hit. It was often made for birthdays when we had a big crowd, and there was just something about the frosting that made it so good and different from a normal cake.
You know what makes the frosting have that little bit of tang and something special to it? Sour milk, or more likely vinegar now days. But when it was first developed sour milk was used in the cake and frosting.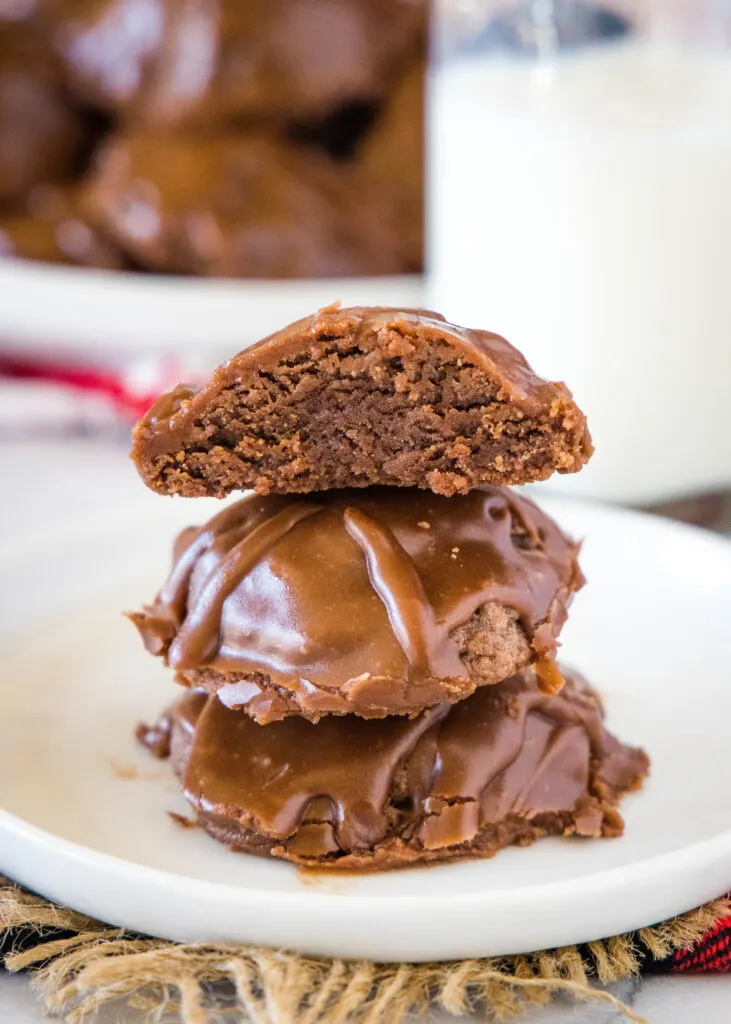 Click HERE to get the full recipe
I have seen these cookies floating around the internet for a few years now and always wanted to try them, but every recipe just had a normal melted frosting, not the tangy version that I grew up with. So I had to figure out a way to make it like the sheet cake that I know and love.
What You'll Need
Butter
Granulated Sugar
Egg
Vanilla Extract
Cocoa Powder
Cinnamon (optional, but a staple in classic Texas sheet cake recipes)
Baking Powder
Salt
All-Purpose Flour
Semi-Sweet Chocolate
The melted frosting is what makes these cookies extra special, and it is really the easiest frosting you will ever make.
Butter
Vanilla Extract
Cocoa Powder
Milk
White Vinegar
Powdered Sugar
How To Make Texas Sheet Cake Cookies
Click HERE to get the FULL recipe
Start by creaming together your butter and sugar in a stand mixer until it is well combined and fluffy.
Add in the egg and vanilla extract and beat until the egg is fully incorporated.
Mix in the cocoa power, baking powder, salt, and flour until it forms a dough. Then pour in the melted chocolate and mix until it is well blended.
Form the dough into 18 balls and then bake for 8 minutes.
Remove the cookies from the oven and leave them on the baking tray to cool completely.
Once they have cooled, make the frosting by melting the butter in a saucepan over medium heat. Add all of the rest of the ingredients and whisk together until nice and smooth. If it is too thick you can add a little bit more milk, about 1 teaspoon at a time.
Pour the frosting over the cookies on the baking tray to coat the top of them. Let them stand for about an hour until the frosting is completely set.
Recipe Tips
The key to making these cookies fudgy is do not over bake them. I say this with every cookie recipe, but this one is more important than others. When I make 18 even balls of dough out of this recipe, it takes exactly 8 minutes for them to bake. You want the tops to look just dry, that is when you take them out of the oven. If yours are still a little moist on top, let them go for 1 more minute.
You do not need to chill the dough. These can go straight from making the cookies to the oven.
The dough will not spread much as they bake. So if you want thinner cookies, shape them that way before you put them in the oven.
The cinnamon called for in this recipe is optional. I am not from Texas, but the people I know from there swear that cinnamon is a classic Texas Sheet Cake ingredient. It wasn't part of my mom's version growing up, but if you want the true version add in the cinnamon. It just gives it that hint in the background and is delicious.
The vinegar in the frosting it what makes it have the classic sheet cake flavor to me, so don't skip it! Traditionally sheet cake was made with sour milk (or milk with vinegar in it), so you need that to give it just that hint of tang in the background.
Cookie Storage
You want to store these cookies in an air tight container for up to 3 days. They do not need to be stored in the fridge, and are better eaten at room temperature.
If you want to freeze these cookies it is best to do it before you put the icing on. If you freeze it with the icing, as they thaw the icing kind of separates and gets a weird texture.
If you have a chocolate lover in your house, they are going to go crazy for these. The cookies are rich, chocolate-y and super fudgy and the frosting just makes it taste like the sheet cake I know and love!
I am sharing this recipe over at Imperial Sugar today. Click on Texas Sheet Cake Cookies to get the full recipe.
I created a fun group on Facebook, and I would love for you to join us! It's a place where you can share YOUR favorite recipes, ask questions, and see what's new at Dinners, Dishes and Desserts (so that you never miss a new recipe)!
Be sure to follow me on Instagram and tag #dinnersdishes so I can see all the wonderful DINNERS, DISHES, AND DESSERTS recipes YOU make!
Be sure to follow me on my social media, so you never miss a post!
Facebook | Twitter | Pinterest | Instagram
Did you know there is a Dinners, Dishes, and Desserts SHOP? Lots of different E-Books for sale. Or you can buy me a coffee to say thanks!