Sausage spinach pasta is quick, easy, and sure to please the entire family. A creamy tomato sauce gives it tons of flavor!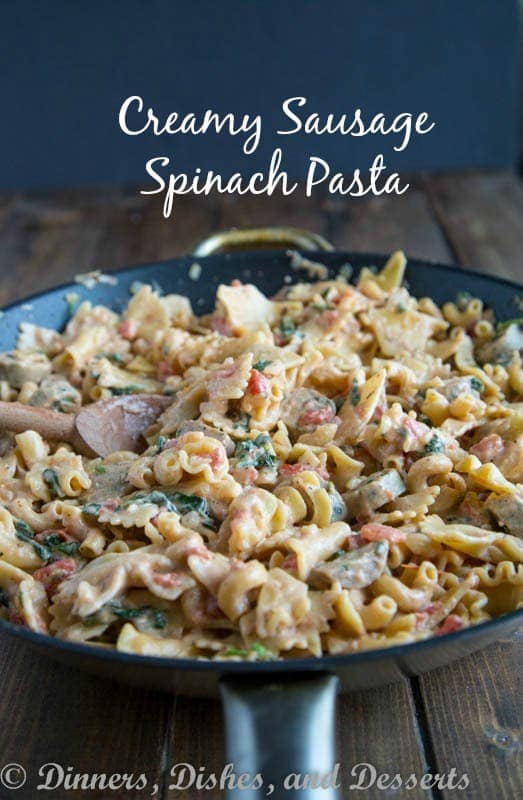 I can't believe a new year is here already! The holidays are over, and it's back to real life. Back to school for the kiddos, and back to work for the rest of us. That means no more cookies for dinner, and time to actually cook real food again. Like pasta with sausage in a creamy tomato sauce. And it is ready in about 25 minutes! Don't worry, baby steps back into the real world.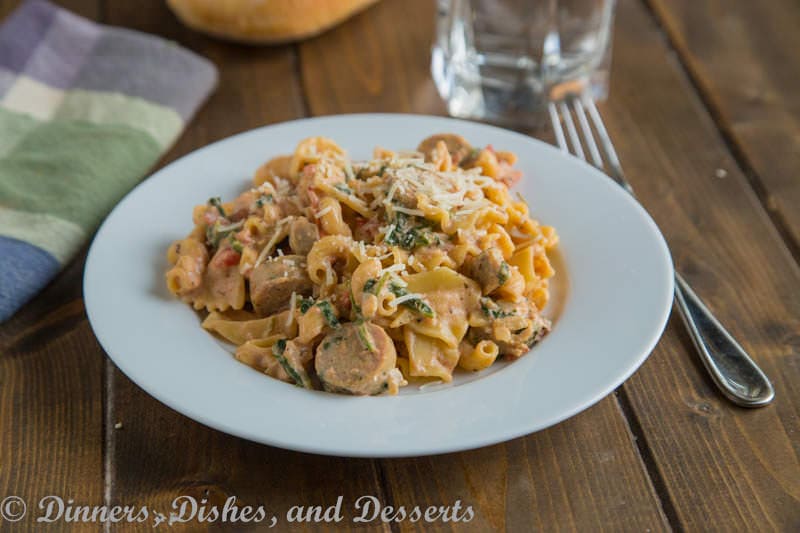 If I had my way I would live on pasta. Doesn't have to be anything fancy either. A quick enchilada pasta skillet or one pot Thai shrimp pasta, doesn't really matter. As long as pasta is involved, I am happy. This creamy sausage spinach pasta actually came out of cleaning out my fridge.  I had leftover sausage, spinach that really needed to get used, and some half and half that I forgot was in there. Put it all together and this creamy, comforting, and delicious dish was born.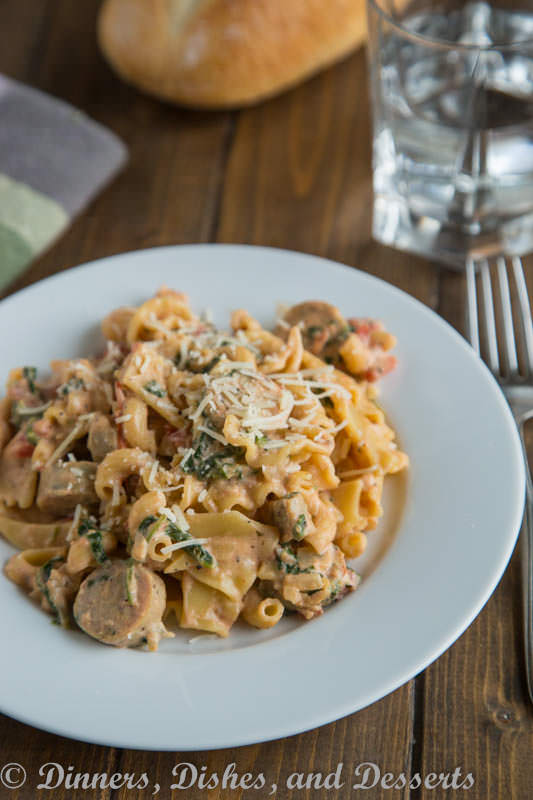 I have made this pasta a few times for my family, and it always disappears quickly. The leftovers are great for lunch the next day too. The time I actually wanted to make and photograph this recipe for you, I had to piece together 4 different kinds of pasta to get what I needed. I swore I had a brand new box of pasta in the pantry, but I was wrong. Just goes to show, everything doesn't have to be perfect to come out with a quick and easy dinner for your family. Just use what you have on hand!
If you need even more quick and easy dinner ideas check out lots of other dinner recipes I have shared at Food Fanatic
Want more? Check out all of the other One Pan Dinner Recipes here and here are some more you might like:
Meatball and Rice Skillet with Baby Peas by Belly Full
Rainbow Salmon Skewers by The View from the Great Island
Sausage Pasta Skillet
Enchilada Pasta Skillet