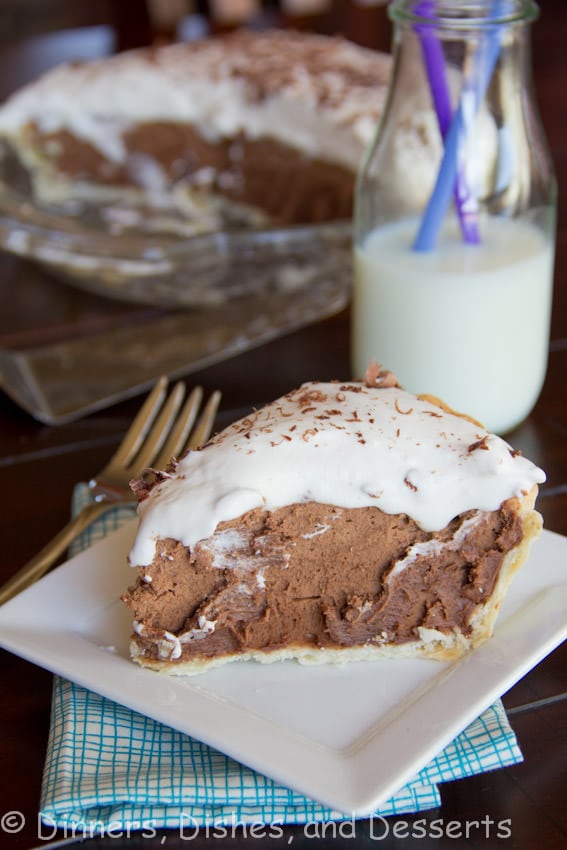 Spring has arrived to most of the country.  Apparently not here though.  School was cancelled today because of snow.  And it is coming down like crazy out there right now.   We are even talking about going snowshoeing this weekend, we have gotten so much snow.  I am ready for warm weather, capris, and grilling out.  All of which seem like a long way off at this point.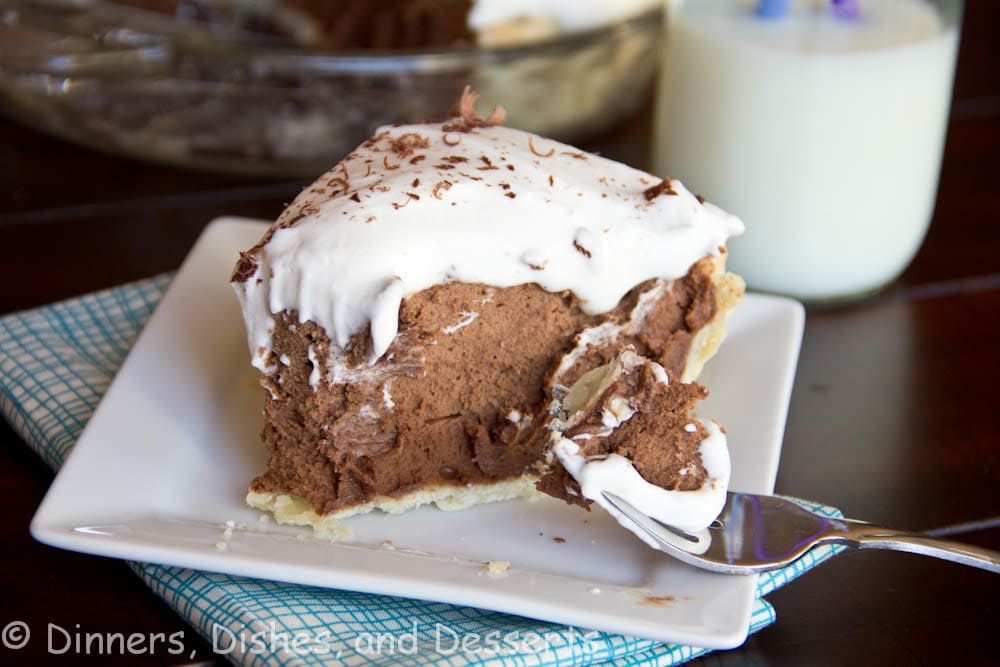 So, what do you do when you don't think spring will ever get here?  You make a creamy, chocolatey pie and dive right in.  I am not sure why, but a creamy, no bake pie seems like spring and summer to me.  French Silk pie has always been one of my favorites.  When I was a little girl we would buy them from a restaurant called Baker's Square.  Then in college I worked at Perkins, and they served them as well.  Now…..I make my own.
It is super easy actually, and so much richer and chocolatey-er (not a real word, I know).  I have yet to master pie crust, so I use a premade dough.  Then your mixer does all the work.  My brother, who actually went to culinary school, was even impressed.  He had no idea how I got it so thick.  You have to love it when you can impress your brother!  FYI – the eggs in this recipe do not get cooked, so I recommend you get pasteurized eggs, so there are no worries about raw eggs.

Creamy chocolate pie topped with whipped cream
Ingredients
Pie Filling
3

oz

unsweetened chocolate

, melted and cooled

1

cup

butter

, softened

1

cup

sugar

1

tsp

vanilla

4

pasteurized eggs
Whipped Cream
1

cup

heavy cream

1/3

cup

powdered sugar

1/2

tsp

vanilla
Instructions
Preheat oven to 450 degrees. Press pie crust into a 9 inch pie plate. Prick the bottom and sides with a fork. Bake for 9-11 minutes, until golden brown. Let cool completely.

In a stand mixer beat butter for 2 minutes, until fluffy. Gradually add the sugar, continuing to beat until light and fluffy. Mix in cooled chocolate and vanilla.

Add the eggs 1 at a time. Beat on medium-high for 2 minutes after each addition. It should be light and fluffy when you are done.

Pour chocolate mixture into cooled pie shell. Place in fridge while you prepare the whipped cream.

In a large bowl beat heavy cream until soft peaks begin to form. Add powdered sugar and vanilla. Beat until stiff peaks. Spread whipped cream over chocolate layer. Garnish with shaved chocolate.

Let sit in the fridge for 2 hours before serving.