French Silk Brownies – Classic French Silk Pie turned into fudgy brownies topped with a silky chocolate mousse and whipped cream.
Are you on Instagram?  Do you follow me? If not, head over!!  I have been in Ohio this week and am sharing the fun with baby cows and lots of cheese on my Instagram stories. I am a city girl, always have been. But baby cows are so darn cute!
Almost makes you want to live on a farm. Ok, not really, but maybe take one home with you. I took lots of pictures, so if you aren't on Instagram, don't worry I will share some here later! In the mean time, how about 2 of my all time favorite desserts combined!  French Silk Pie and Brownies!
Click HERE for the full recipe.
I have a soft spot for brownies. If you have ever been to this site you would know, I think I am up to 29 or 30 brownies recipes on here now. So yeah, I am obsessed. And my favorite pie of all time is French silk pie. So I decided to mash the two together and make one of the best desserts I have ever tasted.
My son was really really mad at me when I sent the leftovers of these to work with my husband. He wants to eat these French silk brownies pretty much every day, and has asked me to make them again a couple times already. I will have to give in soon, because they were just that good.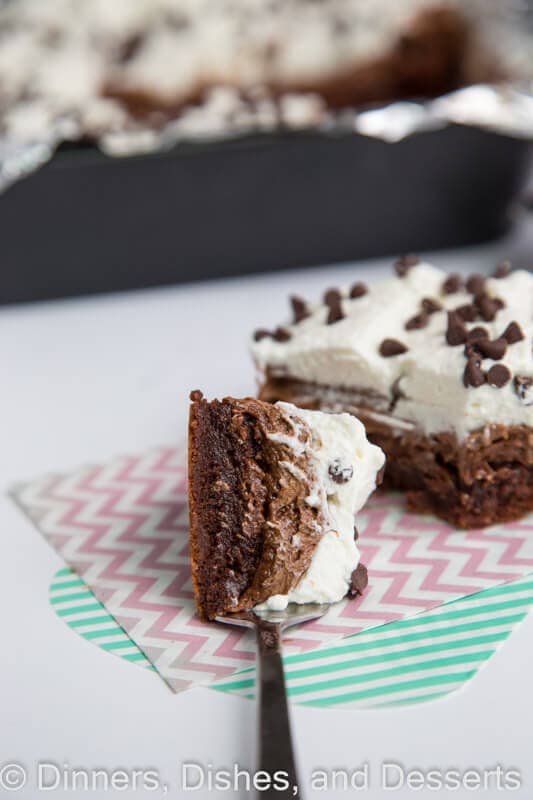 French silk brownies are pretty easy to make. They do have a couple of steps to make the layers, but if you use an electric stand or hand mixer it comes together very quickly and easily. If you are worried about eating raw eggs (the heat of beating them for 2 minutes each, on high is enough to kill any bacteria), you can use pasteurized eggs.
They are completely safe to eat without cooking, so you won't have any worries! Either way you will have a super silky chocolate mousse over fudgy brownies, and then a creamy whipped topping. So good!!
I am sharing this recipe over at Imperial Sugar today. Please click on French Silk Brownies to get the recipe!
**I have an ongoing relationship with Imperial Sugar for recipe development. I was compensated for my time to create this recipe. All thoughts and opinions are 100% my own.