Chicken Parmesan pasta skillet – all the flavors of classic chicken Parmesan in a quick and easy one pan meal. Dinner tonight is sorted!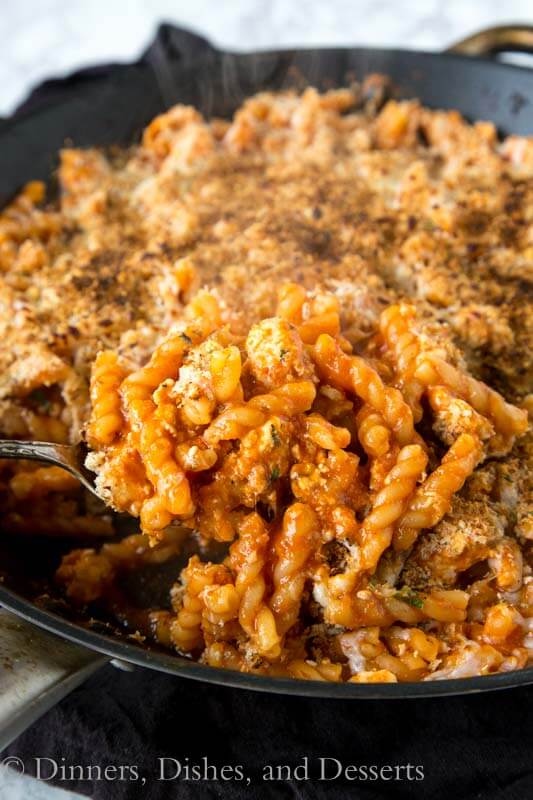 Getting dinner on the table night after night can be a job in itself.  Pleasing everyone in the family, with their different tastes, likes, and even different schedules.  Sometimes you just want to throw in the towel and let everyone fend for themselves.
Granted, I have been known to do this and my husband will have cereal, my son would scrounge and put something together, and then I end up hungry and annoyed.  So I try to come up with a meal plan that is full of easy dinner ideas, so weeknights aren't so stressful.

One thing that my family can always agree on is a one pan pasta skillet.  A creamy pasta dinner is always something that goes over well.  And I like it because it only gets one pan dirty, is ready in about 20 minutes, and my husband gets to take leftovers to lunch the next day.
If I ask my son what he wants to dinner, 9 times out of 10 he will say past skillet.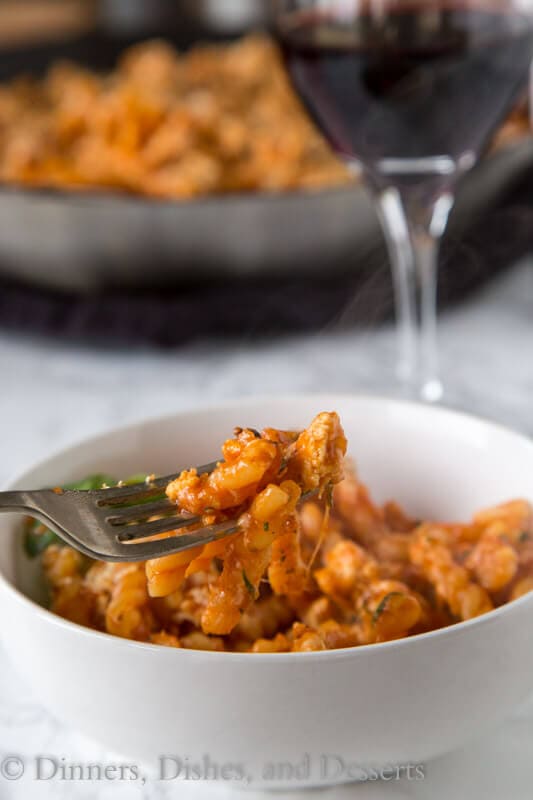 Chicken Parmesan is one of my favorite things to order at a restaurant.  So when I was thinking of what twist to put on dinner, I knew chicken parm was the next skillet meal.  Chicken Parmesan Paninis were one of my son's favorite sandwiches; he is still talking about them.  So I knew I could win him over with this meal.
I used ground chicken to make this dinner come together in minutes.  The last 2 minutes of cooking, I sprinkled panko bread crumbs over the top and put the whole pan under the broiler.  This step gives you the crunch that you normally have with chicken Parmesan.
Be careful your pans are oven safe, or you can just skip this step.  Even without the crunchy topping your family is going to love this easy one pan meal.  Add it to your menu now!
I am sharing this recipe over at Food Fanatic.  Check out this Chicken Parmesan Pasta Skillet as well as all other Easy Dinner Recipes I have shared there.
Want more? Check out all of the other One Pan Dinner Recipes here  and here are some more you might like:
One Pan Cheesy Sausage Pasta
One Pot Beef Stroganoff
One Pot Chicken and Dirty Rice by The Chunky Chef
One Pot Creamy Chicken and Rice by I Heart Naptime
Even more Easy Dinner Recipes:
Even more recipes you might like: