Potato Pizza – a great alternative to your traditional pizza. Garlic oil, bacon, cheese, and potatoes come together in an unexpected and delicious way!
A Potato Pizza Recipe may seem like an odd combination of ingredients, and believe me, I thought the same thing until I actually tried it. Once you take your first bite you'll fall in love with the rich and creamy flavors; the ultimate comfort food.
Potatoes are so versatile they work in everything from Potato Tacos to this pizza. You will not be disappointed.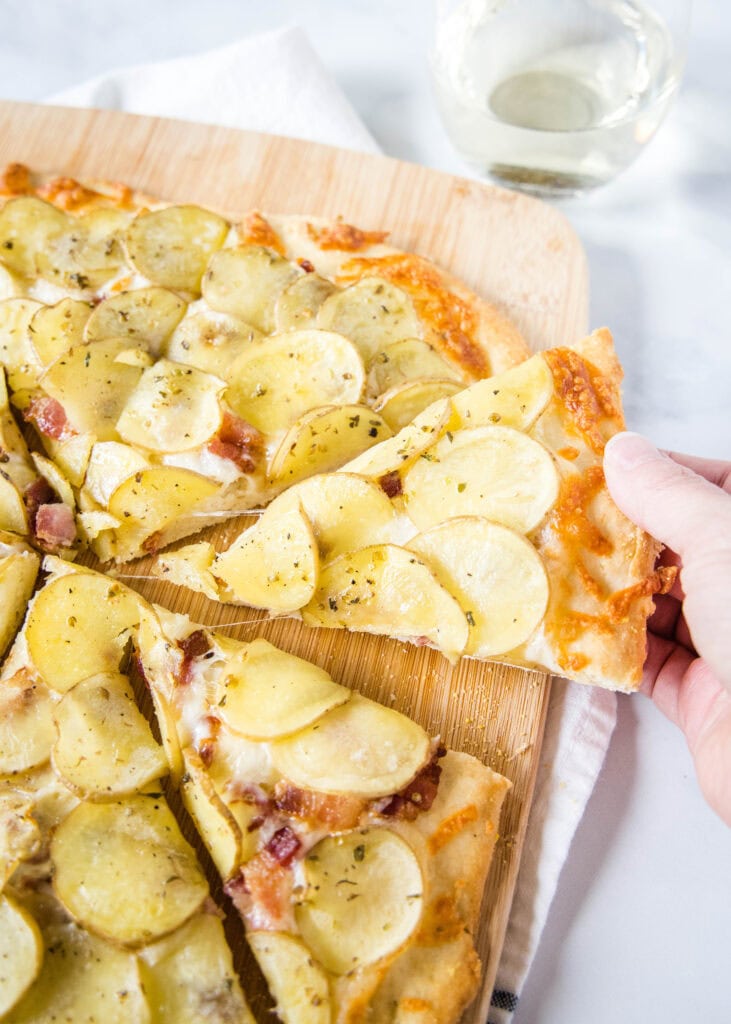 Pizza is one of those things that pretty much everyone loves. You can top with whatever you like, but there is definitely something out there for everyone. This potato pizza is unique, and if you have been to Italy you have more than likely seem something similar on a menu.
I like to add a a little bit of bacon, but you could use pancetta or even make it meat free and just leave it off. Fresh herbs like rosemary would be delicious as well.
WHAT COUNTRY PUTS POTATOES ON PIZZA?
The idea of putting potatoes on pizza originated in Italy and called pizza con patate. Potatoes are actually quite common in Italy, although they aren't typically associated with traditional pasta dishes.
It was originally thought of as peasant food because of how inexpensive it was to make. Not only was it cheap, but it was also incredibly filling so workers would have hours of energy. The earliest potato pizzas were nothing more than dough, oil, and potatoes.
Though this may seem like it would be a bland combination, it is far from the truth. In fact, it was so well-loved –by not only peasants but also the wealthy– that the popularity of the dish spread quickly to surrounding countries.
INGREDIENTS FOR POTATO PIZZA
Pizza Crust- Make your own crust from scratch using warm water, active yeast, bread flour, olive oil, salt and sugar or buy pre-made crusts or pizza dough at the grocery store. All-purpose flour can be substituted, but has lower protein and gluten ratios so the bread won't be as lighty.
Small Potatoes- Any sort of waxy, small size work as long as they will make uniform slices of potato.
Garlic Cloves– Please, for the love of Italy, use fresh garlic and not the jarred stuff! Jarred is great in a jiffy, but for a recipe like this, quality ingredients are paramount. Pre-minced tends to be sweeter and not as garlicky. It is also used to flavor the olive oil and will be fished out before basting. You'll need to strain it with minced garlic. Garlic powder is alternative.
Mozzarella Cheese– For all pizzas, a low moisture cheese is best so it when it melts, it doesn't release liquid and sog up the dough.
Salt & Pepper– to taste, as always I suggest a sea salt or Kosher salt for cleaner flavor. Use a coarser grain to get a little crunch without overpowering salt flavor. Freshly ground pepper is highly recommended!
Bacon– I added a little bit of bacon to make mine slightly different from the original recipe and add both flavor and textural variety. I mean, potatoes and bacon are perfect together.
Dried Oregano– You'd be surprised to know that most authentic pizzas in Naples actually use dried oregano versus the fresh herb, so we used that here as well. Dried or fresh rosemary is another option, as is Italian seasoning.
Cornmeal– My secret trick for a crispy crust and preventing sticking is cornmeal. Even if you don't use a pizza stone, it helps to absorb excess moisture.
Butter– Also helps to prevent sticking and absorbs into the cornmeal adding richness.
Other versions also use sour cream for topping, green onions (scallions), chives, caramelized onions and tomato sauce if you aren't into the pizza bianca (white pizza).
And if you love different pizzas, this Roasted Garlic White Chicken Pizza is another must try!
WHAT KIND OF POTATOES ARE BEST FOR POTATO PIZZA?
Traditionally, yellow fingerling potatoes are used on potato pizza. One of the things I love most about food is how food is passed on from generation to generation, so I didn't want to completely omit that. If you want to mix it up, using purple or other colored potatoes can add color and make it such a pretty pizza.
If you opt to use something else, waxier potatoes work best. Other varieties include red potatoes and other varieties of fingerlings. Avoid starchy potatoes like a Yukon gold or creamer that doesn't hold it's shape as well when cooked and has the tendency to get mushy.
HOW TO MAKE POTATO PIZZA
Making this potato pizza isn't much different than making any other traditional pizza in technique, but the homemade pizza dough and the unique toppings make it an absolute must-try.
TO MAKE THE DOUGH
Start by dissolving the yeast into the warm water. Yeast needs the water to be between 110°-115°F to bloom. To ot and it will die, too cold and it won't activate. Generally speaking, hot tap water will do the trick, but just to be sure, stick a digital thermometer in to test it first. Let stand for approximately 10 minutes until fragrant and frothy.
In a large mixing bowl combine the remaining pizza dough ingredients until it is stiff. Cover and let rise in a warm place. This recipe makes two 12-inch pizzas, so if you don't plan to make both, save the other one in the fridge or freeze it.
TO MAKE PIZZA
Preheat the oven, you'll need it HOT to make a good pizza dough. Prep the sheet pan or pizza stone by basting with butter and then sprinkling cornmeal.
Over low heat in a small saucepan, combine the olive oil and the crack the garlic clove and add. Simmer for 10 minutes so the oil is infused with garlicky goodness.
Roll the dough on a well floured surface. I never aim for a perfect circle, I actually like a more rustic shape. This is also fun for the family. You can get super creative with making shapes, just make sure they will fit on the baking sheet! Transfer dough to the baking pan. If you have a pizza peel, this is much easier.
Brush about half of the garlic oil over the crust (the liquid is enough for two pies as well). Evenly sprinkle with cheese and bacon, then arrange the potato slices in a single layer. You'll want them on top so they cook fully and also so you can see the pretty color.
Brush with the remaining garlic oil and season with salt, black pepper and oregano, if desired. You can also wait until after the pizza is cooked to do this.
Bake until the crust is golden brown and potatoes are tender and serve while hot!
TIPS AND TRICKS
Use a mandoline slicer. Evenly slice the potatoes for the pizza so they cook evenly. Just be careful- they are notorious for kitchen injuries! My food processor also has an attachment to make slicing easy.
Make it cheesy. I prefer using mozzarella on this pizza, but feel free to use your favorite blend of Italian cheeses for your perfect cheesy bite. Aim for low moisture for best results.
Customize your pizza toppings. The potato mixture is what makes the pizza so much fun to look at and eat, so think twice about omitting those. But add a variety of veggies or precooked meats to make this potato pizza uniquely you.
Don't skip the cornmeal. This makes for a perfectly crispy pizza pie crust.
WHAT TO SERVE WITH POTATO PIZZA
Who needs more than pizza? I know there are days that I don't. However, if you want to make this a complete meal or stretch the slices between a few more people, give these recipes a try:
This pizza was amazing. I don't really know what else to say to describe it. It is not your traditional pizza, but it all works so well together. It makes a perfect light dinner when served with a salad. I was really surprised given how much food is at cooking club, that I went home with no leftovers. I really hope you make this. It would be great as an appetizer for a party too!
If you love this Potato Pizza as much as we do, make sure you share the recipe with your friends so they can try it too!
Potato Pizza - a great alternative to your traditional pizza. Garlic oil, bacon, cheese, and potatoes come together in an unexpected and delicious way!
Ingredients
Dough, (makes enough for 2 - 12 inch pizzas)
1 cup warm water, (110 degrees)
1 package active dry yeast
2 cups bread flour
2 Tablespoons olive oil
1 teaspoon salt
2 teaspoons sugar
Pizza
6-7 small potatoes, thinly sliced
2 Tablespoons olive oil
1 clove garlic
2/3 cup shredded mozzarella cheese
salt and pepper to taste
3 slices bacon, cooked and crumbled
1/2 tsp dried oregano, optional
1 Tablespoon cornmeal
Butter for greasing pan
Instructions
To Make Dough
In a liquid measuring cup dissolve the yeast into the water. Let stand for about 10 minutes until foamy.
In a large bowl combine flour, olive oil, salt, sugar, and the water mixture. Stir until well combined, and it forms a stiff dough. Cover and let rise for 30 minutes. Use 1/2 this dough for the pizza. Wrap the other 1/2 in plastic wrap and store in the freezer for up to a month.
To Make Pizza
Preheat oven to 475º F. Use butter to coat a baking pan. Sprinkle cornmeal evenly over the top. Set aside.
In a small sauce pan heat the olive oil over low heat. Crack the garlic clove, and let it sit in the oil. Heat gently for about 10 minutes.
Roll the dough out on a floured surface. Transfer to prepared baking sheet.
Brush about half of the garlic oil over the crust. Sprinkle with Mozzarella cheese. Spread bacon evenly over the cheese.
Arrange the thin potato slices evenly over the pizza. Brush everything with the remaining garlic oil. Sprinkle with salt and pepper, and a little dried oregano if using.
Bake for 15-20 minute until the crust is golden, and the potatoes are tender.
Remove from oven and immediately slice to serve.
Notes
Nutrition Information
Yield
8
Serving Size
1
Amount Per Serving
Calories

360
Total Fat

12g
Saturated Fat

3g
Trans Fat

0g
Unsaturated Fat

8g
Cholesterol

13mg
Sodium

449mg
Carbohydrates

53g
Fiber

4g
Sugar

3g
Protein

11g
Nutrition Disclaimer: All information presented on this site is intended for informational purposes only. I am not a certified nutritionist and any nutritional information shared on dinnersdishesanddesserts.com should only be used as a general guideline.
I created a fun group on Facebook, and I would love for you to join us! It's a place where you can share YOUR favorite recipes, ask questions, and see what's new at Dinners, Dishes and Desserts (so that you never miss a new recipe)! If you'd like to check it out, you can request to join HERE.
Be sure to follow me on Instagram and tag #dinnersdishes so I can see all the wonderful DINNERS, DISHES, AND DESSERTS recipes YOU make!
Be sure to follow me on my social media, so you never miss a post!
Facebook | Twitter | Pinterest | Instagram
Did you know there is a Dinners, Dishes, and Desserts SHOP? Check out all of my E-books as well as branded merchandise HERE! Or you can buy me a coffee to say thanks!