Summer is in full swing. That means barbeques, pool parties, family reunions, and get togethers almost every weekend. I have the perfect side for you to bring! Potato salad is always at potlucks, but it is usually coated in lots of mayo, and not great for sitting in the heat. I am also one of those people who can't stand mayo. I actually made another potato salad a few months ago that had a lemon herb vinaigrette. This one is even better because it has bacon, caramelized onions, and the potatoes are roasted!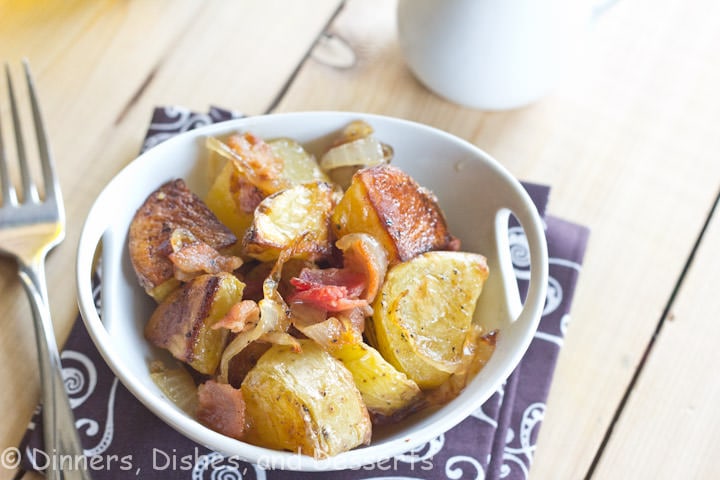 I think that potatoes are always better when they are crispy. I know, I am a little strange. I don't like baked potatoes or mashed potatoes. But if they are roasted or fried, I am all over them! The dressing for this recipe reminded me very much of a wilted lettuce salad that my Grandma used to make. My husband's mom made it for him as a kid, too, and he loved it. So I couldn't wait to make this and see what my husband thought.
It was a huge hit. He ate way more than he should have the first night. He told me I could make this again as often as I wanted. He took the leftovers to work and said they were still good after he reheated them. The caramelized onions and bacon and a lot of flavor to the potatoes. And the dressing is exactly what I remembered as a kid.
Yield: 6
Roasted Potato Salad with Caramelized Onions and Bacon
Roasted Potatoes, Caramelized Onions and Bacon with a warm Bacon Vinaigrette Dressing.
Ingredients
Potato Salad
1 1/2 pounds Yukon Gold potatoes, , diced
4 tablespoons olive oil
1 teaspoon kosher salt
1/4 teaspoon black pepper
1 onion, , thinly sliced
1 tablespoon sugar
6 strip bacon, , chopped
Vinaigrette
3 tablespoons apple cider vinegar
2 teaspoons sugar
1/2 teaspoon Dijon mustard
1/4 teaspoon Italian seasoning
1/4 teaspoon black pepper
1/4 teaspoon salt
3 tablespoons reserved bacon drippings, , warm
1 tablespoon olive oil
Instructions
Preheat oven to 400 degrees. Line a baking sheet with foil. Toss potatoes with 2 tablespoons of olive oil, salt, and pepper. Spread in an even layer on the baking sheet. Roast for 35-40 minutes or until golden brown.
While the potatoes are roasting, continue with the onions and bacon. In a large skillet heat 2 tablespoons olive oil over medium heat. Once hot, add the onions and sugar, tossing to coat. Cook for about 15 minutes, stirring often. You want the onions to become a deep brown color, but not from too high of heat. Once the onions are brown, add a pinch of salt. Remove from heat. Set aside and keep warm until ready to use.
In another skillet over medium heat brown the pieces of bacon. Cook until crispy. Remove to a paper towel to drain. Set aside. Reserve the bacon drippings.
To prepare the vinaigrette, whisk together all of the ingredients until well combined.
In a large bowl add the roasted potatoes, caramelized onions, bacon, and the vinaigrette. Toss well to combine. Serve.
Nutrition Information
Yield
6
Serving Size
1
Amount Per Serving
Calories

315
Total Fat

18g
Saturated Fat

4g
Trans Fat

0g
Unsaturated Fat

14g
Cholesterol

18mg
Sodium

777mg
Carbohydrates

30g
Fiber

3g
Sugar

6g
Protein

9g