Spicy Basil Chicken – get dinner on the table in just minutes with the super easy chicken recipe.  Great Asian flavors with just a little kick.  Add veggies to make it a complete meal!
I love and easy dinner ideas.  Busy nights happen all year round, not just during the school year. So finding chicken dinner ideas you can get on the table fast during the summer is important too.  Basil grows faster than I can use it during the summer months, so this basil chicken is such a great use for it.
My family loves Asian recipes, in case you haven't been here before.  Chicken Lo Mein is definitely a staple in our house.  Any time I can use up veggies in the fridge and avoid take out I am happy. So Kung Pao Chicken is definitely a great quick dinner as well.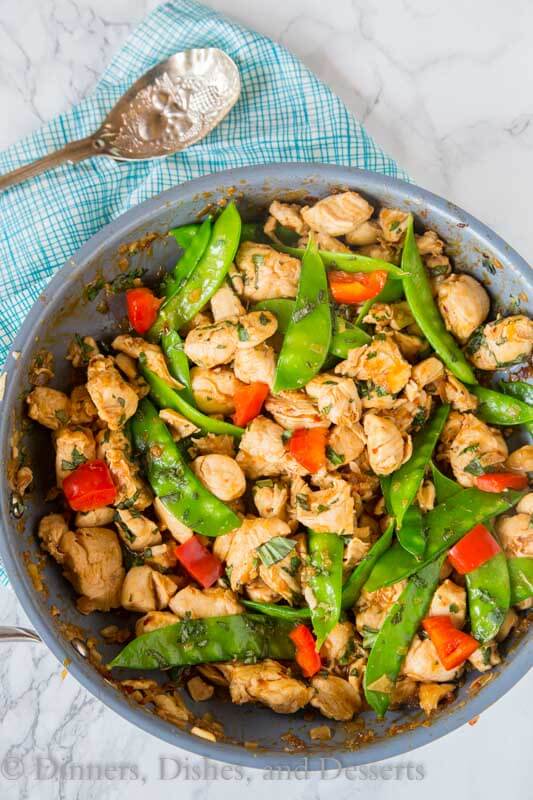 Basil chicken is on pretty much ever Thai menu I have ever seen.  But I can't say that I have ever ordered it.  It is usually in the running, but I always end up with Pad Thai.  Well last time I picked something different, but it still wasn't basil chicken.  So when I saw this spicy basil chicken in Cooking Light, I knew that I just had to make it.
I doubled the sauce so I could serve it over rice, and obviously added some veggies.  My son only complained a little about the veggies.  And by a little, I mean a lot. But he at them.  You can also control how hot or mild you want to make this but adjusting the chili sauce.  I used about 2 tsp (as noted in the recipe) and it had a tiny kick, but definitely not hot.  So adjust as you go!  I can't wait until I have a garden full of fresh basil to make this chicken recipe again!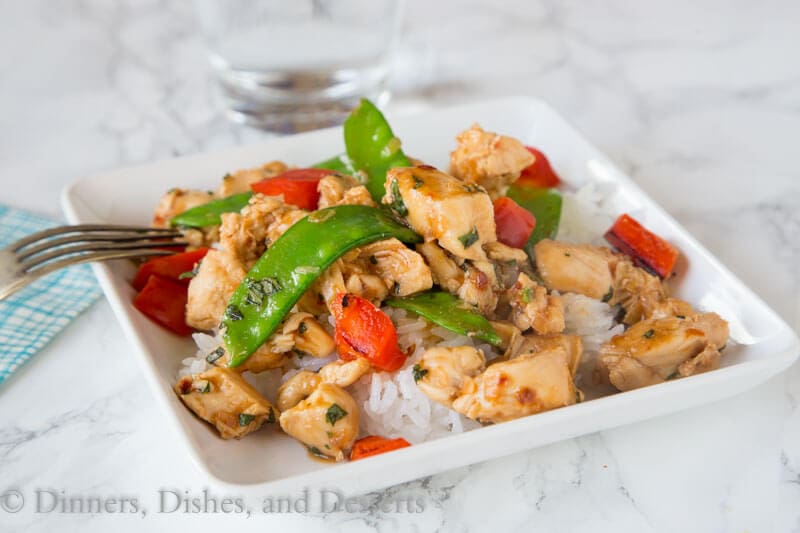 This basil chicken recipe is super versatile can you can just add whatever veggies you want.  Traditionally in Thai cooking it doesn't have a lot of vegetables, mostly chicken with big pieces of basil. But at home when I am making a chicken stir-fry, I like to bulk it up and it is a great way to get more nutrition into my family.
How do I Make Thai Basil Chicken –
Like most Asian recipes it is fairly simple. If you have a wok this is the time to bring it out. If not, just a heavy duty skillet will work. You want all of the ingredients prepped and ready ahead of time. Get the skillet super hot and then just add and stir. You need to work fast so you don't burn anything, which is why having everything out and measured before you start is so important.
This Thai Basil Chicken is made with traditional fresh basil that you find in the US. If you have Thai basil, you can definitely use it here. But it is hard to find in normal grocery stores.
How is Thai Basil Different?
It is a basil that is commonly found in Southeast Asia.  The leaves look different than what you might see in the states.  It also has a different taste – more of a licorice or anise taste. It is a little sturdier, so it stands up better to cooking.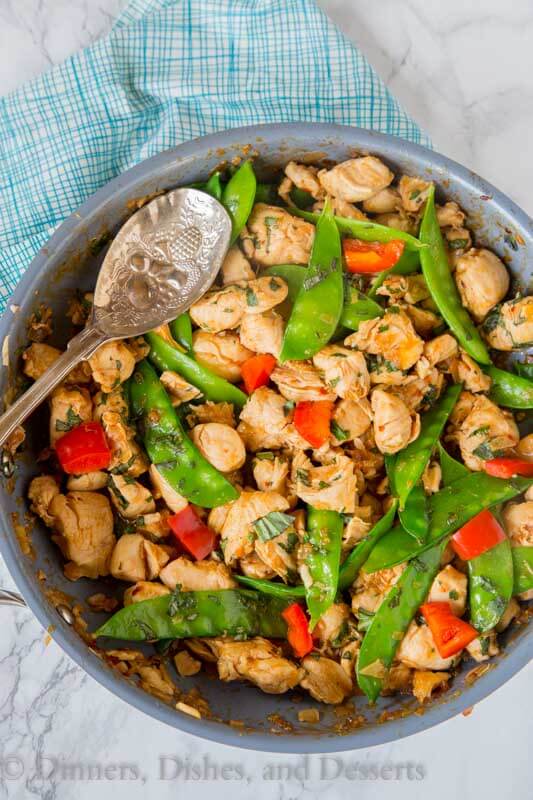 So if you find yourself with a bunch of basil on hand, this Thai basil chicken is a great use for it.  It is slightly spicy and you can turn this chicken stir-fry into a filling dinner by adding any veggies you like.
I like to serve over rice with plenty of sauce to soak it up. A great dinner that is ready in just minutes!  Perfect for any night of the week.
I created a fun group on Facebook, and I would love for you to join us! It's a place where you can share YOUR favorite recipes, ask questions, and see what's new at Dinners, and Desserts (so that you never miss a new recipe)! If you'd like to check it out, you can request to join HERE.
Be sure to follow me on Instagram and tag #dinnersdishes so I can see all the wonderful DINNERS, DISHES, AND DESSERTS recipes YOU make!
Connect with Dinners, Dishes, and Desserts! 
Be sure to follow me on my social media, so you never miss a post!
Facebook | Twitter | Pinterest | Instagram 
Yield: 4
Spicy Basil Chicken
Spicy Basil Chicken - get dinner on the table in just minutes with the super easy chicken recipe. Great Asian flavors with just a little kick. Add veggies to make it a complete meal!
Ingredients
2 tsp canola oil
1 shallot, , finely chopped
3 cloves garlic, , minced
1 1/2 pounds chicken breasts, , cut into 1 inch cubes
2 Tbls fish sauce
1 Tbls sugar
1 1/2 Tbls soy sauce, (low sodium)
2 1/2 tsp chile garlic paste
1/2 Tbls water
1 tsp cornstarch
1/8 tsp salt
1 cup snow peas
1/2 red bell pepper chopped
1/3 cup fresh basil, , chopped
Instructions
Heat a large non-stick skillet over medium high heat. Add the oil, swirling to coat. Add shallots and garlic, stirring constantly, cook for 1 minute. Add chicken to the pan. Cook for about 10 minutes, or until cooked through. Add the bell pepper about 1/2 way through the cooking time.
In a small bowl combine fish sauce, sugar, soy sauce, chile paste, water, cornstarch and salt. Mix well.
Pour fish sauce mixture over the chicken once it is cooked. Add snow peas. Stir to coat chicken and cook for about 1 minute, until the mixture thickens.
Remove form the heat and stir in the fresh basil.
Serve over rice.
Notes
Adapted from Cooking Light
http://www.myrecipes.com/recipe/spicy-basil-chicken
Nutrition Information
Yield
4
Serving Size
1
Amount Per Serving
Calories

354
Total Fat

9g
Saturated Fat

2g
Trans Fat

0g
Unsaturated Fat

6g
Cholesterol

145mg
Sodium

1280mg
Carbohydrates

9g
Fiber

2g
Sugar

5g
Protein

56g