Summer Coleslaw – light and tangy  no mayo coleslaw recipe that you can make all summer long! 

Photos updated as of June 2016
Summer is a busy time of year for everyone.  I always go into summer thinking we don't have that much planned, then the next thing I know summer is over, and almost every weekend was full!  Not sure how it happens, it just does.  The 4th of July is over, and I feel like we just started summer.  But it is almost half over already. How does time go so quickly?!
This summer coleslaw recipe is a good one.  It is lighter, and just more summer friendly.  It is a vinegar and oil slaw – no mayo!  I think I have mentioned before how picky my family is.  This is one of very few veggies I can get my husband to eat.  And boy does he eat this!  And it takes about 2 minutes to put together, so you can't really go wrong.  It is great for summer BBQ's, and potlucks where food will be sitting out for awhile.  You don't have to worry about the mayo going bad.
I have never been a fan of mayo, so a no mayo coleslaw recipe is about the only kind I will eat.  Unless it has a ton of other flavors in there, like Cranberry Apple Coleslaw, that one I like.  I have been making this summer coleslaw since I first got married.  I quickly realized that coleslaw was one of my husbands favorite side dishes, and started trying out recipes until he found one he loved.  At the time I think he was trying to lose weight, so he wanted to skip the mayo.  Turned out he loved this summer coleslaw recipe even when he wasn't worried about calories. So we have been making in since!  Make it the next time you grill out and you will not be disappointed!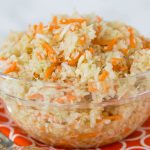 Summer Coleslaw
Summer Coleslaw - light and tangy no mayo coleslaw recipe that you can make all summer long!
Ingredients
1/4

cup

red wine vinegar

2

Tbls

sugar

2

Tbls

Canola Oil

1

bag coleslaw mix

1

tsp

salt

Pepper

Mix the vinegar and the sugar together.
Instructions
Mix the vinegar and the sugar together.

Whisk in the oil.

Add the coleslaw mix, salt, and a little pepper.

Toss to combine.

Let sit for about 20 minutes, for the flavors to combine before you serve.

Store any leftovers in the fridge, just as good the next day.
More Summer Side Dish Recipes?