Summer Coleslaw – light and tangy no mayo coleslaw recipe that you can make all summer long!
Summer is a busy time of year for everyone. I always go into summer thinking we don't have that much planned, then the next thing I know summer is over, and almost every weekend was full! Not sure how it happens, it just does.
One thing that happens all summer long is barbecues, cookouts, potlucks, and parties with friends. And you always have to bring a dish to share, right? Well this easy coleslaw recipe is one of my favorites. It is no mayo coleslaw, so it can sit out and you don't have to worry about the heat. Mexican Coleslaw is another favorite for that same reason.
This summer coleslaw recipe is something we have been making for years. It is a vinegar coleslaw, which is my favorite kind. It is lighter, and just more summer friendly. It is a vinegar and oil slaw – no mayo! I think I have mentioned before how picky my family is. This is one of very few veggies I can get my husband to eat. And boy does he eat this!
This vinegar based coleslaw takes about 2 minutes to put together, so you can't really go wrong. It is great for summer BBQ's, and potlucks where food will be sitting out for awhile. And it is perfect for those last minute get togethers, when you just have to throw something together fast! Pair with the Best Turkey Burgers and you have yourself a tasty weeknight dinner too.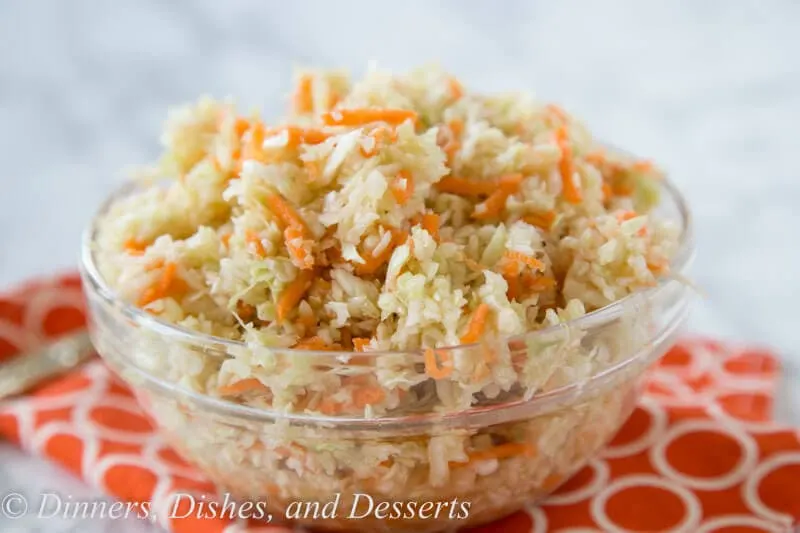 I have never been a fan of mayo, so a no mayo coleslaw recipe is about the only kind I will eat. Unless it has a ton of other flavors in there, like Cranberry Apple Coleslaw, that one I like. I have been making this summer coleslaw since I first got married. I quickly realized that coleslaw was one of my husbands favorite side dishes, and started trying out recipes until he found one he loved.
At the time I think he was trying to lose weight, so he wanted to skip the mayo. Turned out he loved this summer coleslaw recipe even when he wasn't worried about calories. So we have been making in since! Make it the next time you grill out and you will not be disappointed!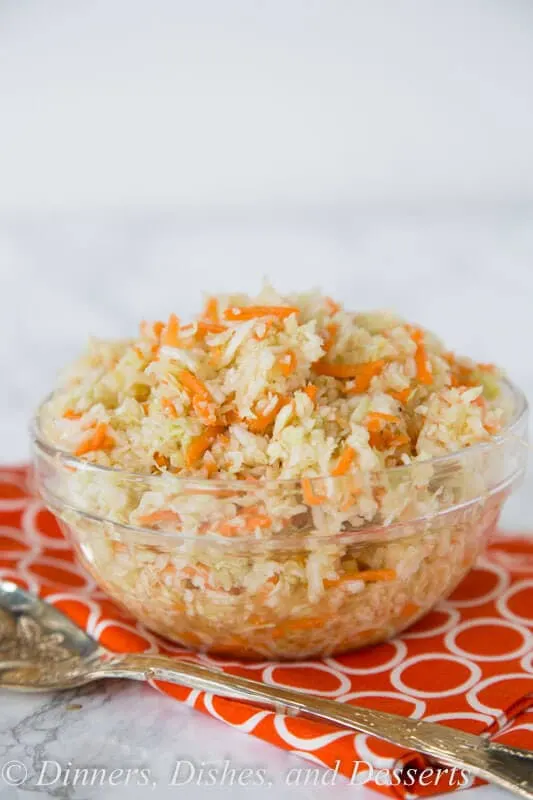 I think summer side dishes are some of the easiest to come up with. Fresh fruit and veggies are always around – so just use corn to make Southwestern Corn Salad or corn on the cob or even just grilled veggies. Really, summer is about the only time I can figure out what to do for easy side dish recipes.
Pasta Salads have to be my favorite summer side, but they aren't always the best for you. So this healthy coleslaw is great to have and know how to make. It is cool, tangy and great for just about any meal.
Summer Coleslaw - light and tangy no mayo coleslaw recipe that you can make all summer long!
Ingredients
1/4 cup red wine vinegar
2 Tbls sugar
2 Tbls Canola Oil
1 bag coleslaw mix
1 tsp salt
Pepper
Instructions
Mix the vinegar and the sugar together.
Whisk in the oil.
Add the coleslaw mix, salt, and a little pepper.
Toss to combine.
Let sit for about 20 minutes, for the flavors to combine before you serve.
Store any leftovers in the fridge, just as good the next day.
Nutrition Information
Yield
4
Serving Size
1
Amount Per Serving
Calories

118
Total Fat

10g
Saturated Fat

1g
Trans Fat

0g
Unsaturated Fat

9g
Cholesterol

2mg
Sodium

643mg
Carbohydrates

6g
Fiber

1g
Sugar

5g
Protein

0g