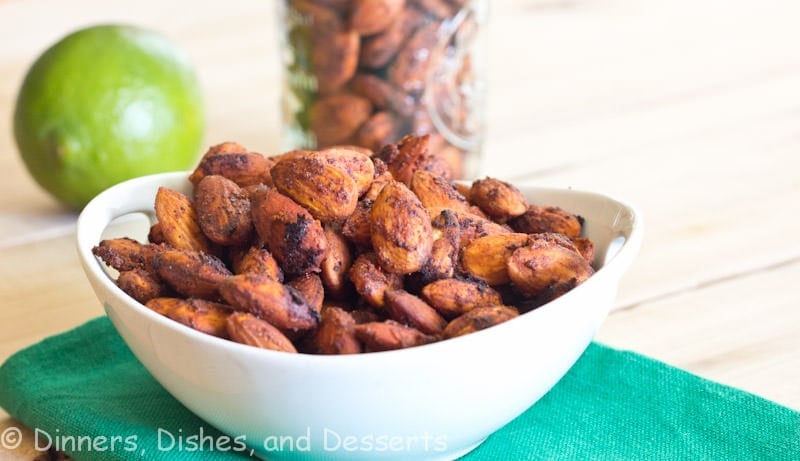 My husband always surprises me with what he brings home from the store. I do probably 99% of the shopping in our house, but every once in awhile I have him stop for something, or he decides to stop on his own. Back in January, he went out to run some mysterious errands. He came home with a bag full of nuts. And by bag full, I mean Target sized bag full. Apparently somewhere had a sale on Pistachios, so he went to stock up. He LOVES pistachios. He also loves a good deal. So why not pick up mass quantities, they are sale?! Along with pistachios he picked up one lone bag of Chili Lime Almonds. He and my 7 year old went to town on those almonds. I was very surprised how much my son liked them.
About a week later Black Peppercorn posted a recipe for Chili Lime Peanuts. I immediately pinned the recipe and knew I was going to make it with Almonds. Well, I finally got around to it. These were so easy!! Like 5 minutes of work, easy. I am not a huge nut lover, but I know they are really good for you. So these are great to have around for a quick afternoon snack.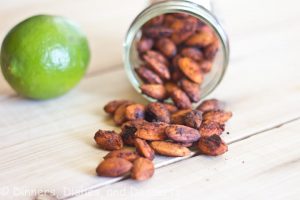 You can adjust the heat level with these by adding more cayenne. The amount called for just gives it a tiny background heat. Not too much for my 7 year old who does not like hot things. So if you are sharing with just adults, I would double it.
Yield: 10
Chili Lime Spiced Almonds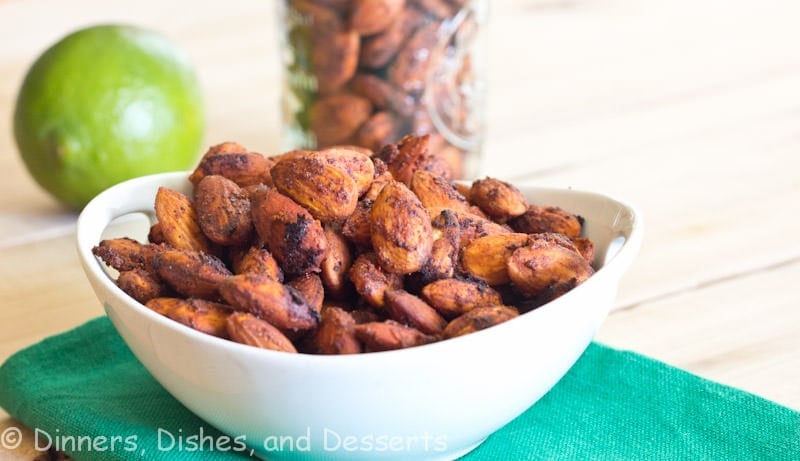 Lime and chili powder on almonds
Ingredients
3 cups almonds
1/4 cup lime juice, (about 2 limes)
2 Tbls chili powder
1 Tbls salt
1/2 tsp cayenne
2 Tbls olive oil
1 Tbls honey
Instructions
Preheat oven to 350 degrees. Spread Almonds on a large baking sheet.
In a small bowl mix together everything but the almonds. Pour mixture over the nuts, and stir evenly to coat. Make sure the nuts are in a single layer on the baking sheet. Bake for 15-20 minutes. Cool completely, then store in an air tight container.
Notes
Adapted from Black Peppercorn
Nutrition Information
Yield
10
Serving Size
1
Amount Per Serving
Calories

281
Total Fat

25g
Saturated Fat

2g
Trans Fat

0g
Unsaturated Fat

21g
Cholesterol

0mg
Sodium

280mg
Carbohydrates

11g
Fiber

5g
Sugar

4g
Protein

9g