Creamy Tomato Soup – super easy tomato soup recipe you can make in the crock pot or on the stove top. Great for a quick dinner or lunch.
Things have been a little hectic around here lately. My husband had to go out of town for work for a full week. My son was home sick for a couple days. Basketball practice 2 times a week, with late night practices. Plus school, homework, appointments, and everything else. You know what makes hectic times easier? A plan and comfort food. At least in my world.
And if the comfort food can be made ahead of time and be super easy, that is even better.  That is where this creamy tomato soup comes in. Growing up the only tomato soup I had was out of a can, but now that I have made my own, I am not sure I could ever go back. It is so easy, and so much better to make your own.  Italian Tortellini Soup is one of my other favorites with a tomato soup type base.
Creamy tomato soup can be made in the crock pot kept on low or even warm all day long or you can make it on the stove top in less than 30 minutes when you get home from work. Serve with croutons, garlic bread, or a grilled cheese for comfort food the whole family will love.
When my son got braces a few months ago, I really wasn't sure what I was going to feed him for a few days. I remember not being able to chew much when I had mine put on, and that was about 25 years ago. And I am sure it is was worse than my 25 memory remembers. So soft food was definitely in order.
My son is a huge fan of tomato soup. I was at my friend Sandra's house as she was making her 20 Minute Tomato Basil Soup recipe one day, and I realized I had never made a homemade version before. So I took what I saw her doing, and what I knew we would like and came up with this Creamy Tomato Soup. It hit the spot and was exactly what my son needed.
This soup freezes really well too, so if you want to freeze smaller portions for lunches or dinners on busy nights, it works great. You can have comfort food any time you want it!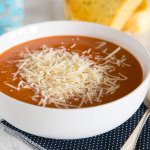 Creamy Tomato Soup
Creamy Tomato Soup - super easy tomato soup recipe you can make in the crock pot or on the stove top. Great for a quick dinner or lunch.
Ingredients
3

(15 oz) cans Italian style diced tomatoes

2

cups

chicken stock

1

Tbls

olive oil

6

cloves

garlic

, minced

1

onion

, finely chopped

1

tsp

salt

1

tsp

sugar

1

tsp

Italian seasoning

1/2

tsp

black pepper

1/2

cup

heavy cream

1/2

cup

Parmesan cheese

, grated
Instructions
In a stock pot heat olive oil over medium high heat. Saute onions for 3-4 minutes until soft. Add garlic and cook for 1 minute.

Stir in tomatoes, chicken stock, salt, sugar, Italian seasoning and pepper. Bring to a boil. Reduce heat and simmer for 15-20 minutes.

Using a stick blender (or a normal blender), blend soup until smooth or your desired consistency.

Mix in cream and cheese.

Serve topped with additional cheese if desired
Recipe Notes
If using crock pot:
Add all of the ingredients (except cream and cheese) and cook for 4 hours on low, or warm for 8-10 hours. Blend until smooth. Add cream and cheese, and heat for 20 more minutes until everything is warm.