Hot Chocolate Popsicles – homemade hot chocolate isn't just for winter, cool off with these frozen hot chocolate popsicles all summer long!  
Everyone loves a good cup of hot chocolate when it is cold out.  And sometimes you crave it in the summer, but it is just too hot out!  You could make Hot Chocolate Cookies to help with that craving.  Or you could make popsicles!
Popsicles are just so easy to make. And this version is the ultimate version of frozen hot chocolate. Start with homemade hot chocolate, add marshmallows and you are almost ready!
Click HERE to get the full recipe for these popsicles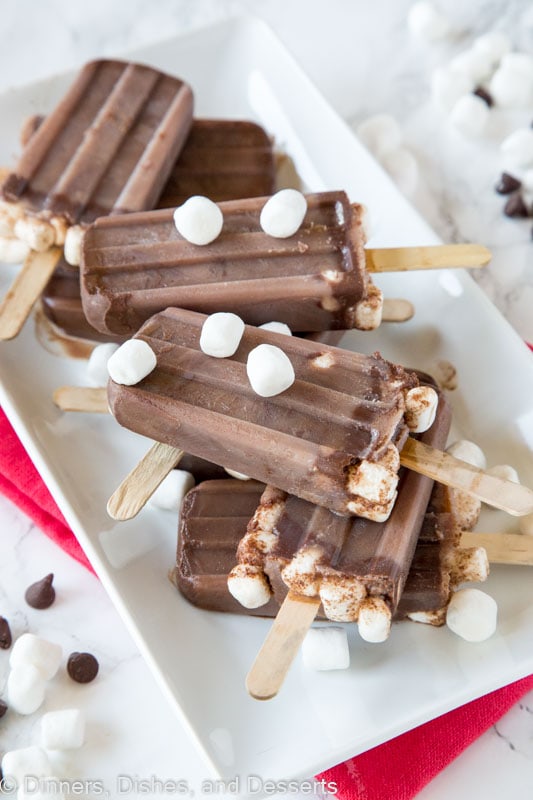 How to Make Popsicles
Homemade popsicles are a fun summer treat. You can go the fruity route like Strawberry Popsicles, but sometimes you really want chocolate. And homemade hot chocolate makes for one tasty popsicle.  The only step in making popsicles is to decide your flavor.  Puree strawberries, or make hot chocolate.  Then pour into molds and freeze!
Popsicle molds make homemade popsicles easy to make, but they are not necessary. You can use paper cups and just tear off the paper once they are frozen. They don't give the same shape, but that is the only difference.
When it is hot out, you really just want a refreshing treat.  Something like Watermelon Ice Cream to just cool you off.  But this chocolate lover had to find a way to cool off with chocolate. So these frozen hot chocolate popsicles are exactly what I will be eating all summer long.
Hot chocolate just isn't hot chocolate if it doesn't have marshmallows, so of course they got mixed into these popsicles.  Only problem is they float!  So when you pour the hot chocolate into the mold, the marshmallows float to the top, and are only on one end of the popsicle.  I am sure if you stirred them when they were partially frozen you could get the mixed throughout.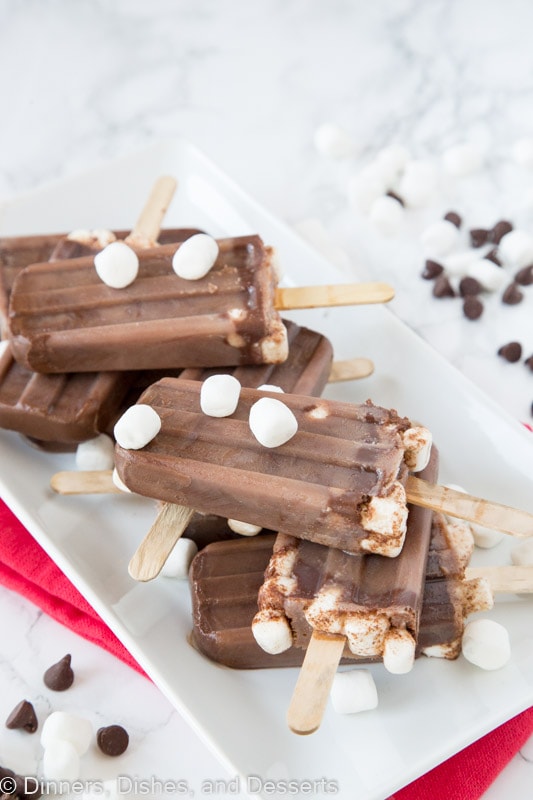 This summer when you are looking for ways to cool off, a treat for the kids to make, or just want something different, try these Frozen Hot Chocolate Popsicles. If the neighborhood kids are any indication, they are loved by all!
I am sharing this recipe over at Imperial Sugar today.  Click on Frozen Hot Chocolate Popsicles to get the full recipe.
**This post is sponsored by Imperial Sugar.  I have an ongoing relationship with Imperial Sugar for recipe development. All thoughts an opinions are 100% my own.