Lemon Tiramisu – A rich and creamy lemony spin on the classic Italian Tiramisu dessert. A delicious no bake treat that is perfect to make any time.
This post is sponsored by Imperial Sugar. All thoughts and opinions are 100% my own.
Tiramisu is one of those restaurant desserts that is really hard to say no to. It is so rich, creamy, decadent and so full of flavor. Well this is all of that, but with lemon flavor! It is the ultimate spring and summer treat you are going to have on repeat.
No Bake Lemon Cheesecake has always been really high up there on my list of favorite lemon desserts, but this lemon tiramisu just might take the top spot. Plus it is so easy to make!
Click HERE for the full recipe
I love no bake desserts all year round, but this is perfect for spring and summer when the weather starts to warm up. The bright lemon flavor just screams spring and it will surely disappear at your next get together!
What You'll Need
Mascarpone Cheese
Cream Cheese
Granulated Sugar
Heavy Cream
Lemons
Lemon Extract
Vanilla Extract
Lady Fingers
Lemonade/Limoncello
Whether you want to use lemonade or limoncello is entirely up to you. It is really just if you want to have the alcohol in your dessert or not. Limoncello tiramisu just means you are dipping the lady fingers in limoncello to help soften them, which gives them the same lemon flavor as lemonade.
How To Make Lemon Tiramisu
Mix together cream cheese, mascarpone cheese and sugar until it is super creamy. Add in lemon juice, lemon zest, lemon extract and vanilla extract until well blended.
In a stand mixer beat heavy cream until you get to stiff peaks.
Add whipped cream to cream cheese mixture and fold together until everything is combined.
Pour lemonade or limoncello into a shallow bowl. Dip lady fingers, turning them over so they are coated on all sides. Do not let them sit in the liquid for more than a few seconds or they will start to fall apart.
Layer lady fingers into the bottom or your baking dish. Top with half of the cream mixture and spread it into an even layer. Repeat with a second layer of lady fingers and the rest of the cream mixture.
Cover and place in the fridge for at least 4 hours up or overnight.
Can I Make This Ahead Of Time
This is the perfect dessert for you to make ahead. It needs to sit for at least 4 hours for the lady fingers to soften and the flavors to all blend together. So it is great to make the day before and serve for dessert the next day.
Can You Substitute Limoncello
Yes, absolutely! As I mentioned above, I used lemonade in this recipe to make it family friendly. But you can definitely use limoncello if you have it and want to do a limoncello tiramisu!
What Can I Use Instead Of Mascarpone Cheese
If you can't find mascarpone cheese, you can use more cream cheese and it will still be delicious. They are very similar, mascarpone is just the traditional one used in tiramisu. So if you want to use all mascarpone instead of half and half you can as well.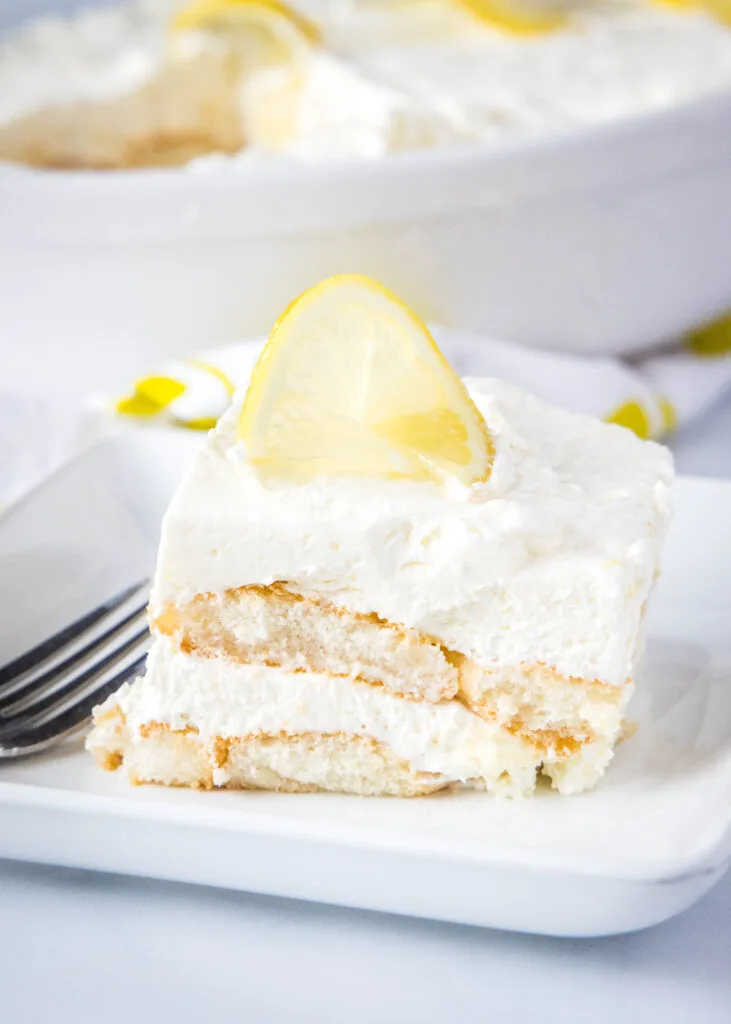 What Are Lady Fingers
Lady fingers are a sweet sponge cookie. They don't have a lot of flavor and are kind of bland on their own. But they are the classic base for this dessert. They soften and absorb the flavor of the cream mixture as the tiramisu sets up. You can find them in the cookie aisle at Whole Foods or most Grocery Stores. You can also order them on Amazon.
I am sharing this recipe over at Imperial Sugar today. Click on Lemon Tiramisu to get the FULL Recipe.