Light and fluffy Creamy Lemon Mousse that is sweet, slightly tart, and much easier to make than you'd think! 

Look around!!  What do you think of the new site?!?!  Well, if you are on a computer you will see.  If you are on mobile you will see a change at the end of the month.  I am so excited.  I love the clean new look.  Check out the Recipe Index, you can search by categories, recipes, or by month if you want to see something from previous season.  So much easier to navigate! You can click on the No Bake Desserts picture on the side and see all the no bake desserts that are on the blog.  So many great recipes at your finger tips!  At the end of the month mobile will be changing and be much more search and reading friendly, so stay tuned for that too!
Click HERE to get the recipe.
Ok, so enough about the site.  We need to talk about this creamy lemon mousse.  Spring and summer are all about lemon and citrus, and that is definitely something I can get behind.  And then you make it creamy, top with whipped cream and berries, and I am all over it!
Mousse is definitely one of my favorite desserts.  It is always thick, rich, and creamy.  This lemon version is no exception. Plus it is way easier to make then you think.  It all starts with making a lemon curd, and then you fold in lots of fresh whipped cream.  After it sits and comes together you have a delicious creamy lemon mousse.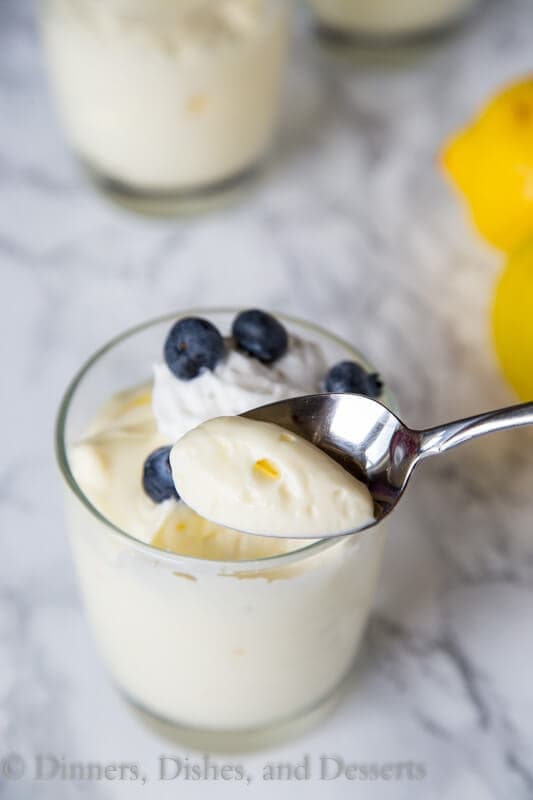 You can make this mousse the day before, and then top with whipped cream and a few berries to serve.  It is great served in little cups or in a bowl that you just scoop and serve at the table.  Either way, you are going to love it!
Today I am sharing this recipe over at Imperial Sugar.  Please click on Creamy Lemon Mousse to get the recipe!
**I have an ongoing relationship with Imperial Sugar for recipe development.  I was compensated for my time in creating this recipe.  All thoughts and opinions are 100% my own.  Thank you for supporting the brands I love and that make Dinners, Dishes, and Desserts possible.