Mexican Chocolate Chip Cookies – soft and chew chocolate chip cookies that have a little something extra from the cinnamon and cayenne pepper. People are going to be asking for this recipe over and over again!
This post is sponsored by Imperial Sugar. All thoughts and opinions are 100% my own.
I love chocolate chip cookies. They are pretty high up there on my list of favorite desserts. Especially when they are warm and fresh right out of the oven. That gooey chocolate gets me every time! And this recipe for Mexican Chocolate Chip Cookies is extra special. There is just that hint of something extra that everyone goes crazy for in this recipe.
I am usually one that sticks with a recipe once I find one that works. My Perfect Chocolate Chip Cookies are usually my go to, but lately I am mixing it up because these cookies are just that good.
Click HERE to get the full recipe.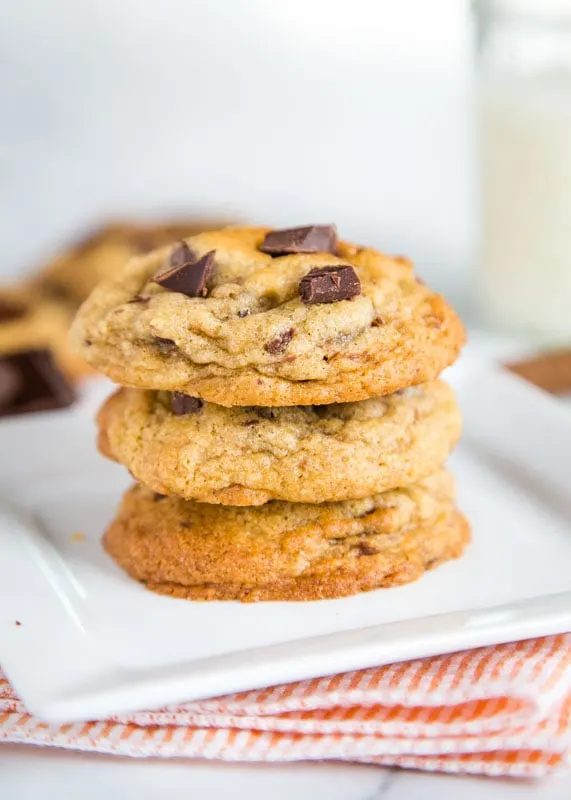 What is Mexican Chocolate
It is often found packaged in tablets of chocolate. It is similar to a semi-sweet chocolate that has a hint of cinnamon in it. If you can find Mexican chocolate it works great in this recipe. Otherwise I like to use dark chocolate chips or semi-sweet chocolate chips instead.
These Mexican chocolate chip cookies have cinnamon in the dough as well as a tiny bit of cayenne. Trust me, the cayenne does not make these cookies spicy or "hot" it just gives them a depth of flavor and that little something extra. If you put out a plate of these and a plate of traditional cookies, these will disappear faster every time! People can not stay away, they want to know what is in there that makes them so flavorful and different.
How to Make Mexican Chocolate Chip Cookies
Start by creaming the butter and brown sugar together. This recipe only has brown sugar in it, that is what gives it the deeper color, makes them extra soft, and helps bring out the extra flavor from the cinnamon and cayenne.
When you are mixing the eggs in, mix them in one at a time. Let the first egg get incorporated with the butter and sugar before adding the second. Once those are mixed add in the vanilla extract.
Finally add all the dry ingredients and mix until just combined.
Fold in the chocolate. I like to use dark chocolate chip or semi-sweet chocolate chips. If you can find Mexican chocolate it is perfect to chop up and add to the cookies.
Next you need to chill the dough. This is a must if you want your cookies to come out thick and chewy. You can refrigerate for 1 hour up to 24 hours.
Scoop balls of dough and bake for about 9-10 minutes. The edges of the cookies are going to be golden and the center to be just set. They will continue to cook a little on the baking sheet after you take it out of the oven.
Trust me and use the amount of cinnamon and cayenne in the recipe. They will not be spicy or taste peppery. Chances are you won't be able to even identify what is in them, you just taste the something extra that makes you keeping going back for more.
I brought the latest batch of these cookies to my friends at cooking club and they disappeared so quickly. Even people who don't normally love desserts went crazy for these cookies. So trust me and give these a try today!
I am sharing this recipe over at Imperial Sugar today. Click on Mexican Chocolate Chip Cookies to get the full printable recipe.