I have never tried Meyer Lemons before. I am not sure I had even heard of them before I started blogging. I finally gave in, and picked up a bag last week at the store. Unsure as to what I should do with them, I went to my dear friend Google. Finally I decided on a Meyer Lemon Curd. I was going to do a bread or muffins, but decided to go out on a limb, and try something very different for me. I use regular lemon curd as part of a marinade for an Indian dish that I make, but that is it. Aside from that I have never tried any kind of a curd in my life!
This came together very easy. I wasn't sure what I was getting myself into, but it was easy. You just have to have patience, because it does involve a double boiler. I was pleasantly surprised with the taste as well. It was definitely lemon, but not as tart as I thought it would be. From what I can tell you could use regular lemons if you can't find Meyer Lemons (I have no idea how long the season is), just add about 1 Tbls extra sugar to sweeten it up a little. I have used this in a couple things since, and it is delicious. I can't believe I have gone this long without ever trying it!
[print_this]
Meyer Lemon Curd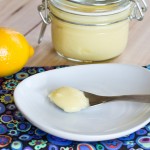 From Confections of a Food Bride via Tracey's Culinary Adventures
1/2 cup Meyer Lemon Juice
1 Tbls Lemon Zest
2 Eggs
1/3 cup Sugar
1 stick butter, cut into 4 pieces
Whisk together lemon zest, lemon juice, sugar, and eggs in a bowl. Set bowl over a saucepan of simmering water. Add butter and stir constantly, until thick and smooth (about 15 minutes). A thermometer will read between 160-170F. Strain the lemon curd through a fine strainer into another bowl. You can serve it warm, or cover and keep it in the fridge for 1-2 weeks.
Makes approximately 1 1/2 cups
[/print_this]