One Pot Cajun Pasta is a great way to spice up your weeknights!  One pan, 25 minutes, and you have dinner on the table!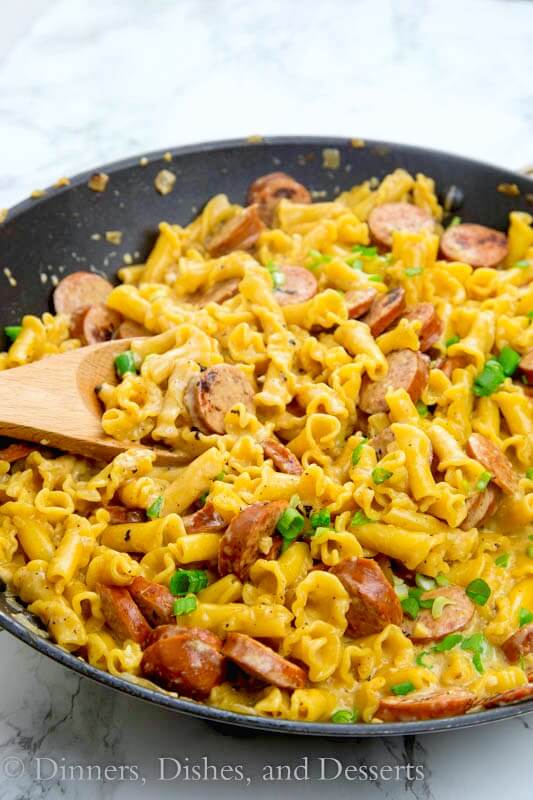 Do you have those nights where the last thing you want to do is cook dinner?  But at the same time, you don't want to just have cereal, don't want to go out, and don't want to just have snacks for dinner.  I hope that isn't just me.  But there are nights I really don't want to step foot in the kitchen, but I still want to eat real food.  Which is why I live for one pan meals. The meat, pasta, and sauce all cook together in one pan.  So easy, and clean up is fast too!
My husband would eat cereal at least 2 nights a week if I let him, but not me.  I want real food like French Onion Pork chops or a big bowl of pasta!  One pot cajun pasta is my ideal dinner for nights I don't really want to cook.  It is a creamy pasta dish, cooked in one pan, ready in minutes, hearty, spicy, and my whole family loves it. Can't ask for anything more on a weeknight.
I even used turkey sausage to make it just a little bit healthier. You can use your favorite kind of smoked sausage to make this cajun pasta spicy and smokey. I like to use half heavy cream and half milk to help cut down a little on the calories.  But if you want to go all out and make this even better, use all cream.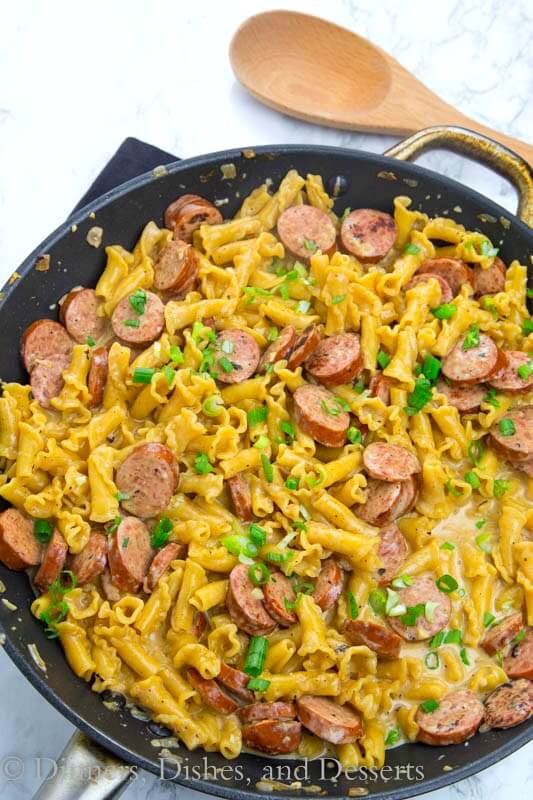 One pot cajun pasta will be happening on a regular rotation at our house.  My whole family loves spicy, so it is perfect.  You can adjust the heat level easily if your family doesn't love heat.  Just reduce the cajun seasoning, and you will have a more mild pasta.  I served ours with the jar of cajun seasoning on the table, so my husband and I could add a little more, and my son was still able to eat his without pain! Plus the leftovers are great for lunch the next day. Anytime dinner can do double duty like that, I am happy!
I am sharing this recipe for One Pot Cajun Pasta today over at Food Fanatic.  Head over and check out all the other easy dinner recipes I have shared over that as well!
Want more? Check out all of the other One Pan Dinner Recipes here and here are some more you might like:
One Pan Pizza Chicken
Shrimp, Chorizo and Corn Salad
One Pan Southwestern Pork Tenderloin by A Dash of Sanity
Caprese Chicken Sheet Pan Meal by Big Bears Wife