Philly Cheese Steak Roll Ups – Cheesy Philly cheese steaks rolled up and baked into an easy dinner or fun appetizer!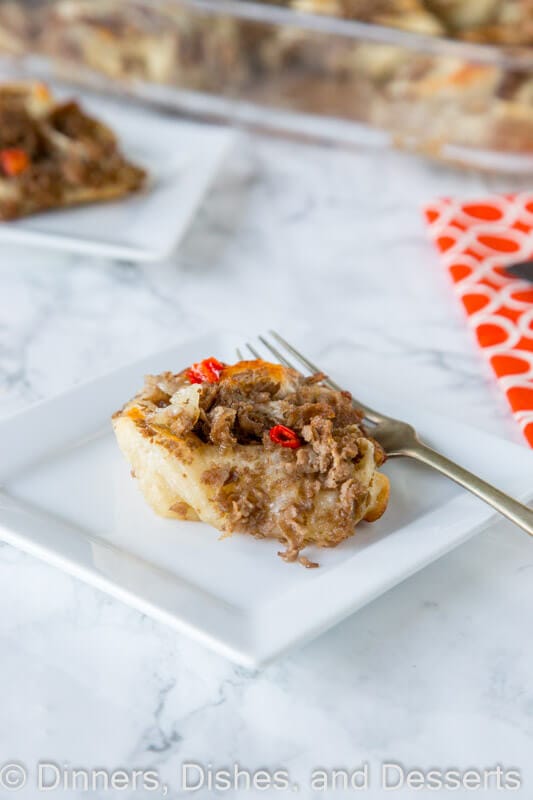 A couple weeks ago I had the opportunity to travel to Ohio with the American Dairy Association. I grew up in Wisconsin, so I already knew a lot about cheese and dairy cows, but I was excited to actually get hands on experience and knowledge. All the years of living in Wisconsin, I don't think I ever set foot on an working farm. Kind of a failure, since my husband's extended family used to have a farm. But all that has changed. I can now milk a cow, feed a baby calf, and know so much more!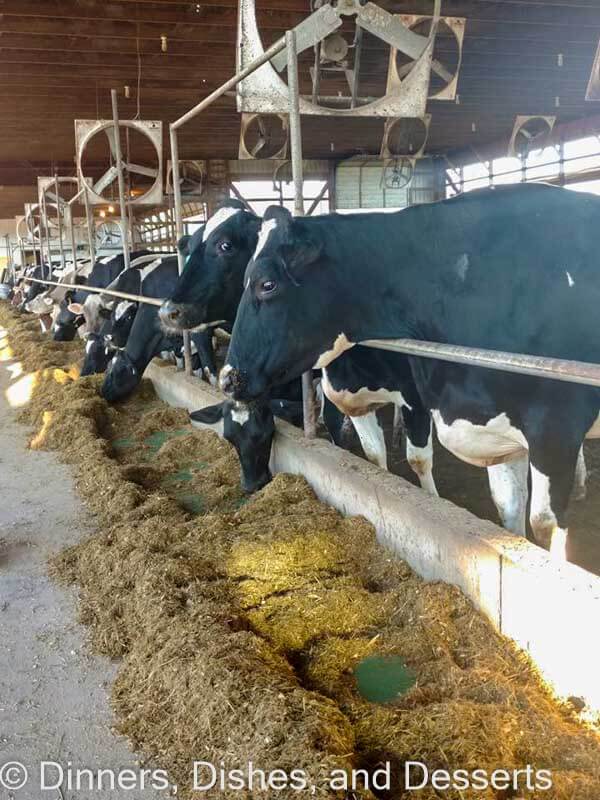 While we were in Ohio we visited two working dairy farms. Richman Farms is a family owned farm, with about 80 cows that are milked twice a day. The family that works there loves what they do, and takes such great care of the animals. Their passion really came through when they were giving us the tour and talking about the animals. The cows love them too. We would walk up to an area, and the animals would immediately come over to get some love from the owners.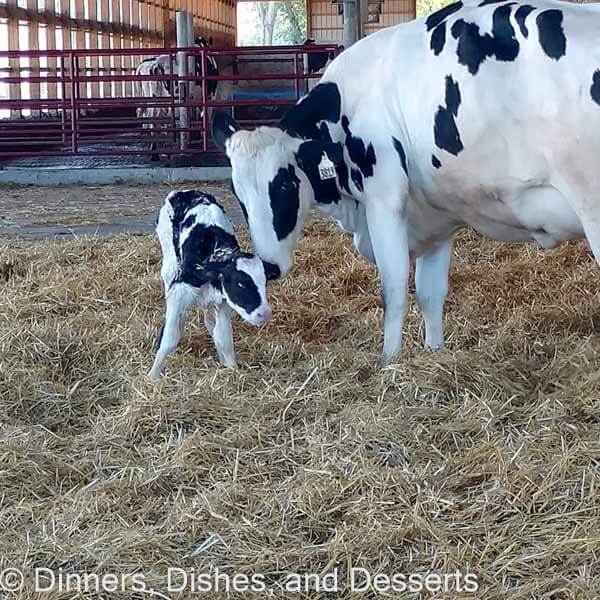 Clardale Farms is a large farm with almost 800 cows that are milked 3 times a day. That is 21 hours of milking a day! Here we were able to see a new born calf, that was born while we were visiting. We also fed baby calves, and saw how important it is to the farm to be sustainable, and recycle pretty much everything on their farm. Getting rid of all that animal waste, water, and everything else is not something I had ever thought of. Even at such a large farm, the passion and love the people had was obvious.
My son was most jealous of the dinner we had with Joe Thomas, tackle for the Cleveland Browns. Joe is one of the Fuel Up to Play 60 ambassadors. The focus is not only to get kids to be active for 60 minutes a day, but to also eat a healthy breakfast to fuel them up for the day. Breakfast is the important meal of the day, and sets the tone for how kids do in school. We had the opportunity to visit an elementary school and eat breakfast with them. Dairy plays a big part in getting kids enough nutrition to keep them focused and full until lunch time.
These philly cheese steak roll ups were inspired by my trip to Melt Bar and Grilled in Cleveland. We went there for lunch the last day of the trip, and were treated to the most over the top, cheesy, delicious lunch. Melt has about 30 different grilled cheese sandwiches on their menu. Their goal is to put a complete meal on a grilled cheese sandwich. Like the Winner, Winner, Chicken Dinner. It is a piece of fried chicken, corn puree, garlic sautéed greens, and scalloped potatoes in grilled cheese form. It was so good too! We didn't try the Philly Cheesesteak Grilled Cheese while we were there, but it sounded so good, so I had to make my own version at home.
I came home with lots of cheese from Pearl Valley Cheese. Thankfully TSA let me fly home with cheese, because they wouldn't let me fly with the amazing peanut butter fluff spread I got. We have been making grilled cheese sandwiches with the Colby cheese, snacking on the bacon cheese, and adding the cheddar to pretty much everything. Next time I will be using the swiss cheese to make these Philly Cheese steak roll ups!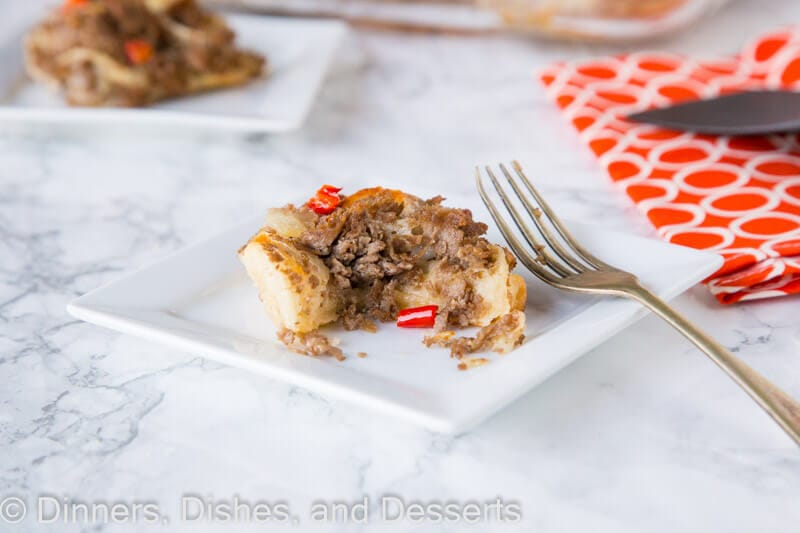 Yield: 4
Philly Cheese Steak Roll Ups
Philly Cheese Steak Roll Ups - Cheesy Philly cheese steaks rolled up and baked into an easy dinner or fun appetizer!
Ingredients
1 tube pizza dough
Thinly sliced beef, (12 slices deli roast beef, packaged cheese steak meat, or very thinly sliced ribeye that has been browned)
1 Tbls olive oil
1 (8 oz) package mushrooms, thinly sliced
1 small onion, , thinly sliced
1 bell pepper, , thinly sliced
12 slices provolone cheese
Instructions
In a large skillet, heat olive oil over medium high heat. Add mushrooms, onions, and peppers. Saute until the veggies are soft. Remove and let cool.
Roll the tube of pizza dough onto a large cutting board.
Place a layer of meat over the dough. Add sauteed vegetables, and top with slices of cheese.
Roll the dough over the filling, continuing to tightly roll until the end. Pinch the ends together.
Using a sharp knife, slice into 12 rolls.
Place in to 13x9 inch pan, sprayed with non-stick spray.
Bake for 14-16 minutes, until cheese is melted and the dough is fully cooked.
Serve immediately.
Nutrition Information
Yield
4
Serving Size
1
Amount Per Serving
Calories

420
Total Fat

30g
Saturated Fat

17g
Trans Fat

0g
Unsaturated Fat

12g
Cholesterol

76mg
Sodium

776mg
Carbohydrates

9g
Fiber

1g
Sugar

2g
Protein

28g
Nutrition Disclaimer: All information presented on this site is intended for informational purposes only. I am not a certified nutritionist and any nutritional information shared on dinnersdishesanddesserts.com should only be used as a general guideline.
**The trip to Ohio was paid for my American Dairy Association. I was not asked to write this post or share anything about it with you.
Save
Save
Save
Save
Save