Stacked Chicken Enchiladas – all the flavors of chicken enchiladas in an easy layered casserole. Much less work, same great taste, so dinner is on the table fast!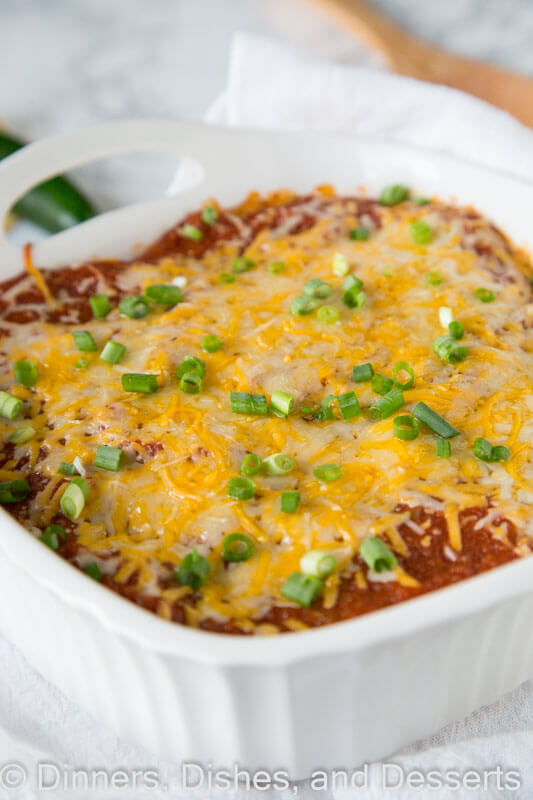 Pinterest is full of all things sugar right now. Everything I see is fudge or toffee or 8 million different cookies. Or is that just my feed? Don't get me wrong, I am all about sugar. But a girl still needs to eat real food, right?
So today, amidst the crazy holiday baking season, I am going out on a limb and bringing you chicken enchiladas. Mexican food is kind of a favorite around here, we eat way more of it than we probably should. And Homemade Enchilada Sauce is something I always have in the freezer for when cravings strike. I mean you just never know when you are going to want to make Pork Enchiladas.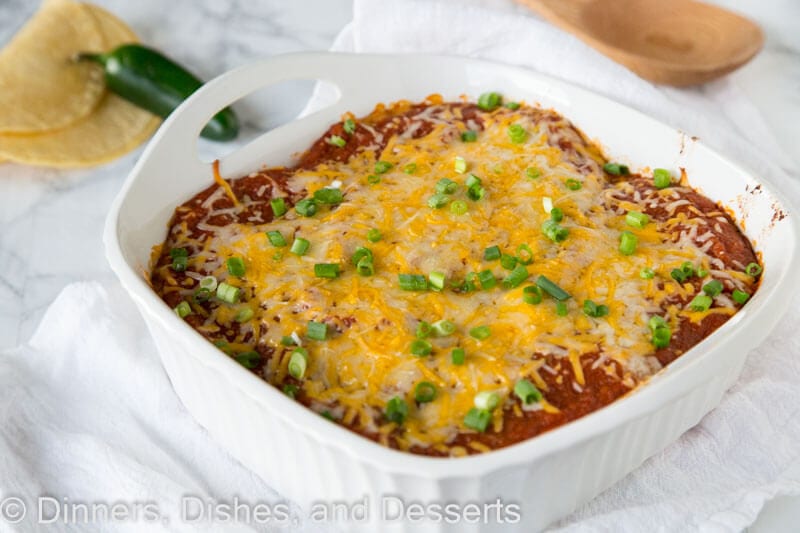 As much as I love making enchiladas, sometimes it is just more work than I want to put into dinner. I usually save them for the weekend, but then plans change, and they get pushed until the middle of the week. So that is where these stacked chicken enchiladas come in. You use all the same ingredients you would normally use, you just layer it into a casserole dish. Or throw it into a pot and have 20 Minute Cheesy Chicken Enchilada Soup!
Everyone hears the word casserole and turns their nose up. They remember some goopy, soggy mess from when they were a kid. So we aren't calling this a casserole. Even though by definition, I am pretty sure it is. But tell your family they are stacked chicken enchiladas, and you won't get any complaints.
The thing that makes these enchiladas special is the sauce. It is a homemade enchilada sauce you make in the blender in about 2 minutes. No simmer on the stove for a long time. Almost as easy as opening a can, but tastes so much better! So don't skip that step. Pick up a rotisserie chicken, or save some leftover chicken to make it come together even quicker on a busy night.
We can't have Mexican food without guacamole, so I served our favorite homemade guacamole with ours. Dinner was done in minutes and the family was happy, that is a win on any weeknight for me!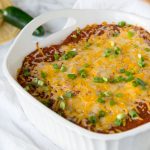 Stacked Chicken Enchiladas
Stacked Chicken Enchiladas - all the flavors of chicken enchiladas in an easy layered casserole. Much less work, same great taste, so dinner is on the table fast!
Ingredients
1

Tbls

olive oil

1

pound

boneless

, skinless chicken breasts, pounded thin

1

tsp

salt

, divided

1/2

cup

plain Greek yogurt

1/4

cup

green onions

, chopped

1

medium-size red onion

, cut into 1/2-in. slices

1

jalapeno

4

garlic cloves

1

(28 oz) can whole tomatoes

1/4

cup

chicken stock

1

tsp

cumin

9

corn tortillas

1 1/2

cups

shredded cheese

(cheddar or Mexican blend)
Instructions
Preheat oven to 425 degrees.

In a large skillet heat olive oil over medium high heat. Add chicken and cook for 5-6 minutes per side. Remove from pan and let cool slightly. Shred chicken and season with 1/4 tsp salt.

In a bowl combine chicken, greek yogurt and 2 Tbls green onions.

In a large skillet, over high heat cook onion and jalapeno for about 4 minutes. Add garlic and cook for a few minutes until everything is charred.

To a blender add charred veggies, tomatoes, remaining salt, chicken stock and cumin. Blend until smooth.

Spray and 8 inch baking dish with non-stick spray. Place 3 tortillas (breaking in half if necessary) on the bottom of the pan in a single layer. Spread 1/2 cup tomato mixture over the tortillas. Top with 1/2 of the chicken mixture and about 1/2 cup of cheese. Repeat with a 2nd layer.

Top with the last 3 tortillas, the remaining sauce and the rest of the cheese.

Bake for 15-20 minutes until everything is hot. Top with the remaining green onions to serve.