Chicken Lo Mein
Chicken Lo Mein – make your own take out at home with this super easy Chinese chicken lo mein recipe. Full of lots of veggies, 20 minutes, and dinner is done!
As you already know I am completely obsessed with easy dinner recipes.  One pan meals are kind of my thing.  Cheeseburger Macaroni Skillet is on constant rotation around here. It just may be the number one requested meal by my son.
I am also kind of obsessed with Asian style noodles lately. Chow Mein Noodles with Chicken is hugely popular on the blog, so I know you guys love it too. After all the crazy comments when I posted the video on Facebook, I decided to come up with another version using a different pasta.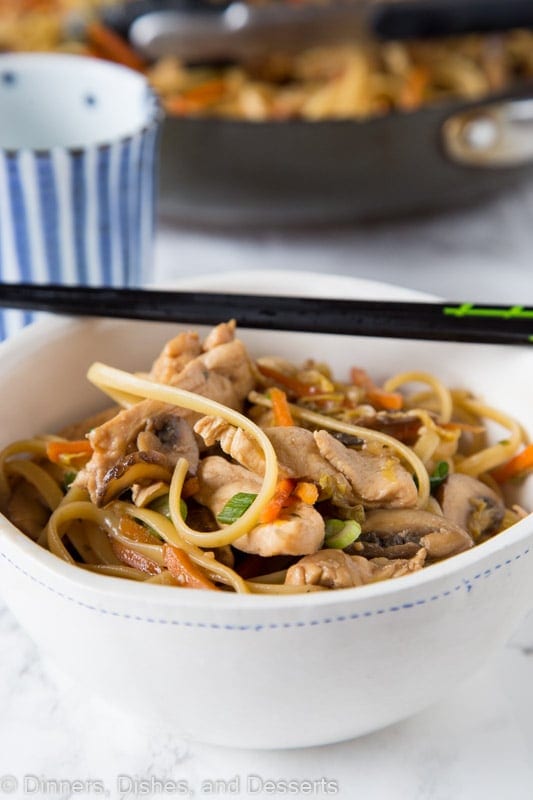 I was paging through my Cooking Light a few months ago and saw a Lo Mein recipe that had lots of veggies and tofu in it. I am not a huge tofu fan, so I thought I could use chicken instead. But it was so simple, I just had to try it.
Plus anything with soy sauce, like these Garlic Beef Noodle Bowls, are totally a hit with my family. And if it has hoisin sauce in it, even better. Five Spice Pork Lo Mein has been a family favorite for years and years.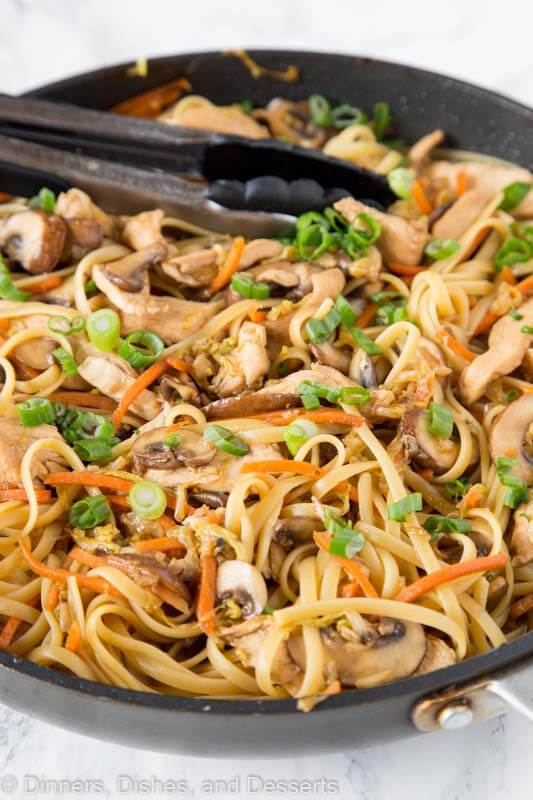 For this Chicken Lo Mein recipe I used linguine. You can really use any noodle you want. You can even buy lo mein noodles; my store happened to be out of them, so I didn't use them. But udon, spaghetti, or even ramen noodles would work.
You cook the chicken for this lo mein, then saute the veggies for a few minutes. All while the pasta is cooking. So by the time the pasta is done, you are adding the sauce and pretty much ready to eat. So much better than take out! Faster, tastier, and definitely healthier. This Orange Chicken is another on that needs to be tried soon!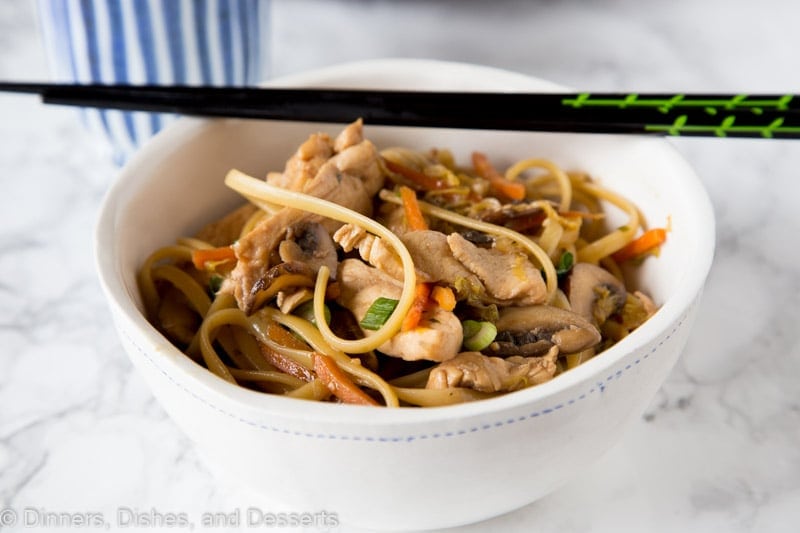 I had chicken lo mein from a Chinese restaurant for the first time about a month ago, and totally fell in love. I have to say, I think I might like their sauce a little better, but the mushrooms in my version have totally converted me. Now to work out the secret to combining the two!
So if you are looking for an easy make your own take out recipe, this Chicken Lo Mein will definitely please your family. So easy to make, ready in minutes, and uses ingredients you can find any just about any grocery store!

Chicken Lo Mein
Chicken Lo Mein - make your own take out at home with this super easy Chinese chicken lo mein recipe. Full of lots of veggies, 20 minutes, and dinner is done!
Ingredients
Chicken
1

Tbls

canola oil

1

pound

chicken breasts

, cut into thin strips

3

cloves

garlic

, minced

2

Tbls

ginger

, grated

2

Tbls

soy sauce
Veggies
1

(8 oz) mushrooms, thinly sliced (baby bellas or shittake)

1

small onion

, finely choped

1 1/2

cup

napa cabbage

, finely shredded

1

cup

matchstick carrots
Sauce
1/4

cup

chicken stock

1

tsp

cornstarch

1

Tbls

sesame oil

1/4

cup

soy sauce

1

tsp

brown sugar

12

oz

pasta

, cooked according to package directions.
Instructions
In a large skillet heat oil over high heat. Add chicken, garlic, ginger, and soy sauce. Cook for 4-5 minutes until chicken is browned. Remove from pan, leave any liquid or oil in the pan.

Add mushrooms and onions to the and pan and cook for 3-4 minutes until the onions are soft and the mushrooms start to brown. Mix in the cabbage and carrots - cook for 3 minutes.

Meanwhile whisk together the ingredients for the sauce. Pour over veggie mixture and bring to a boil for 1 minute.

Add chicken back to the pan. Mix until everything is well coated and the sauce starts to thicken.

Toss with cooked pasta.

Garnish with sliced green onions to serve.
Save