Shrimp Fried Rice
Cauliflower Shrimp Fried Rice – A healthy version of a Chinese take-out favorite! Ready in minutes and you don't have to feel any guilt about fried rice again!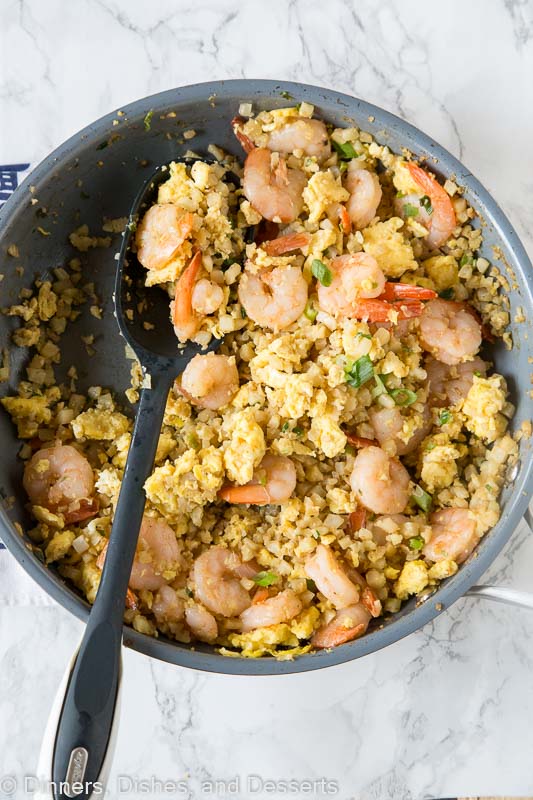 Asian food just might be my all time favorite food. If noodle bowls could be a food group I would be happy. Garlic Beef Noodle Bowls are always on constant rotation at my house.
Whenever we order take out I have to have fried rice. There is just something about it that makes me happy. But even homemade take out can still be full of carbs and not always super healthy. So sometimes you have to mix it up and make it better for you. Like my homemade General Tso's Chicken. Not deep fried, but still the same great flavor from the sauce.
I have seen cauliflower rice around all over the place, but was honestly very skeptical. I tried to make cauliflower pizza crust one time and my family revolted. So I was pretty sure if I tried cauliflower rice they would kick me out. But if I made shrimp fried rice that used cauliflower rice, with tons of the Asian flavor they love, just maybe they wouldn't notice.
I decided to test out this shrimp fried rice recipe with a friend before trying it out on my family. We loved it, you knew it wasn't normal white rice, but couldn't tell it was cauliflower at all. So that meant my family was up next.
My guys pretty much had the same reaction. They thought it was good, but knew something was up. Normally they can smell cauliflower cooking a mile away and have their guard up from the start. But this didn't smell like normal cauliflower, so we were good there.
I did cook it for longer than the original recipe called for. I wanted it to have the soft texture that fried rice normally has. And you know what? It worked!  My family ate the entire recipe and had no idea! With my picky family I am going to call that a major win!