Chow Mein Noodles with Chicken
Chow Mein Noodles with Chicken is an easy recipe to get dinner on the table in minutes.  So much better than take out in the same amount of time.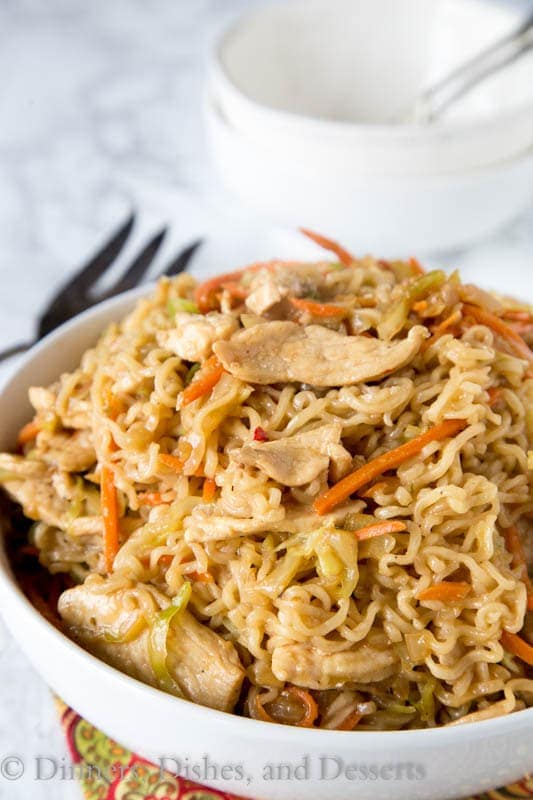 Do you rely on take out to get you through the week?  No shame in admitting yes.  We have all been there, probably more times than we want to admit.  I think pizza and Chinese are probably the 2 easiest and most common things to pick up during the week.  But with just a little bit of planning (going to the grocery store) you can get that Chinese meal on the table in the same amount of time it takes you to go pick it up.
Plus it is so much better for you, because you know what is going into it. You can bulk it up with more veggies and meat to fill up your family, and know that thy are going to eat it. We love to make homemade take out at home. Kung Pao Chicken is another favorite at my house.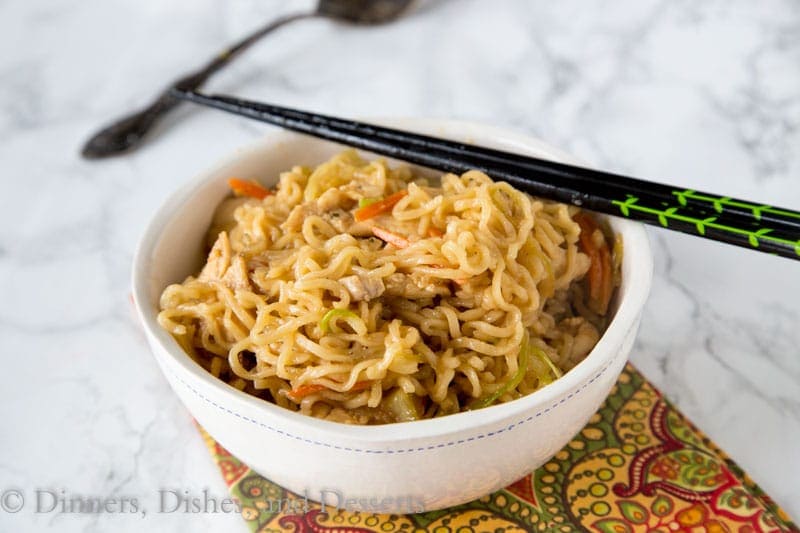 When I was little I remember my mom getting chow mein noodles when we would get Chinese food.  Not always when we did take out, because my dad is a crazy picky eater, and would only eat the 1 thing he knew; Cashew Chicken.
But whenever my mom and I would go to the mall she would get chow mein from Panada Express.  So I decided to make that at home.  Our family loves an easy noodle dish with Asian flavors, so I knew it would be a hit. Garlic Beef Noodle Bowls are kind of a staple at our house. Noodles and Asian flavors just go together!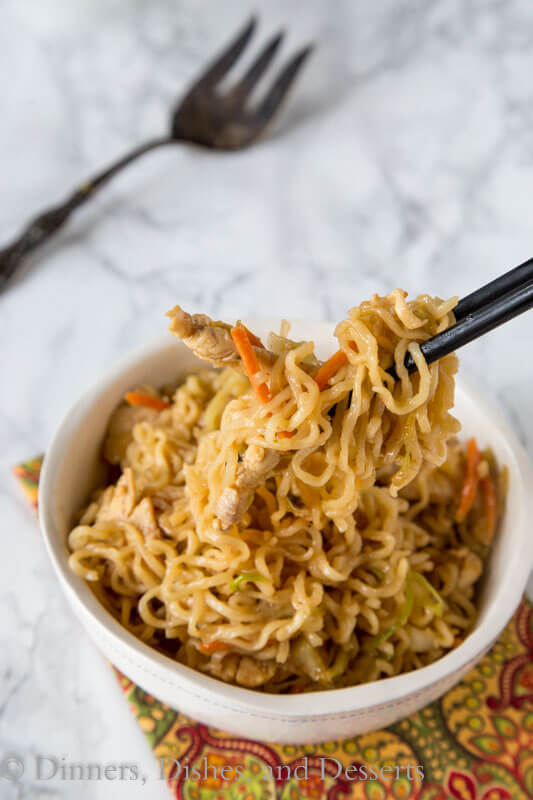 I added chicken to our chow mein, because I wanted to bulk up the protein and make this the main dish at dinner.  You could add bean sprouts or other veggies to make it go even further. Super saucy and delicious noodles will definitely become a staple in your house. Chicken Lo Mein is another great use for all those veggies you have in your fridge.
Dinner on the table in 20 minutes can pretty much never be wrong! My husband took the leftovers for lunch and loved it, reheating the leftovers is completely optional.  You know you enjoy eating cold leftover Chinese food right out of the box, who why not these?
Some of our favorite other Asian dishes are
I am sharing this recipe for Chow Mein Noodles over at Food Fanatic today.  Don't miss all the other easy dinner recipes I have shared over there either!
Some of my favorite kitchen items used when making this recipe are:
Knives: A good set of kitchen knives is essential for preparing any meal. We splurged on these Global knives about 14 years ago, and to this day they are still my favorite. These are hands down my favorite knives I have owned.
Cutting Board: For me this is a kitchen must-have and kitchen counter saver. While we have counter tops you can cut on, I find that this extra step will preserve my counter. I personally love the Epicurean cutting boards, because they clean up so easily, and you never have to worry about food getting stuck in the groves.
Pots and Pans – A good set of pots and pans is a must! You want the food to cook evenly, and the pans to last for years and years! I have had these Calphalon Comtempory pans for many years, and I will love them.
I created a fun group on Facebook, and I would love for you to join us! It's a place where you can share YOUR favorite recipes, ask questions, and see what's new at Dinners, and Desserts (so that you never miss a new recipe)! If you'd like to check it out, you can request to join HERE.
Be sure to follow me on Instagram and tag #dinnersdishes so I can see all the wonderful DINNERS, DISHES, AND DESSERTS recipes YOU make!
Connect with Dinners, Dishes, and Desserts! 
Be sure to follow me on my social media, so you never miss a post!
Facebook | Twitter | Pinterest | Instagram