Chocolate Banana Oatmeal Blender Muffins – gluten free, healthy, muffins that will get your day started right!  Super quick and easy and the freezer well too!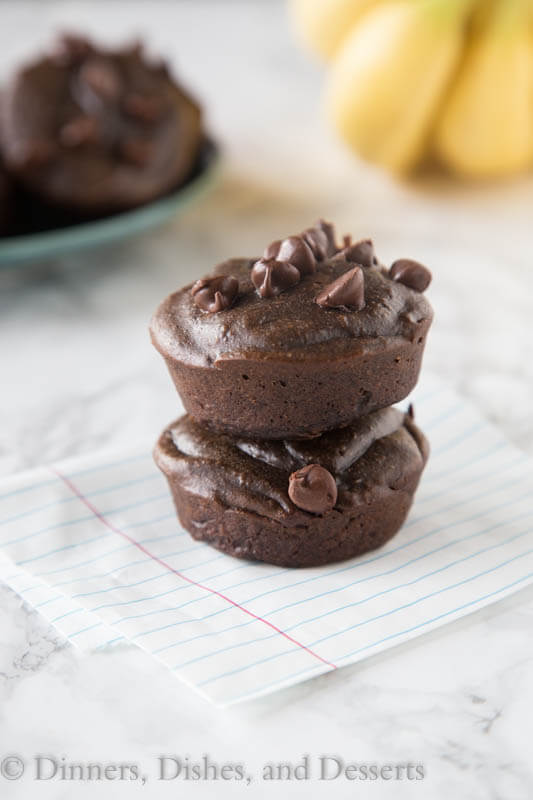 Who is ready for another weekend?!  It seems like I am seeing people starting their spring breaks all over the place now.  I guess it is the season.  Are you going on a trip or so anything for spring break this year?  Our weather has been in the 60's for the last few weeks, so it feels like spring.  Going somewhere almost seems silly right now.  I always thinking of spring break as getting away from the cold and going some place warm.  So you know, if you have snow – think of Colorado as a destination this year!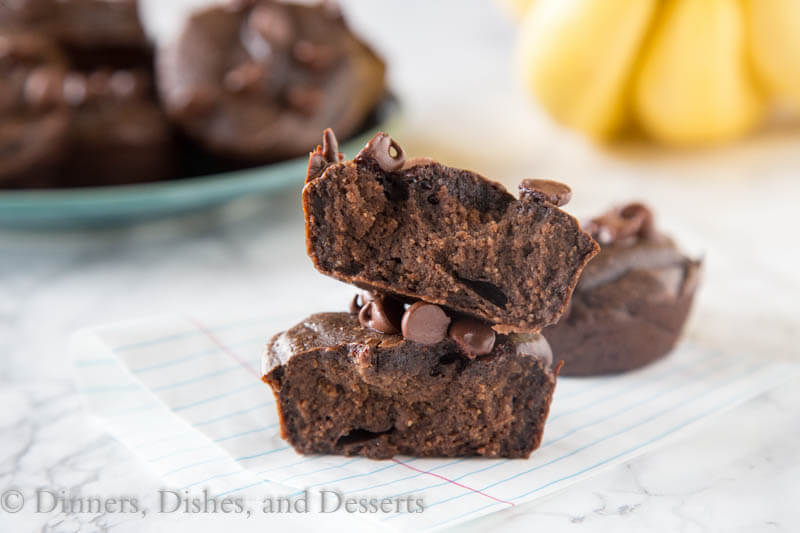 I am pretty sure I have said this before, but breakfast is the hardest meal of the day for me.  I struggle to find something quick and easy, that is still healthy. I have done my fair share of smoothies, but I just haven't found one I can do every day. I love muffins, but more often than not they are empty calories.  So a lot of mornings, I just stare at the pantry, hoping something will jump out at me.  Yeah, that annoying thing that kids and husbands are known for doing with the fridge, I do with pantry.  I am the one that shops, so I know full well what is in there.  But I think I have finally found the solution.  These Chocolate Banana Oatmeal Blender Muffins!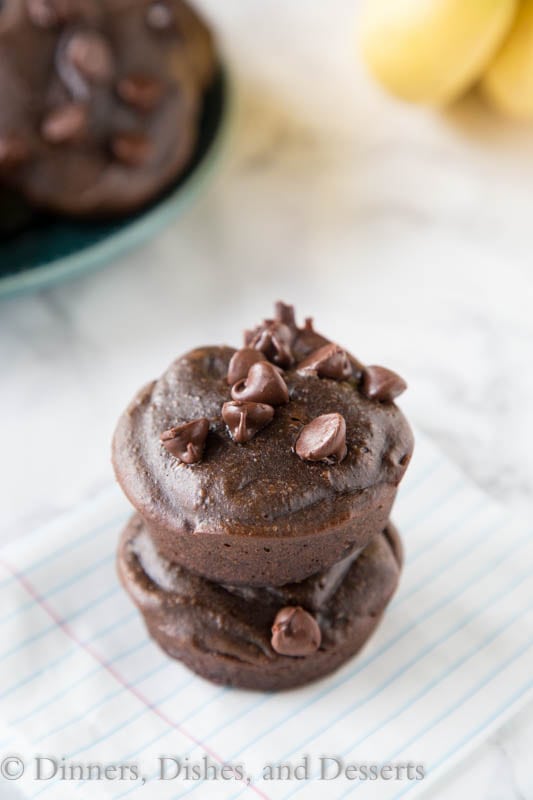 My Chocolate Oatmeal Banana Muffins have been very popular for a long time.  So I decided to put a chocolate and peanut butter twist on them.  And the Chocolate Banana Oatmeal Blender Muffin was born.  Instead of yogurt, they have a base of peanut butter.  They are very dense, almost fudgy.  I have made 3 batches so far, I am completely in love.  These chocolate oatmeal blender muffins freeze really well to, so you can just take out what you need in the morning and microwave for a hot and fresh muffin.  Plus blender muffins are just so darn easy to make!!
Want more muffins?  See all the muffin recipes in one place.
Carrot Cake Muffins with Cream Cheese Frosting by Rachel Cookies
Buttermilk Chocolate Chip Muffins
Oatmeal Chocolate Chip Muffins
7 Grain Pumpkin  Chocolate Chip Muffins by The View from the Great Island
Chocolate Banana Oatmeal Blender Muffins
---
Yields 12
Chocolate Banana Oatmeal Blender Muffins - gluten free, healthy, muffins that will get your day started right! Super quick and easy and the freezer well too!
5 minPrep Time
15 minCook Time
20 minTotal Time
Ingredients
2 large ripe bananas
2 eggs
1 cup peanut buter
3/4 cup old fashioned oats
1/2 cup honey
1/2 cup cocoa powder
2 tsp vanilla
1 tsp baking powder
1/2 tsp salt
Chocolate chips, for sprinkling on top
Instructions
Preheat oven to 350 degrees. Spray a 12 cup muffin tin with non-stick spray.
To a blender add banana, eggs, peanut butter, oats, honey, cocoa powder, vanilla, baking powder, and salt. Blend until smooth and well mixed.
Scoop batter into prepared muffin tin, filling about 2/3rd of the way.
Sprinkle the top with chocolate chips.
Bake for 13-15 minutes or until a tester comes out clean.
Remove from the oven and let cool for 5 minutes before remove from the pan to cool.
Notes
Adapted from Buns in My Oven
6.8
http://dinnersdishesanddesserts.com/chocolate-banana-oatmeal-blender-muffins/
More Muffin Recipes?
Banana Oatmeal Chocolate Chip Muffins
Products used in this recipe: