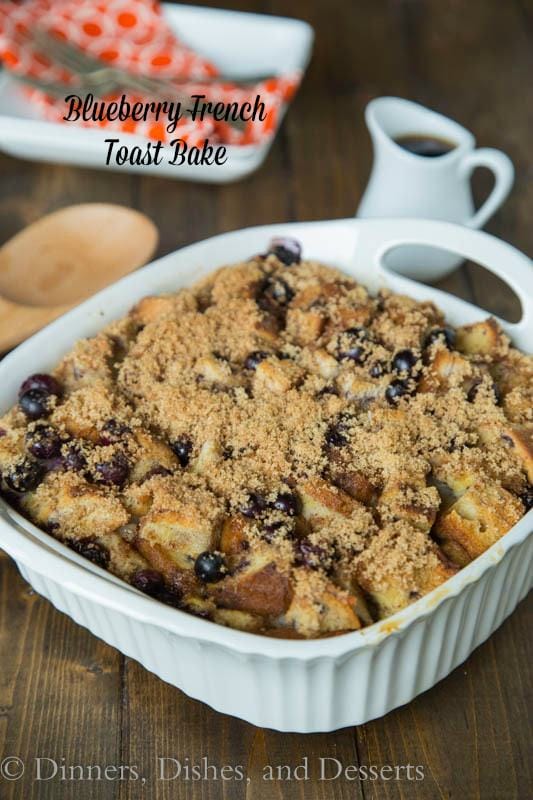 With the 4th of July coming up in just over a week, I figure it is time for a comforting make ahead breakfast recipe. You might have house guests, or were up late the night before and don't want to deal with having to feed the kids the next day. Or you might be traveling, and want something you can make on the road (assuming you have a kitchen). There is a good chance we will have a house full of people over 4th of July weekend, so I have a good feeling we will be doing this again. But I might switch it up with a strawberry version.
A few weeks ago when I was in NYC with Pepperidge Farm we got to try some of their swirl breads. They sent us home with a loaf of the blueberry swirl bread, and I immediately knew what I was going to do with it. I really wanted to toast it and spread butter on it, but I resisted and saved the loaf for this French toast. Blueberries are so easy to find right now, and they are fresh and delicious. If you can't find good fresh berries, frozen would work equally as well here!
I have wanted to make baked French toast for awhile, so I was super excited to try it. I assembled everything the night before, and just let it sit in the fridge over night. The next morning, all I had to do was bake it, and we had an amazing breakfast. My son devoured this baked French toast. It does make a lot, but the leftovers are still good for the next few days. My son ate it for breakfast every day until it was gone. He was pretty mad at me, because I ate the last piece for lunch one day while he wasn't home. He did not approve, and thought it was very strange that I had it for lunch. But I promised we could make it again, and he is all excited about trying it with the strawberry swirl bread next time.
Yield: 8
Blueberry French Toast Bake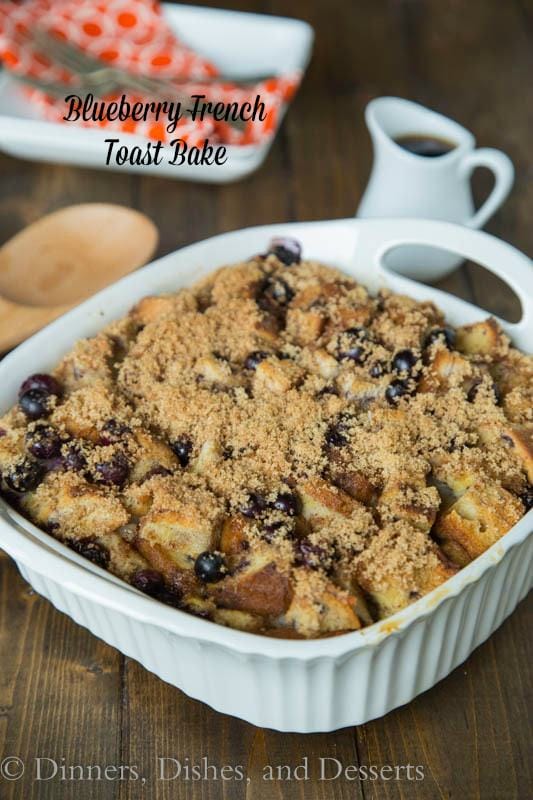 Blueberry French Toast Bake - the perfect make ahead breakfast for a weekend brunch. Lots of fresh blueberries and a crispy brown sugar topping make this over the top!
Ingredients
French Toast Bake
1 loaf Blueberry Swirl Bread, (any bread will work)
1 cup blueberries
4 eggs
2 cups milk
2 tsp vanilla
2 Tbls sugar
1 tsp cinnamon
Topping
1/3 cup brown sugar
1/2 tsp cinnamon
Instructions
Lightly spray a 9x13 inch baking dish with non-stick spray.
In a large bowl whisk together eggs, milk, vanilla, sugar, and cinnamon. Slice the bread into cubes.
Layer about 1/2 of the cups into the bottom of the baking dish. Sprinkle with 1/2 cup blueberries.
Pour egg mixture evenly over the bread. Top with remaining bread and blueberries.
Wrap in plastic wrap, and gently press down so the bread gets in the egg mixture. Place in the fridge for at least 3 hours, or over night.
Preheat oven to 350 degrees.
In a small bowl mix together brown sugar and cinnamon. Sprinkle evenly over the french toast mixture.
Place in the oven and cook for 35-45 minutes until the bread puffs up and it is cooked all the way through.
Top with more berries, powdered sugar or maple syrup
Nutrition Information
Yield
8
Serving Size
1
Amount Per Serving
Calories

124
Total Fat

4g
Saturated Fat

2g
Trans Fat

0g
Unsaturated Fat

2g
Cholesterol

98mg
Sodium

88mg
Carbohydrates

17g
Fiber

1g
Sugar

11g
Protein

6g
**I was not compensated for this post. Pepperidge Farm has no idea I am writing about it. I just loved the bread, and wanted to make something with it.