Creme Egg Fudge – the famous Cadbury Creme Eggs get mixed in with a rich and chocolate-y fudge to make it perfect for Easter.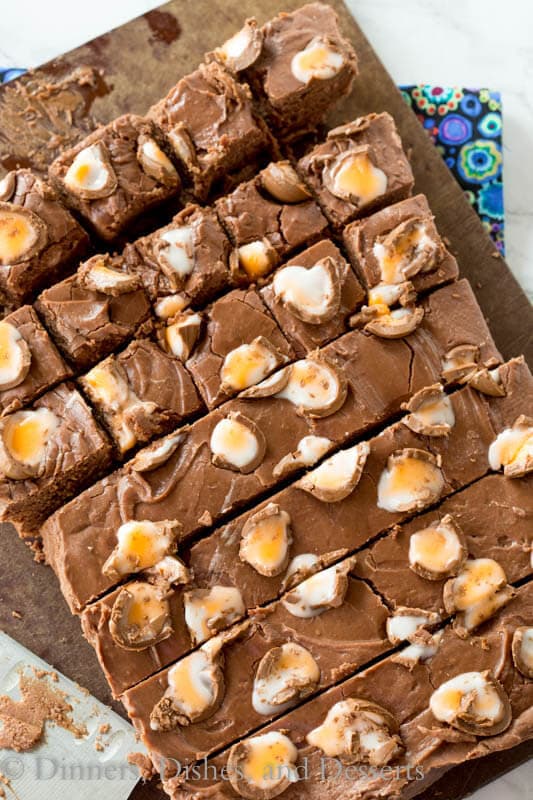 I can't believe that Easter is just over a week away.  It seems so early this year.  We are just getting back from our spring break trip to Arizona, so I only have a week to get ready.  We decided to drive down and family and friends while my son was off school for a few days.
We got to see a couple spring training games, visit my good friend Mary from Barefeet in the Kitchen, and enjoy some warm weather.  We have had great weather in Colorado so far, but my son got to play in the pool, so still a little warmer in Arizona.  But now to get ready for Easter!  How about some Creme Egg Fudge to get you in the mood?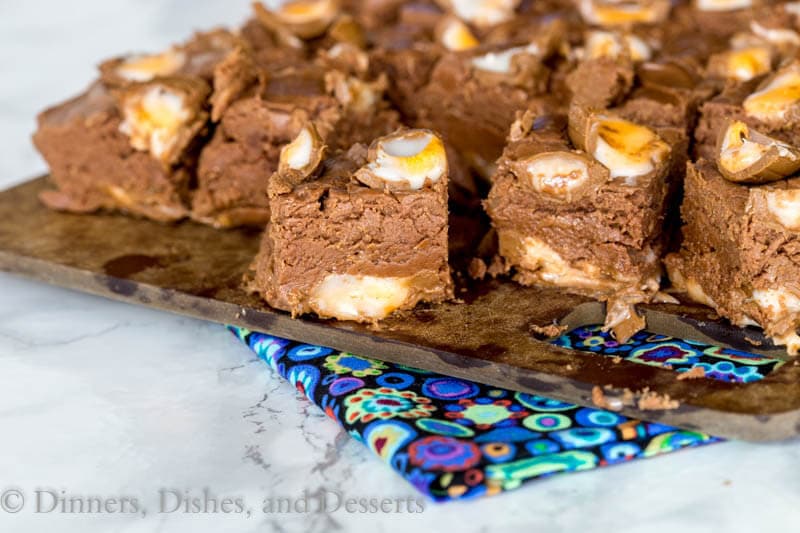 If you can believe it, before we went to New Zealand last year, I had never tried at Cadbury Creme Egg before.  They kind of freaked me out.  But on the Cadbury factory tour, we were given 2 eggs each, along with a ton of other chocolate, to take home with us.  So I finally gave in and tried it.
It was completely different than I thought it would be, not sure why I avoided them my whole life.  So this year, I had to pick up a few creme eggs and make something fun with them.  The idea of fudge was immediately what I thought of, so Creme Egg Fudge it was!
This Creme Egg Fudge recipe is super easy.  I used my all time favorite fudge recipe as a base.  It never fails me, is rich, creamy, and delicious; so why mess with it!  I used the full size creme eggs and chopped them into small pieces to line the bottom of my pan.  I poured the fudge over the eggs, and smoothed it out.
Then I cut a few of the smaller mini eggs, and scattered them over the top. So you get a little creme egg on top and the bottom!  I sent the creme egg fudge to work with my husband, and he came back with an empty container the same day, so I think it was a hit!  I know my son was mad I only saved him 2 pieces.
[mpprecipe-recipe:730]
More Easter Recipes?
Products I used to make this recipe: