One Pan Garlic Chicken – chicken thighs and garlic come together for a super easy and delicious chicken dinner! A new go to chicken dinner recipe!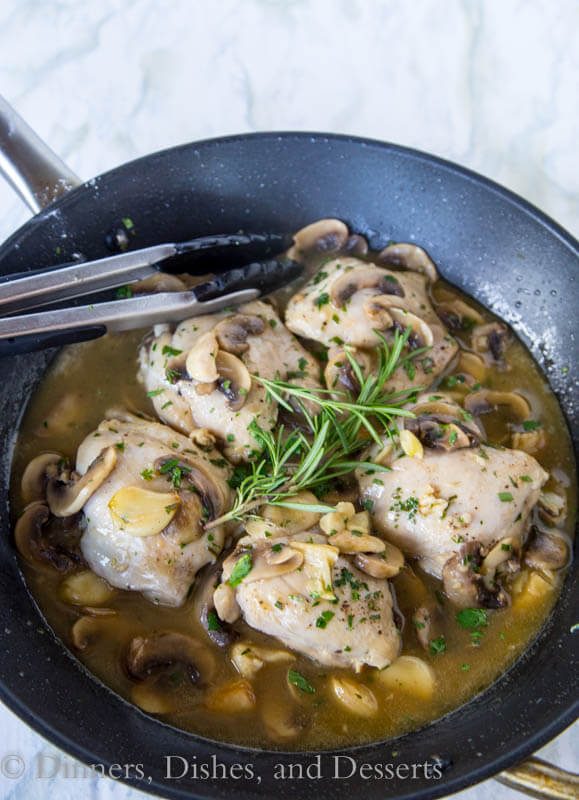 Back to reality.  My son had spring break last week, so we drove down to Arizona for the week.  My aunt and uncle rented a house down there for the winter, so we spent the week there enjoying the warm weather.  We got to go to a few spring training baseball games, and just relax.
My son got to play in the pool and spend time with his grandparents, who were also down there for the week.  Usually on vacations we are busy and on the go the whole time.  This trip we relaxed and just took it easy.  Nice to come home and not feel like I need to sleep for 3 days to catch up!
Now that we are home, it is time to get cooking again.  A week off always brings me back motivated and ready to get back to it. Even still, one pan meals are my thing.  So this one pan garlic chicken is a must!
Chicken dinners are a staple, every week, in pretty much every house across the country.  But that doesn't mean it has to be the same thing each week.  This one pan garlic chicken will be something just a little different than your average meal, but uses staples you already have in the house.
I used chicken thighs to make this one pan garlic chicken.  You can often find chicken thighs at the grocery store for super cheap.  I always buy the boneless skinless ones, but for more flavor you can definitely leave the skin on.  If chicken thighs aren't your thing, that is fine!  Use what you have. It looks like a ton of garlic in the recipe, but trust me use it all!!  It is just flavoring the sauce, you don't eat the actual pieces of it.
I got this recipe from my dear friend Katerina over at Diethood.  She is always cooking up the most amazing dinners, so go check her out.  Trust me, you will fall in love.
Want more? Check out all of the other One Pan Dinner Recipes here and here are some more you might like:
Creamy Salsa Chicken
One Pan Southwestern Chicken Skillet
One Pan Chicken Quinoa Marsala by Rachel Cooks
One Pan Apple Butter Pork Chop Skillet by The CookieRookie
[mpprecipe-recipe:728]
Products I used to make this recipe: