One Pan Southwest Chicken Skillet – Up your chicken dinner game with lots of Southwest flavor in a quick and easy one pan dinner!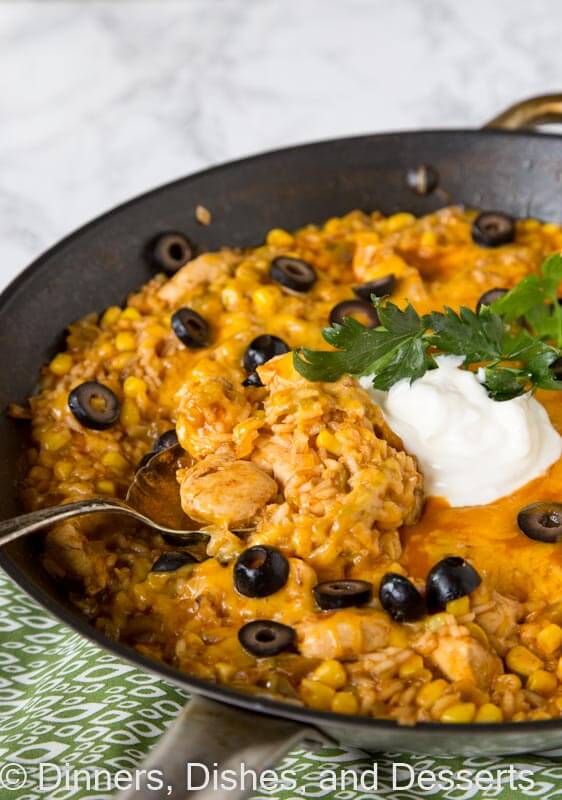 I can't believe it is fall already. There is pumpkin everything, everywhere you turn. I know everyone is always saying how quickly time flies, but seriously it is going way too fast! My 11 year old is asking almost daily to add things to his Christmas list. I am not ready for winter, so I am crossing my fingers that fall lasts a little longer this year. Or maybe time just slows down for a month or two. That isn't asking for too much, is it?
One thing that helps these colder fall nights is a warm and comforting dinner! But I don't want to spend hours cooking something on the stove or in the oven. Which is why I love an easy one pan meal. You can use pasta or rice and then just about any protein and flavor combination that you like.
So easy to mix it up every night of the week. And if you are only cooking in one pan, that means there isn't that much to clean up. It is a winning situation all around! I kind of love anything with Mexican flavors. This Mexican Rice Skillet has been a hit for a long time with my family. So today we are mixing it up with chicken!
One Pan Southwest Chicken Skillet is kind of a twist on the classic chicken and rice. You dice up the chicken into bite sized pieces, then cook the chicken and rice together in the same pan. Just add salsa, cheese, Southwest seasonings, some chilies and you have a super flavorful dinner.
You can then top your chicken skillet like you would any of your favorite Mexican dishes. Add sour cream, cilantro, black olives, fresh tomatoes, avocado…you name it, go for it! And the leftovers are so good for lunch the next day. So get in the kitchen and make this one pan meal for dinner tonight, only takes 25 minutes and you have dinner for the whole family done!
I am sharing this recipe for One Pan Southwest Chicken Skillet over at Food Fanatic today.  Check out all the other Easy Dinner Recipes I have made while you are over there!
Want more? Check out all of the other One Pan Dinner Recipes here  and here are some more you might like:
Mexican Rice Skillet
Salsa Verde Chicken Skillet
Creamy Salsa Chicken
One Pot Cheesy Taco Pasta by Mother Thyme
One Pot Chicken Enchilada Pasta by Like Mother Like Daughter
Want more easy dinner recipes?
Save