One Pot Spaghetti with Meat Sauce – classic spaghetti with meat sauce that comes together in just minutes all in one pan!
When I was growing up we had spaghetti with meat sauce probably every other week. It was something that I loved. My mom always made a homemade pasta sauce and sometimes, if my dad had his way it would include meatballs. Served with Cheesy Garlic Bread and it was my favorite dinner as a kid.
To this day, spaghetti is one of my go-to comfort foods. But sometimes I don't have the time to make the sauce and let it simmer and be perfect. So I love this one pot pasta version for busy weeknights. It takes about 20 minutes together, has a homemade sauce, and is absolutely delicious.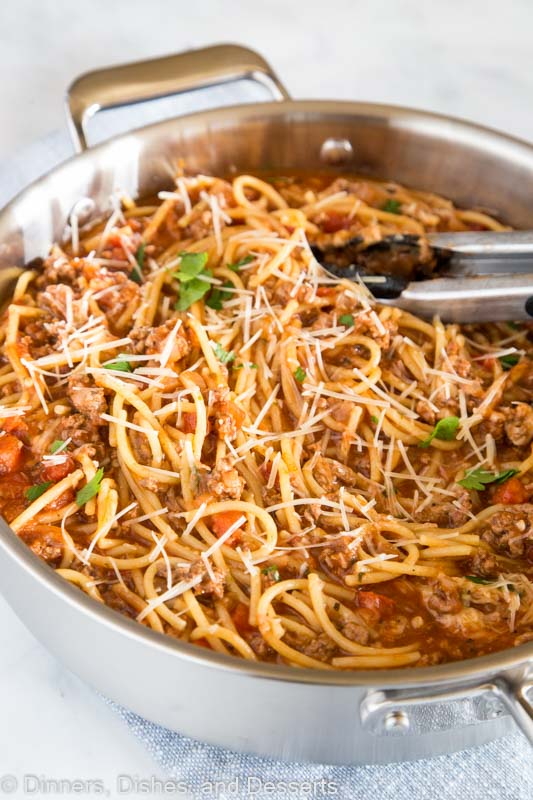 What is One Pot Pasta
One pot pasta is when the pasta, the meat, and the sauce is all cooked in one pan. You add the pasta to the pan when it is raw and uncooked. There is enough liquid added to the pan, so it boils and cooks the pasta as the sauce simmers and comes together. It all comes together in just one pan, so you don't have to worry about a bunch of dishes to do either!
You can mix up the flavors and make all sorts of different one pot pastas. I have a TON of them on the blog. This Homemade Hamburger Helper Lasagna in another great version.
How to Make One Pot Spaghetti
This spaghetti with meat sauce recipe starts by browning the ground beef and onion together until the beef is cooked and the onions are soft. Add in a little garlic and let it cook until it is fragrant.
Next add in the tomatoes, the seasoning, water, and spaghetti. You can use any combination of tomato products you want. I like to use a big can of crushed tomatoes so you get a little tomato texture, but plenty of sauce. You can use tomato sauce, diced tomatoes, crushed tomatoes or even a jar of marinara sauce in place of the tomatoes and the spices. This recipe is super flexible.
Bring the liquid to a boil and make sure to stir every couple of minutes. You do not want the spaghetti to stick together or it will not cook properly and it will not turn out right. So just cover and then stir every couple of minutes.
Once the pasta is cooked top with shredded Parmesan cheese to serve. You can mix in some if you like it cheesy or just serve it on the top. Either way it is delicious.
Can you Freeze Spaghetti with Meat Sauce
Yes, even though the spaghetti and the meat sauce are already mixed together, you can freeze this. Make sure it is completely cooled and placed in an air tight container. Thaw in the fridge and then you can reheat. You can reheat on the stove top or in the microwave.
I love this spaghetti with meat sauce recipe because it makes enough that we can have leftovers for lunch the next day. Just like any pasta sauce, this is even better the next day! Makes for such a great lunch.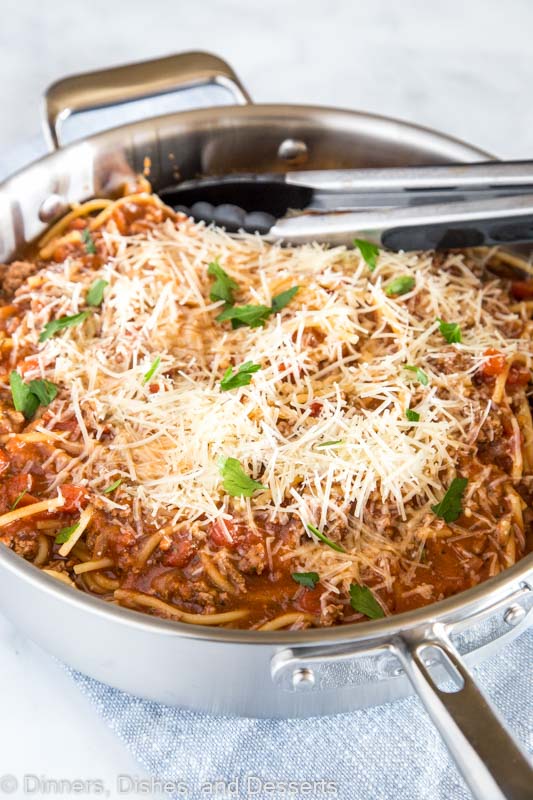 I created a fun group on Facebook, and I would love for you to join us! It's a place where you can share YOUR favorite recipes, ask questions, and see what's new at Dinners, Dishes and Desserts (so that you never miss a new recipe)! If you'd like to check it out, you can request to join HERE.
Be sure to follow me on Instagram and tag #dinnersdishes so I can see all the wonderful DINNERS, DISHES, AND DESSERTS recipes YOU make!
Connect with Dinners, Dishes, and Desserts!
Be sure to follow me on my social media, so you never miss a post!
Facebook | Twitter | Pinterest | Instagram